Description
YOU CAN BE DEEPLY SOULFUL & HIGHLY SUCCESSFUL

I work with 3 types of women entrepreneurs, creatives, leaders and celebrities and they are all: high-achieving and high-performing. Which of the three below describe you?

1. Soulful Woman
You are a healer, visionary, messenger.
You are full of gratitude and joy and are deeply committed to your spiritual and personal development practices.
You: meditate, chant, visualise, journal, work with cards, crystals and nature. You nourish and love your mind, body and soul. You invest highly in learning and development and are highly qualified, here to make a huge positive impact in the world. You desire to see big positive change in your lifetime and to be of high service and contribution. You have an incredible message and soulful work but sometimes have difficulty seeing the physical manifestations and aren't always supported energetically for the work you do or able to make the impact you're here for. You know there are higher levels of abundance available to you and are ready to be supported financially; to create more money than ever before, while working less than ever before. It's time to do the work you're really here for and be supported in changing as many lives as possible. Living the life you truly desire and doing the work you love!

2. Fire Woman
You are also a healer, visionary, messenger and perhaps are just realising or claiming that. You're a leader and have always known that. People look up to you, follow you and trust you. You are a big action taker and are driven, motivated and have created high-levels of success as a result. But you're no longer available to work for someone else's mission for the old paradigm of success: pushing, forcing, making things happen. No longer available to sacrifice, struggle or burn-out!
You now desire more purpose-driven work and impact.
You crave more: ease, flow and feminine energy.
You desire more depth and devotion.
You want work that lights you up, that unleashes your full creative expression and fills your life with joy.
You want more time with your loved ones and to create the lifestyle you dream of.
You want to continue seeing high levels of success and to live a life of luxury and experience, to create a high income and impact but this time is has to be on your terms and aligned with your desires.
Soul aligned success.

3. Activation Woman
You have the soul. You have the fire.
You're now ready to activate higher levels of
abundance in all life areas.
You want meaning.
Full expression at the highest level.
To feel challenged.
To contribute in a big way.
To be surrounded by like-minded and
inspiring people.
You're ready for so much more: depth,
devotion, soul, meaning, growth, expansion,
contribution, confidence.
You crave deeper love, higher wellbeing,
to be lit UP!
It's time to step into your highest self.
To be the women you really want to be.
You're SO ready for it all.
You are a Soul Fire Woman.

You can be deeply soulful and highly
successful.
Now is your time!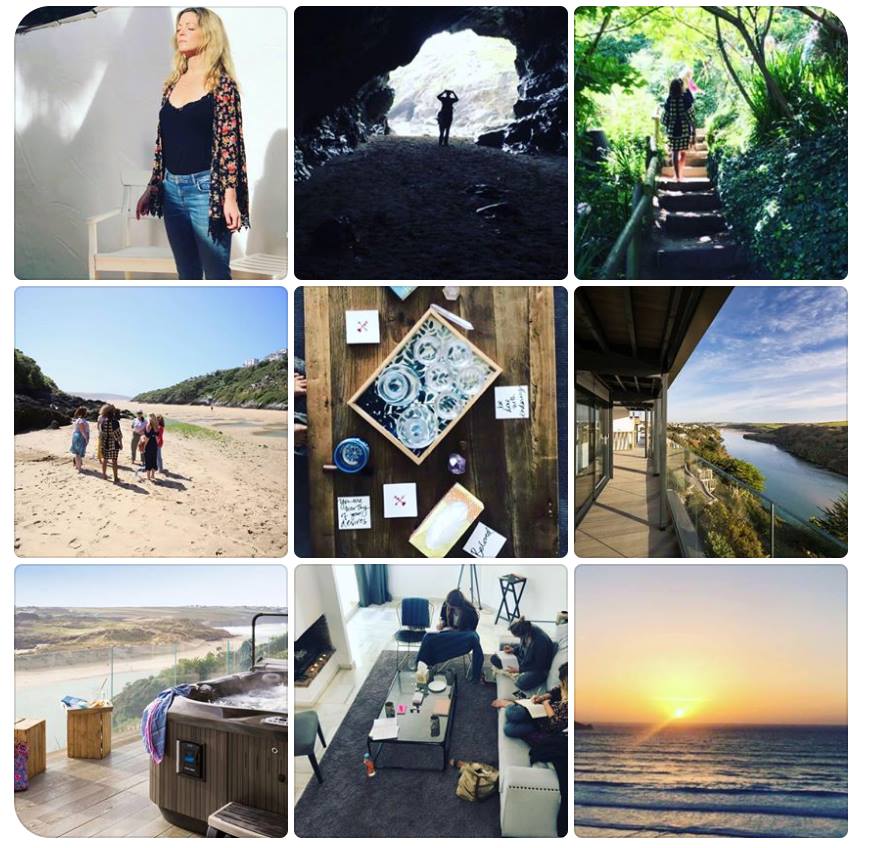 This is everything!
Imagine spending 2 days in the most blissful & luxurious home on the rugged and wild coast of Cornwall, UK; with space just for you to:
breathe, gain clarity, vision and activate your #soulfire, remembering who you truly are, what you really want and knowing how to manifest it.

Gathering around the roaring fire for our evening welcome ceremony, declaring your intentions for the event and getting to know your soul-sisters, over a delicious welcome dinner; then two full days full of devotional and intentional life creation, in a fun, high-vibe, luxurious location.

SoulFire Sessions, visualisations, meditation, countryside walks and coaching deep dives; focused on you and your dreams. This is where you get clear on your heart's true desires, activate your vision for your life and work; remembering who you truly are, what you really want and how to see it all manifest.

TRANSFORMATIONAL coaching with me, working on your mindset, alignment, energy and identity, to bust through and re-programme ANYTHING keeping you stuck. Literally burning your limits, in sacred ceremony and designing your most divinely expressed life. This is like 6 months of coaching, at quantum speed.

Magick Manifesting & Master Planning.

Linking arms with your sisters, you will indulge your deepest desires, have life-changing experiences, breakthroughs and re-connect with your
highest-self, stepping into full alignment with your highest.

When you leave the retreat, your soul is FULL and ready to activate your next level.

I want you to remember #itsallpossible - here's to your soul aligned success a life that feels as good as it looks.