Sound Inn provides musicians, with a spotlight to perform live, get bookings, share their music, gain radio play & much more
About this event
SOUND INN, the new place for the best in live music, vibes & entertainment in London is back for the next Edition! On Saturday 22nd June 2019 we will be turning up at the fab Fiddler's Elbow music venue.
We have a line up that features some of the UK's best emerging talent. including: Nathaniel Shalom, Talia Raz, Queen Ice Cream, Kraftee, Asha, Pierre, MSL, Chrissy Day, Melica, Pace Clipstar & T. Fernandez
DJ's on the night: DJ Dange (Pulse88 Radio), DJ Epik (Spice tour DJ - dancehall) & DJ Flo
We will be playing the best in Rnb, Hiphop, Dancehall & Afrobeats!!
All this & more, hosted by MC TREBLA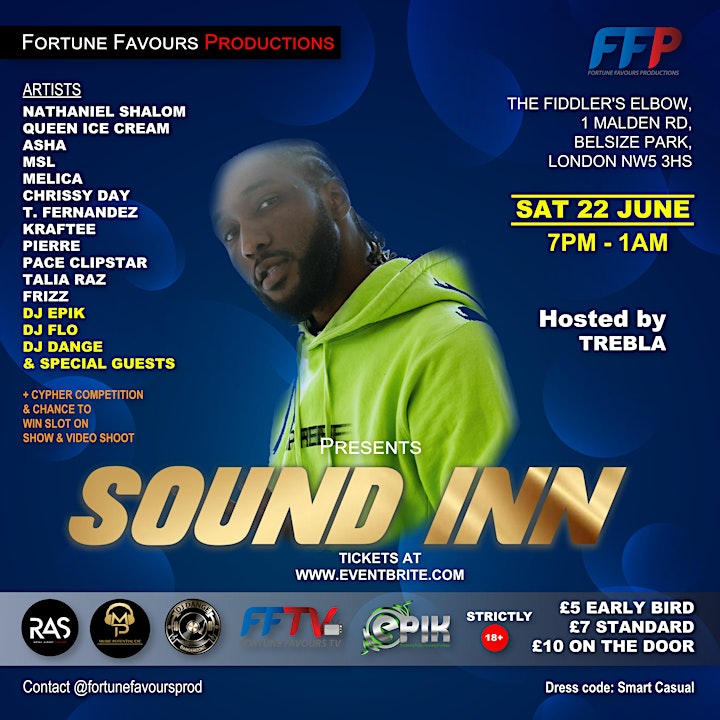 Fortune Favours Productions provide a range of services in the creative industry, ranging from music, film, photography, marketing/promotion & events. Fortune Favours Productions work to create events like SOUND INN which provide a platform for musicians, both emerging and established. We also connect the outstanding artists with our radio station partners and festivals, to offer them opportunities which will hopefully further their career in music. We believe the best way to predict the future is to create it.