SoundPro'19 is the MUST-ATTEND event for all sound professionals. Kate Hopkins, Pete Burgis, Mark Angus, Anthony Shaw, plus 30 exhibitors!
About this event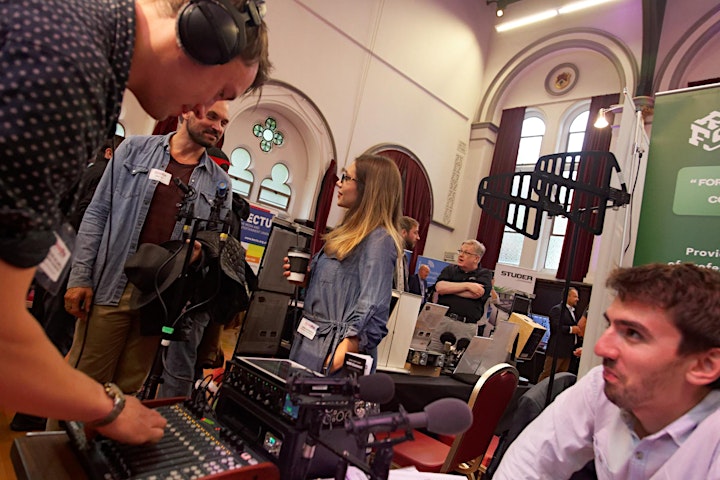 Now in a new home at Chiswick Town Hall, SoundPro'19 is the essential annual event for all sound professionals: freelance, staff and contractors. Location recordists, production sound technicians, sound mixers & supervisors, designers, assistants, recording engineers, maintenance, installers, and anyone with an interest in broadcast, online, film, live events, post and games sound – you're all welcome!
It's an informal exhibition with manufacturers, distributors, dealers and service providers.
Come and meet representatives of leading sound technology companies, and play with the new kit!
Speakers/presenters on the day include:
Kate Hopkins (Blue Planet, Blue Planet II) and Foley master Pete Burgis (Rocketman, Bohemian Rhapsody) with more sessions to be confirmed.
Confirmed exhibitors/brands include Aspen Media, Audio Developments, Audio Dept, Audio Ltd, Bubblebee, CEDAR Audio, Everything Audio, Hawk-Woods, ioCo, the Institute of Professional Sound, Kii, Leapwing, Manfrotto, Prism, Raycom, Rycote, Sennheiser, Sonifex, Sound Network/DPA Microphones, Sound-Link ProAudio, Synthax/RME, VDB, Wendy's Broadcast Services, Broadcast Bionics, Deity Microphones, Zoom Corp and Ambient.
SoundPro'19 is FREE to registered visitors. Audio technology students are encouraged (give your career a leg-up!)
GETTING THERE: there's a comprehensive list of transport link here.
If you are involved in audio for broadcast, post, recording and media production then Resolution is the magazine for you.
Resolution is the essential audio production publication for the working audio professional. By applying strong traditional values we aim to inform, educate and demystify technology for the reader, and help with the creative, technological and business aspects of their work.