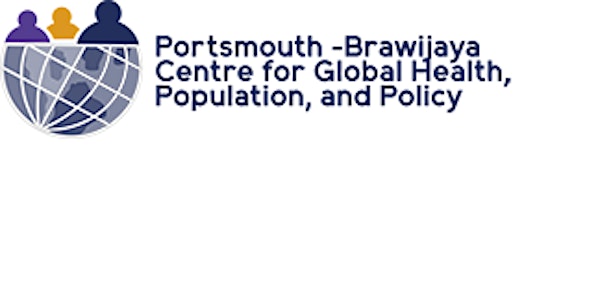 South-East Asia Conference on Population and Health
Description
The first South-East Asia Population and Health biennial conference will be at the Portsmouth-Brawijaya Centre for Global Health, Population and Policy, University of Brawijaya, Malang, Indonesia during November 8-9, 2018. This is jointly sponsored by the University of Portsmouth, United Kingdom; University of Brawijaya, Indonesia; and National Family Planning Board (BKKBN), Indonesia. The BKKBN will provide registration fee, accommodation, and travel cost for 60 Indonesian delegates. The conference will provide 20 travel grant awards (travel, accommodation, and registration fee) to postgraduate student and early career researchers from the South East Asia whose papers have been accepted for oral presentation. Travel grant application forms will be send to those participants whose papers have been accepted. All other participants will have pay for conference fee of $US350.00 to cover two working lunch, 2 dinners, and two breakfast as well as accomodattion for the nights of 7th and 8th. The conference will be held at The Singhasari Resort, Bandu.
SUBMISSION PROCESS:
Please send extended abstracts to seaaconference2018@gmail.com
SESSIONS AND CHAIRS:
1. Family Planning: Professor Terry Hull

The session will invite papers on: Current and emerging family planning needs; Contraceptive use among special groups (e.g. teenagers, minorities); Role of public funding and private provision; Benefits of low fertility and mortality rates.
2. Fertility and Population Dividend: Professor from BKKBN
The session will invite papers on: Very low fertility and future fertility rates; Fertility rates among special groups/minorities; Reversal of fertility rates; and Voluntary childlessness
3. Population Ageing: Dr Rosserin Gray
This session will invite papers on: Elderly care in the context of family system changes and female migration; Institutional care; Mental health; Provision of general health care; and Old age pension.
4. Family, Marriage and Divorce: Professor Gavin Jones
This session will invite papers on: Changing family structure; Marriage in the changing socio-economic context; and Determinants of divorce.
5. Population and Development: Professor BKKBN
This session will invite papers on: Sustainable development goals; Underserved population sub groups; Economic and structural inequalities; and Poverty.
6. National and International Migration Professor Irudaya Rajan
This session will invite papers on: National and international migration; International female migration; Consequence of migration on the migrant and the left behind; migration policies, Re-integration and return migration.
7. Lifestyle Diseases and Mortality: Prof. Dr. Djoko Wahono Soeatmadji, SpPD KEMD
This session will invite papers on: Diabetes and its impact on the family and the patient wellbeing; Heart diseases among various population; Cancer; Alcohol misuse; use of drugs; and Smoking
8. Maternal, Adolescent, and Child Health Professor William Stones
This session will invite papers on: Maternal morbidity and mortality; pre- and post- natal care; Sexually transmitted infections; Neonatal and infant mortality; Immunization; Demand side financing programmes; C-sections; Health insurance for maternal health; Teenage pregnancy; Exposure to the internet and its impact on sexual and reproductive health.
9. Health System and Health Financing: Professor Abbas Buhiya

This session will invite papers on: Public and private health care system and changes needed to address new and emerging health needs; Human resources for health; Health insurance and universal health coverage;
10. Plenary Session Chair: Professor Saseendran Pallikadavath