Description
South Gloucestershire and the surrounding area has a thriving business community. We believe our community deserves its own event that gives business owners and decision makers the opportunity to network, learn and elevate their business.
We are delighted that the first South Glos Expo will be held at the Bristol and Bath Science Park. The venue is like no other in our area, and ultimately speaks for itself.
With a range of speakers, networking and workshops there will be plenty of opportunity to be inspired and learn new skills that will help take your business forward.
---
Why attend?
Expand Your Contacts ~ Network with your local business community.
Be Inspired ~ Hear talks from motivating keynote speakers.
Learn New Skills ~ Develop your business in our workshop sessions.
Refocus ~ Find new suppliers to meet your business needs.
Free and Fun ~ Forget everything you know about business expos.
Unique Venue ~ Excellent location and transport links.
---
Keynote speaker: Anita Manning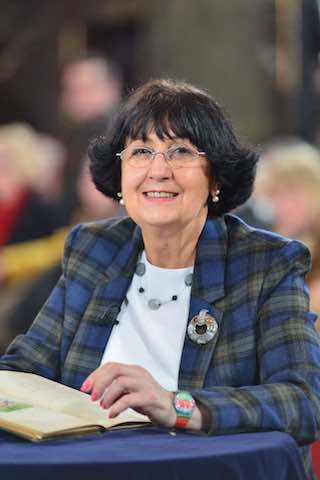 Anita is known throughout the UK as a lively expert on BBC television programmes including Flog It!, Antiques Road Trip and Bargain Hunt. She's also appeared on The Apprentice – You're Fired, sharing her business expertise. However, it's not widely known she was the first female auctioneer in Scotland and set up her own business – Great Western Auctions – in 1989 with her daughter Lala.
Anita will be delivering a keynote speech and will be with us throughout the day.
---
Event Programme
Barry Horne | Keynote | 10.30am - 11.30am | Room 1
Hands Up! - If You Want More Customers (Trust and Loyalty Through Information Assurance)
Competitive edge is about more than product and USP. It's also about customer experience, trust and reputation. This seminar will provide some simple-to-follow steps in strengthening your online brand and building valuable customer loyalty through information assurance. Sponsored by innovecom.
Networking | 11.45am - 12.45pm | Room 1
Join the networking session and meet contacts in the local area. Hosted by South Gloucestershire Networking.
Anita Manning | Keynote | 1.15pm - 2.15pm | Room 1
"Business As Usual" with Anita Manning, Scotland's first female auctioneer.
Anita reveals, "although my life is made up of many different parts, my business is not just part of me, it is a large and satisfying part of who I am. I hope that my talk will encourage business men and women to feel confident that with good planning, hard work, common sense and dedication, success is within reach."
Fidel Beauhill | Keynote | 2

.30pm - 3.30pm | Room 1

The Ballad Of Badnews

In this keynote Fidel talks about the amazing advice he has picked up from a decade of speaking with the elderly and terminally ill. This is an emotional roller coaster with some real value.



CleverHR |

Workshop | How To Interview Candidates With Impact | 10.30am - 11.30am | Room 8

Victoria Chidgey from CleverHR will encourage businesses to explore how to interview effectively, ensuring candidates are not just technically capable but also fit the Company culture whilst remaining legally compliant.



Fiona Scott Media Consultancy |

Workshop | Five Things Journalists Hate | 2.30pm - 3.30pm | Room 8
Fiona from Fiona Scott Media Consultancy explains how to effectively engage with journalists when it comes to telling stories in and around your business and what you should avoid. Q&A session will be included and do come along armed with a potential media story for discussion.


---
EXHIBITION OPPORTUNITIES... There are a couple of exhibition spaces remaining, don't miss your chance to exhibit. Email hello@southglosexpo.co.uk before Friday 28 April (5pm).