Description
The BIG DO is BACK and you're invited
Big Do is the area's largest cross sector networking event and brings together business, community and public sector organisations in South Ribble for a huge networking-fest of a Big Do.
Big Do is all about making connections
Our theme this year is all about how we can work better together by making the connections to open up share the wealth of skills and expertise across the public, private and voluntary sectors.
Is Big Do for You?
Big Do is for ALL organisations, whether from the Private, Public or Third Sector; large or small. You should come along if you can answer yes to any of the questions below;
Is your organisation looking for ways to share its skills and expertise with others?

Do you want to get involved in supporting local communities?

Are you looking for, or wanting to develop the role of volunteers to support your organisation?

Are you a volunteer led organisation that has skills to exchange and provide?

Do you want to find out how you can be part of a creative communications hive?

Looking for that next great collaborative project?

Make new connections and realise new opportunities?
Take a gander in the Market Place
We have lots of different organisations joining us, who are working with communities in many different ways.
Some have volunteers to share, others are looking for volunteers and expertise to help them out.
Some offer opportunities and routes to help share and engage
Just some of the people joining our market place....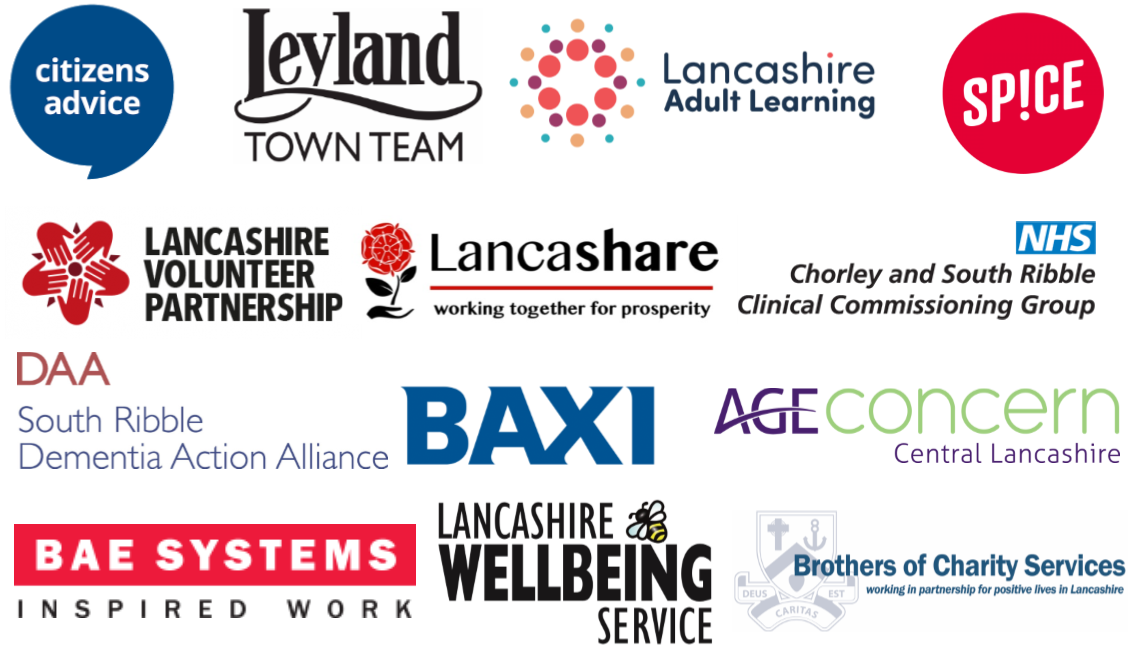 ---
The Grid - Its YOUR SPACE and we Challenge you!
Are you up to the Challenge?

The GRID! This is your own display space. 40 x 40cm square you can bring and display whatever you like to promote your group or organisation. You might have things people can take or things you want to showcase...it's entirely up to you what you use your square for.
Get creative! Stack it, build it…..It's 40x40cm square and as tall as you can make it (safety though!)


---


Workshops and Seminars
We have some really exciting workshops, though spaces are limited so make sure you get your place booked!
Something for Something
Lancashire Time Credits will be leading our workshop focused on the benefits of building relationships and how individuals and organisations can benefit from each other in many different ways.
We want you to think about how your organisation could support volunteering, either by supporting employees who volunteer or how volunteering could help support what you do.
The benefit could be in better health and wellbeing; greater engagement with local projects or it could be encouraging people to put their skills to use in helping our communities do great things.

If you are looking at how you can better engage with local communities; work with volunteers or enable your organisation to develop their role with the community, this is the workshop for you.
Lancashare
Come and meet Lisa Edge, director of Lancashare who will be talking about her experience of working collaboratively across Lancashire with both the public and private sectors and the benefits of working with others to create win / win scenarios.
Learn about Lancashare and how they are helping a whole county to work more collaboratively.
See Lancashare in action as she takes you through a Demo of how businesses can access this platform for free to benefit them in a whole host of ways including building lasting relationships that provide a real return!
Get Your Message Out!
Join our Press and Communication Guru's, Natalie and Caroline from South Ribble Borough Council. They are leading our workshop around developing a local communications network to get some of the biggest and most important messages out to residents, visitors, businesses and anyone interested in South Ribble!
If you are responsible for your organisation or groups communications, then this is the workshop for you and you can find out how you can tap into the South Ribble Communications network and get your message heard


---
FOLLOW US ON FACEBOOK FOR THE LATEST UPDATES
Don't forget about the Community Awards which takes place straight after the Big Do Networking Sessions. You are invited and we want as many of you to come along as possible.
It's a fancy affair and as a result we have a seating plan, some nice food and a little entertainment planned. So if you want to come along, please follow the link below to book your seat! We hope to see you there.
---
FAQs
What are my transport/parking options for getting to and from the event?
There is parking on site at the Leyland Hotel. We do expect it to be busy so where you can, think green and car share. If you require disabled parking, please let us know so that we can liaise with the venue to reserve sufficient spaces.
What can I bring into the event?
You can't bring banner stands as we will not have enough space, however you can bring anything that will fit in to the 'Grid' display area which is 40 x 40cm. You can be creative and bring anything that promotes your organisation so long as it fits.
Is there any adaptations or adjustments being made so anyone with additional needs is able to attend?
It is important to us that everyone who wants to attend the Big Do, can do! If you do have any additional needs, we need to know about them in advance. Will try and make any reasonable adjustment so you can attend and will get in touch with you.
I have a food allergy/intolerance should I let you know?
Yes please. We will be providing some light refreshments and so if you do have any allergies or an intolerance, please let us know so that we can adjust accordingly.
How can I contact the organiser with any questions?
Contact us via partnership@southribble.gov.uk or 01772 625546
Do I have to bring my printed ticket to the event?
Yes please, it will help us getting you registered and into the event nice and quickly
Is it ok if the name on my ticket or registration doesn't match the person who attends?
We will be wanting people to connect and so each delegate will have a name badge. Please try and update your registration ticket so that we have the right badge for you. However if it is late in the day and you haven't been able to do this, please still send someone along and we will make a 'hand crafted' badge for them.