Event Information
Location
Various - see details
Southampton - various
Description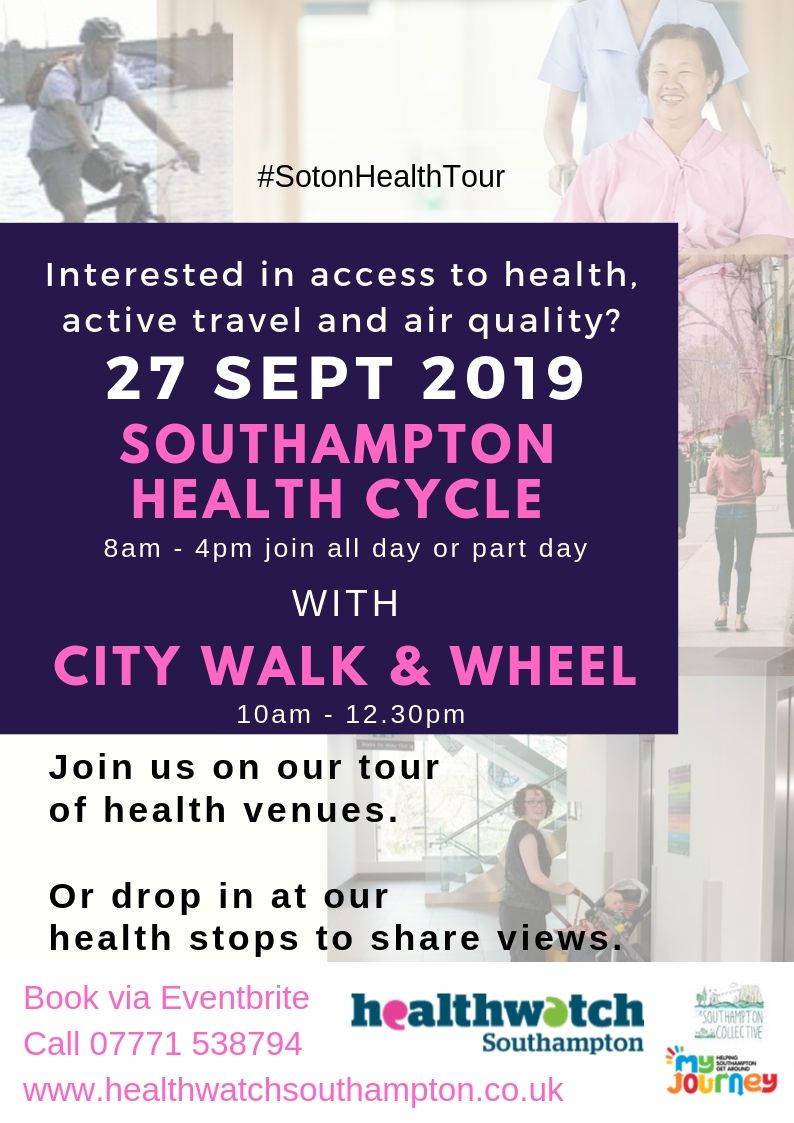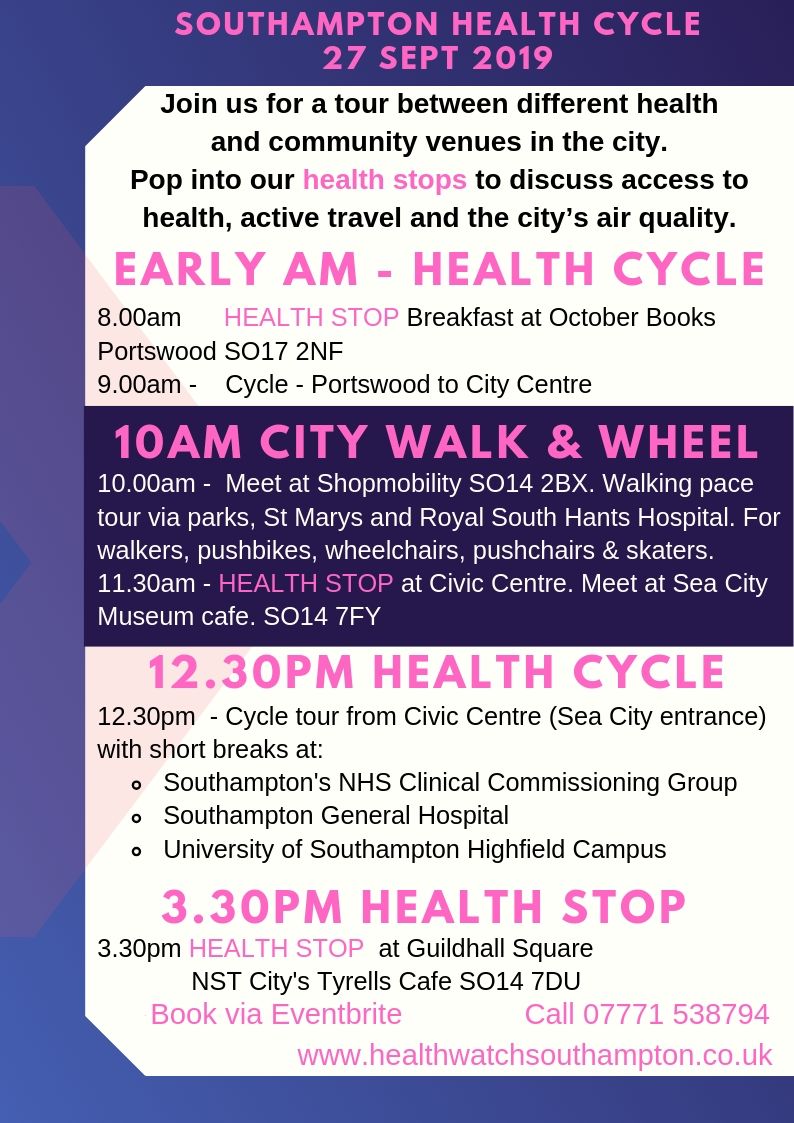 Interested in access to health, active travel and air quality?
Join us for all or part of the day at our Southampton Health Cycle and/or City Wheel and Walk tour. You can join sections of the route, or you can come and chat at our various health stops. The Health Stops are open to anyone. The whole day tour is suitable for people who cycle. The city centre section is designed for people who walk or use wheels such as wheelchairs, pushchairs and skateboards.
At our Health Stops we want to hear your views on what can be done to make getting to health appointments easier, how the city can encourage and support more people to walk, cycle, use their wheelchairs and other low polluting and cheap forms of transport. We want to discuss the health impacts of poor air quality, and share news about initiatives to reduce exposure to pollution. We want to hear what the barriers are to improving health and active travel. We will be joined along the route by people who work for local NHS organisations and the Healthwatch Southampton's team, whose role is to feed public views back to NHS organisations for their response.
Here are our stopping off points:
EARLY AM – HEALTH CYCLE
8.00am HEALTH STOP breakfast at October Books Portswood SO17 2NF
9.00am Cycle – Portswood to City Centre via St Denys
10AM CITY WALK & WHEEL
10.00am Meet at Shopmobility SO14 2BX. Walking pace tour via parks, St Marys and Royal South Hants Hospital. For walkers, pushbikes, wheelchairs, pushchairs and skaters.
11.30am HEALTH STOP at Civic Centre. Meet at Sea City museum café SO14 7FY.
HEALTH CYCLE
12.30pm Cycle tour from Civic Centre (Sea City entrance) with short breaks at:
Southampton's NHS Clinical Commissioning Group

Southampton General Hospital

University of Southampton Highfield Campus
3.30PM HEALTH STOP
3.30pm HEALTH STOP at Guildhall Square, NST City's Tyrells Café SO14 7DU
Please see our poster for locations. You can book for different sections of the route or join us at the Health Stops. Booking ensures we know how many people to expect, and ensure that the led ride/walk/wheel sections are managed safely for all.
We will offer some refreshments. If you are joining us over lunchtime, please either bring money for lunch at Sea City museum or a packed lunch.
If you want to join us at a point which is not listed as a stop, please give Healthwatch a call on 02380 216018 or 07771 538794.
You can share any views or photos on Twitter or Instagram using #SotonHealthTour or via our Facebook event page.
Date and time
Location
Various - see details
Southampton - various