The Southampton Virtual Jobs Fair is for anyone in Southampton looking for work to virtually meet employers with live vacancies!
About this Event
The Southampton Virtual Jobs Fair is a new event organised by Southampton City Council and Southampton JCP to assist job seekers, currently unemployed, furloughed or being made redundant in Southampton, waterside area and Hythe to engage with recruiting employers.
The virtual jobs fair will give people the opportunity to find out about the companies recruiting, the vacancies and will provide a safe platform for positive engagement to happen between the job seeker and the employers.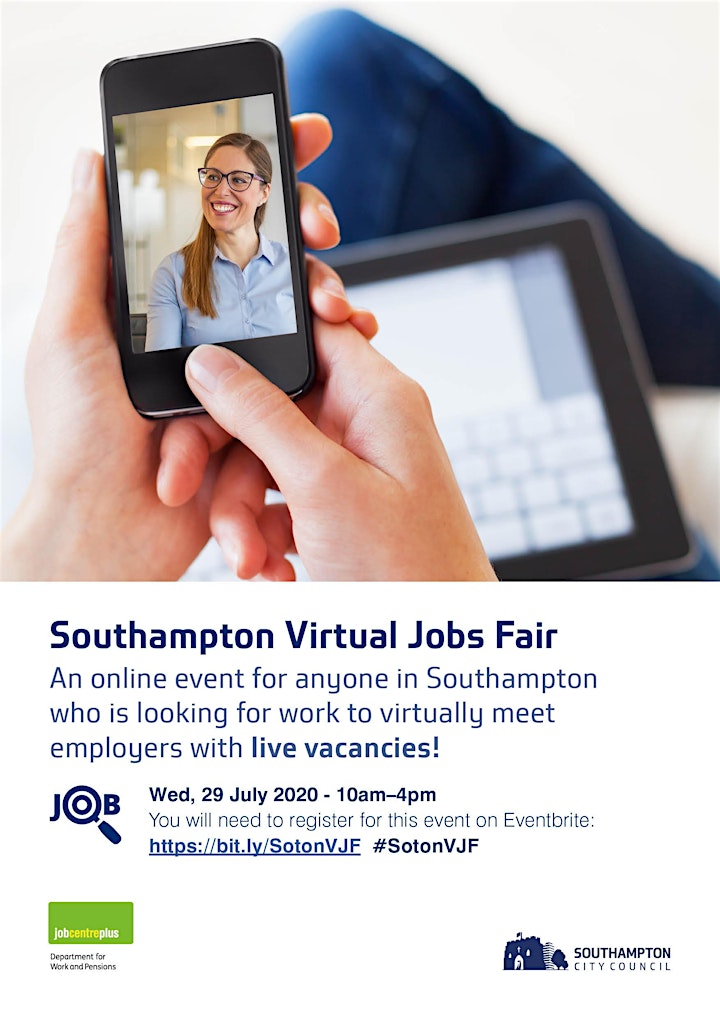 On the day:
Attend free webinars to help you improve your employability skills and wellbeing
Virtually meet employers for 5 minute 1 to 1 sessions where you can find out more about their vacancies and ask any questions you might have
Get support and advice from dedicated Southampton City Council Employment Officers
Book your free place today to select which webinars you would like to attend and which employment sectors you would like to visit. You will then receive joining instructions and more information.
Follow us on Twitter to get useful information, details about employers and webinars and the latest job vacancies in the build up to the event.
#SotonVJF
An up to date list of employers exhibiting and further information about our webinars can be found here: access-southampton.co.uk/southampton-jobs-fair