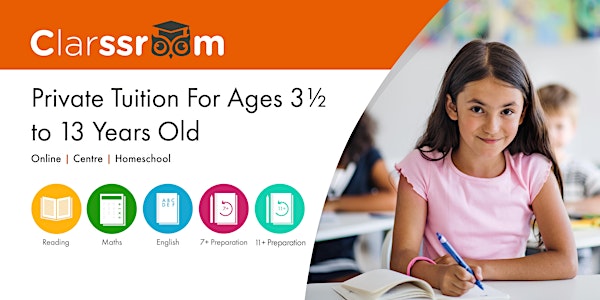 Southgate Private Tuition - Summer Term Saturday School Trial Session
Location
St Andrew's Southgate Primary School (CE)
297 Chase Road
Southgate
London
N14 6JA
United Kingdom
Sales Have Ended
Registrations are closed
We are sorry that you missed our booking deadline. You can come to the centre with your child at 9:30am or at 11:30am during term time.
Book a trial and have a FREE assessment.
About this event
We are a complementary and private tuition provider of Reading, Maths, English and STEM courses to primary and secondary school children from Nursery to Year 8. We inspire confidence in your child to READ early, EXCEL at school and ACHIEVE outstanding success at entrance exams.
Our programmes and courses are designed using the best and effective teaching methods that are applicable to all grades of school children in all teaching levels. Our success rate is enviable, and this is demonstrated in the numerous testimonials we have received from success rates at 7+ and 11+ entrance examinations, as well as other intermediary student progress assessments.
The TRIAL session comes with a FREE assessment and is designed to give children an experience of our programmes. The programmes we offer include the following as standard:
👩‍🏫 Weekly sessions are delivered by UK trained and qualified DBS vetted teaching team
📚 Bespoke and printed programme booklets in line with UK curriculum
👨‍👧‍👧 Small and interactive class size
👨‍👦 Regular parent-teacher review meeting
💡 Written progress report at the end of each term with action areas
🖥 Access to online Maths subscription
Our programmes are offered during the school term time on Saturdays and during the holidays at daytime.
For term dates, visit: https://clarssroom.co.uk/locations/
We are trusted by parents
"The learning with you has really been a foundation we are building on. At reception now, my daughter is way above her peers and they are like she is reading at the level of year one."
- Estelle
"Thanks again for everything you've done for Louis as his school report this year was outstanding"
- Neil
"The centre excels in giving feedback and information supporting learning at home. There is significant improvement in my daughter's phonics and now blending and reading some short words over 3 weeks considering she couldn't even write or read before starting"
- Parent with child on reading programme
"The English resources are the right resources, and the homework is appropriate as well. This has been very helpful to improve my child's work. My daughter started at age 4 and she is now 6 years, she is exceeding in her class in English. The lesson has built up her confidence, reading skills and spelling skills."
- Parent with child on English programme
"David got offered a place at New Hall. We really appreciate your help... Seni also got offered a place at the school"
- Abi