Description
Southwark Ladies Who Latte is on the 2nd Friday of every month - 9.30am -11.30am.
At the Lewis Carroll's famous Alice In Wonderland themed Boundary Row Coffeehouse, Kitchen and Bar, 2-6 Boundary Row, SE1 8HP.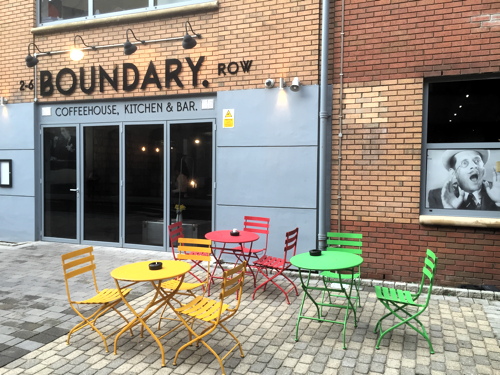 Do you want to network for free with inspirational business women? Maybe you're thinking about starting up your own business? Or have a business that you'd like to introduce to others! Why not attend the Ladies Who Latte on a monthly basis in the Southwark/Waterloo area.
Ladies Who Latte traditionally works on a turn up, grab yourself a breakfast and a drink, be prepared to speak for one minute about yourself and your business/business idea and network.
Ladies Who Latte is the fastest growing women's network, with groups in the UK, Europe, Australia and Singapore!

Networking with Ladies Who Latte is brilliant! Women are very supportive and will swap useful information with one another, and where necessary hand out their contact details and business cards.
Networking events are usually held at the Boundary Coffeehouse, Kitchen & Bar near to Southwark and Waterloo stations in the South Bank area. Please note the details above of the venue for the next meeting.
This will be our debut Ladies Who Latte event hosted by Selina Charmaine as the group leader of Southwark Ladies Who Latte supported by Revone Hughes as co-host.
Monthly networking events will be held on the second Friday of each month.
Do check out the website: www.ladieswholatte.com where you can find out more information about the Ladies Who Latte brand and also details of other group meetings.
Can't wait to meet you, see you there! xx
Who is this for?
Entrepreneurs, Business Owners whether established, start-up or yet to launch their ideas, who desire a safe place to filter ideas, have accountability and support for their ventures.
Our goal is that you leave each meeting with clarity and breakthrough thinking as you step out into the unknown.
What to expect:
Elevator Pitch - The chance to practice your elevator pitch and share your business story

Round Table - 3 Powerful Questions to help move you forward on your entrepreneurial journey in 2018

Networking - Connect with the other business owners in a relaxed environment
What should I bring to the event?
Feel free to bring business cards, flyers and promotions.
BOOK YOUR TICKET and we can't wait to see you at Southwark Ladies Who Latte!
HOSTED BY:
Selina Charmaine - Founder of The Meraki Entrepreneur Society, Charma Communications and The Idea To Launch Academy.
Let's Connect:
FACEBOOK GROUP: Connect with other entrepreneurs in our Facebook group before the meetup.
How can I contact the organiser with any questions?
https://www.facebook.com/groups/TheMerakiEntrepreneurSociety/