Syrup are hosting a free afternoon of creative activities and discussion as part of the Southwark today project.
About this event
Join us to celebrate the new Southwark Heritage Centre and Walworth Library, meet the team, and take part in the Southwark today exhibition.
Featuring:
Zine making workshop with Sweet Thang
My Story is my Power mural making workshop
Pattern making & memory mapping
Future of heritage discussion
Stories of market traders by Latin Hub
Story of Southwark exhibition
Bring in your objects & photos to share with the team
Southwark today Photography display
Library detectives play trail (ages 8+ unaccompanied)
Registration is needed so we can monitor numbers, but you are welcome to drop in any time between 1pm and 5pm.
All ages welcome.
The venue is accessible and seating is available. Baby changing facilities are provided. Further visitor information is available here.
If you have any questions or feedback about the event, or require additional assistance to allow you to take part, please email: southwarktoday@syrupmagazine.co.uk.
Please note
We know that not everyone is comfortable going back to in-person events. We are exploring ways to for those who can't make it on the day to join in online. If this is something you would like to see, please send us an email.
We are asking optional demographic questions as part of sign-up to help us evaluate the project. Your data will not be shared with anyone else.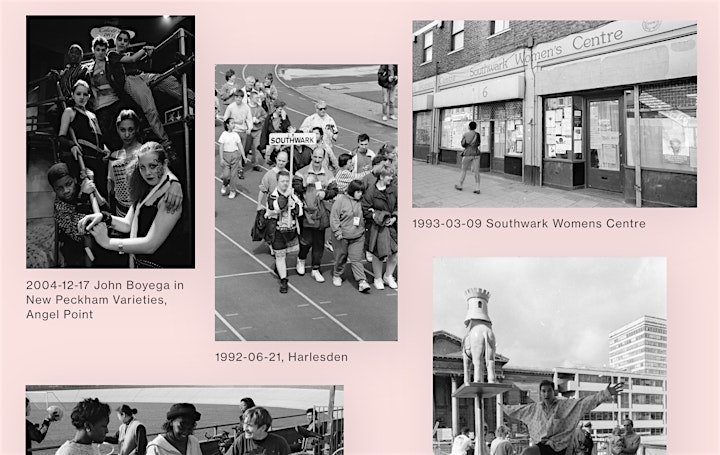 About Southwark Today
The project will run throughout 2021 and will culminate in an exhibition expected to open March 2022.
Through a programme of events and creative workshops, we want to make sure the people of Southwark have their experiences, voices and stories included in the local history of the borough.
Archive images provided by Southwark Archives / Phil Polglaze.
About Syrup
Syrup is a social design & engagement studio. Established in 2016, we create projects, exhibitions and experiences with people and about places, focusing on how we can collaborate.
We make research accessible through narrative, co-design and technology to create inclusive and interactive engagement. We also produce a publication that explores the crossover between intersectional feminism and creative practices.
Organiser of Southwark today | Library & Heritage Centre Open Day