Soviet Cinema in Transnational Perspective Conference
A one day conference exploring the international dimension of Soviet cultural and film history.
About this event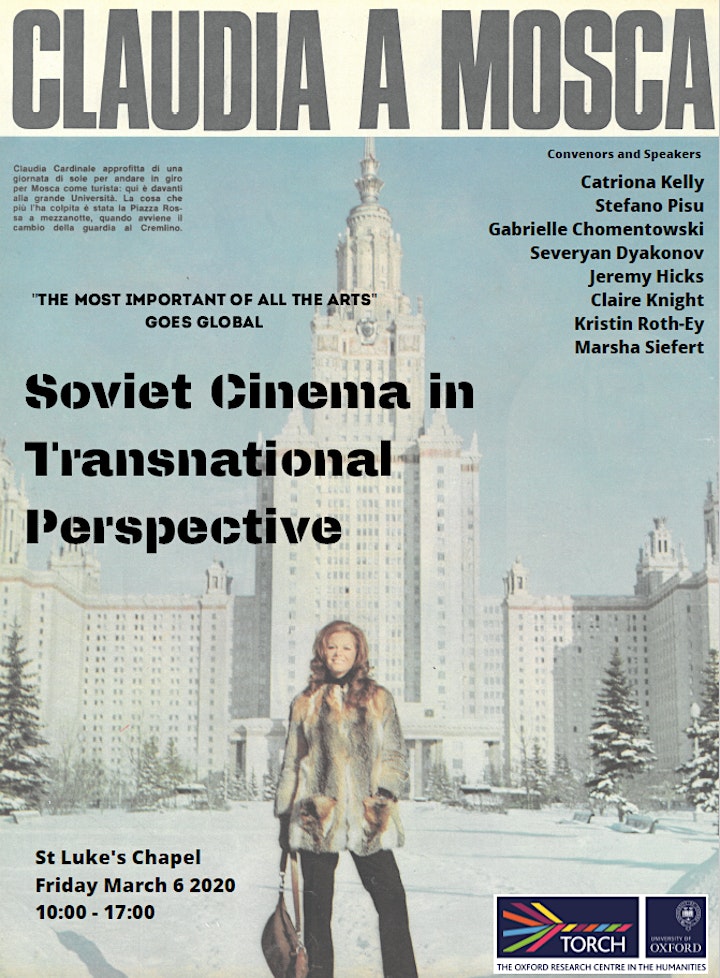 Soviet film played a key role in the USSR's cultural and artistic agenda, a role cemented already in the early 1920s by the view attributed to Lenin of cinema as "the most important of all the arts". During the first decades of Soviet power, promotion of Soviet cinema to the world was rather haphazard, but after the end of WW2, and even more during the Cold War, the transnational dimension of Soviet film became more and more relevant as it was used to consolidate the image of the communist superpower at home and abroad. This conference aims to reframe the importance of Soviet cinema in the context of the global Cold War. It reveals the significant extent to which the big screen was intersected to crucial issues - political-ideological, economic-industrial and cultural-artistic - of that confrontation. Among the topics discussed are coproductions and festivals, Soviet films abroad and foreign films in the USSR, and technology transfer. The focus is as much on the USSR's ambitions for political and cultural primacy in the so-called "Second" and "Third" Worlds (China, India, Africa) as on links with the capitalist West, though we shall also discuss how ideological competition with the latter did not preclude convergence and assimilation of a pragmatic kind.
Speakers:
- Catriona Kelly (University of Oxford),To Catch Up and Overtake… Europe: Technology Transfer and its Limits in the Soviet Cinema under Brezhnev
- Stefano Pisu (University of Cagliari, TORCH International Fellow), Soviet film and human rights in the 1970s. The transnational campaign for Sergei Parajanov and the Italian role
- Gabrielle Chomentowski (University Paris 1 Panthéon-Sorbonne / CNRS), Soviet assistance to African cinemas in the Sixties: economic, politic and artistic issues
- Severyan Dyakonov (Graduate Institute of International and Development Studies, Geneva), Soviet films in Indian cinemas, in the 1950s-1960s
- Jeremy Hicks (Queen Mary University, London), Exporting the Victory cult: Liberation (Ozvobozhdenie,1968-72) and The Unknown War (Velikaia otechestvennaia, 1978/1979)
- Claire Knight (University of Bristol), Stalinist montage: censoring foreign films during the early Cold War
- Kristin Roth-Ey (University College of London), Sovexportfilm in the Third World: agents and dealings
- Marsha Siefert (Central European University, Budapest), Soviet Cinematic Diplomacy in Cold War and Revolution: Moscow, New York, Beijing 1949-1950
Click here to see the conference programme
Organiser of Soviet Cinema in Transnational Perspective Conference