Join the Webinar - Space Policy and How it Impacts Space Missions Organized by WIA-E Brussels Group
About this event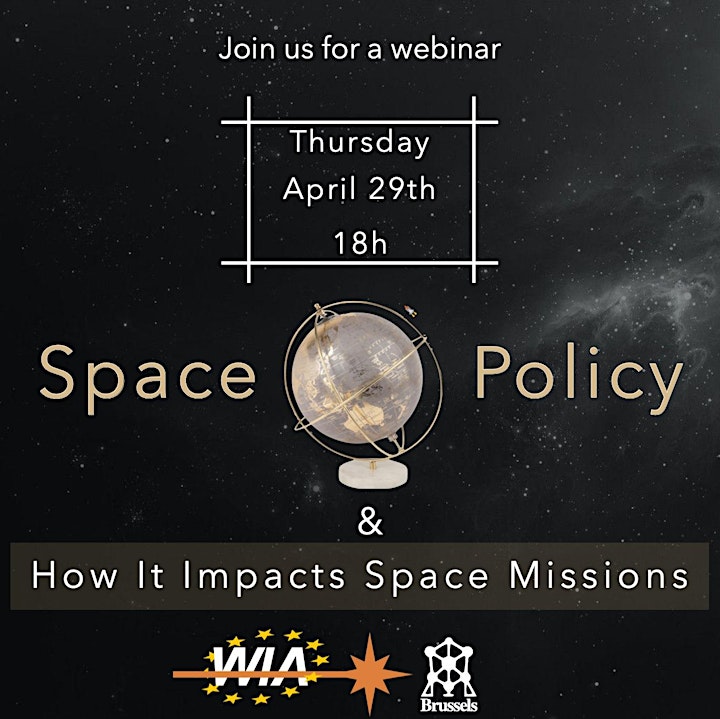 Women in Aerospace - Europe (WIA-E) Brussels group brings a Webinar focusing on space policies and their impact on space missions.
The field of play in space activities is shifting, with new players continuing to enter the arena and space technology advancing and proliferating. The commercial space sector - from traditional aerospace companies to entrepreneurs, space-advocate billionaires, and venture capitalists, is driving a larger share of space development and expanding into new applications. Major technological shifts are reducing costs, challenging traditional models in the sector.
Meet our Panelist:
1) Dr. Agnieszka Lukaszczyk is a Senior Director for European Affairs at Planet. A Polish/American national, has worked at the European Commission, DirectorateGeneral for Internal Market, Industry, Entrepreneurship and SMEs, Space Data for Societal Challenges and Growth Unit. She also worked at the Directorate General for Enterprise and Industry, Space Policy and Research Unit. Before she joined the Commission, Agnieszka was the Brussels Office Director for the Secure World Foundation. In addition, she is the former Chairperson and the former Executive Director of the Space Generation Advisory Council in Support of the United Nations Programme on Space Applications. Agnieszka also worked at the European Space Policy Institute as a research fellow. Agnieszka serves as the Vice President - Europe for the World Space Week and sits on the Board Of Directors for the Women in Aerospace-Europe. She obtained a PhD in Space Security at the Polish University of War Studies. She also holds a Master's degree from the Warsaw School of Economics in Management of Space in New Economies and a Master's degree from the American University School of International Service in International Politics plus a Bachelor degree in Political Science from the University of Tennessee. She also studied at the Universite Catholique de Louvain in Brussels, Belgium; the Jagiellonian University in Krakow, Poland and the World Trade Institute in Berne, Switzerland. She gained professional experience at the Political Section of the Polish Embassy in Washington DC, American Electronics Association in Brussels, European Department of the Polish Senate in Warsaw and the Warsaw Business Journal.
2) Tomas Hrozensky is a Resident Fellow at the European Space Policy Institute (ESPI) in Vienna, Austria. Previously he was a visiting Fulbright Scholar at the Space Policy Institute of the George Washington University in Washington, DC and a researcher for the Space Security Index 2017 project. Tomas has participated in UN COPUOS sessions since 2015 and also chairs the Slovak Space Policy Association NGO, which serves as NPoC for Slovakia in the European Centre for Space Law. He holds an M.A. and Ph.D. in international relations from the Matej Bel University in Banska Bystrica, Slovakia.
3) Vera Pinto is a space enthusiast that transformed her passion into a career. Currently, she works as Policy and Equality Coordinator at Directorate General for Defense Industry and Space (DG DEFIS) at the European Commission, specialising in European Space Policy and European Space Programme: Copernicus, Galileo and EGNOS. She holds a Master's Degree in Political Science and International Relations from the Nova University of Lisbon, Portugal. Prior to her time working at the European Commission, she worked in different Ministers in Portugal. At her last position, before she moved from Lisbon to Brussels, she was a European Union Grant Manager for the Portuguese Ministry of Home Affairs, covering migration and refugees.
The panel discussion will be moderated by Victoria Schebek who is a space law and policy expert from Austria. During her law studies at the University of Vienna, she started specializing in international space law. In 2018, she joined the department for space affairs at the Austrian Ministry of Climate Action, Environment, Energy, Mobility, Innovation, and Technology, where she is responsible for national and international space law and the Austrian representation in various fora on European and international level. Victoria is a graduate of the European Centre for Space Law's Summer Course on Space Law and Policy as well as the Space Studies Program of the International Space University.
Join us and participate in the interactive discussions with our panelists - experts in space policy and space missions.
Organiser of Space Policy and How it Impacts Space Missions
Women in Aerospace Europe (WIA-E) is passionate about expanding women's opportunities for leadership and increasing their visibility in the aerospace sector. Being a part of our ever-growing network means benefiting from our programmes and special member offers, as well as connecting with like-minded professionals through our local communities.
Rich with opportunity, our various functions offer something for everyone, regardless of whether you desire personal or professional gain. We offer mentoring programmes, awards, grants, training workshops, networking local groups and much more. In addition to this, both our regional and central events regularly feature speakers and panel discussions on a wide range of topics of interest to our community, and we keep members updated with valuable industry information such as scholarships and conferences.