Journey to the edge to the Universe and back! Walk amongst the stars and projected art installations and be enveloped in the music.
About this event
Created by award-winning artistic collaboration 'Luxmuralis', sculptor Peter Walker and composer David Harper. SPACE is and immersive show that will transform the interior of Worcester Cathedral.
This visual spectacular allows viewers to walk around the Cathedral on a journey through space and time. Sound and light art is projected onto the stunning architectural features within the Cathedral and you are enveloped in bespoke music as you view and experience a journey to the edge of the universe and back. You will walk though projection art installations, be immersed in sound and light, and have the chance to explore and contemplate your own personal journey.
Tickets are for timed entry on one of four evenings. Choose and book a specific entry time. Entry slots are every 14 minutes throughout the evening. The expected length of stay for those attending is 40 - 60 minutes, but the event can be enjoyed at your own pace.
The Cathedral Cloister Cafe and shop will be open during these evening events offering refreshments and gifts.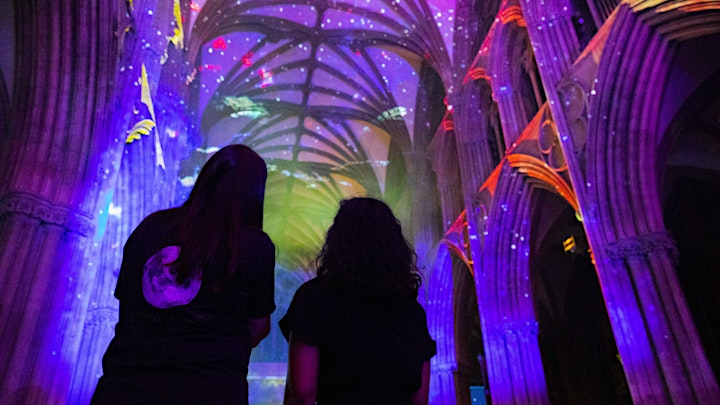 Early entry will not be permitted, but every effort will be made to allow access if you are running late. This will depend on capacity and the venue remaining COVID secure and will be at the discretion of Worcester Cathedral.
The experience is entirely inside Worcester Cathedral and will be via a one-way route. Entry is via the main Cathedral entrance on the north side of the Cathedral (opposite the High Street). Once you have left the Cathedral there will be no readmission.
Children under 3 years go free, however a FREE ticket must be booked for each child under 3 as they will count towards our capacity.