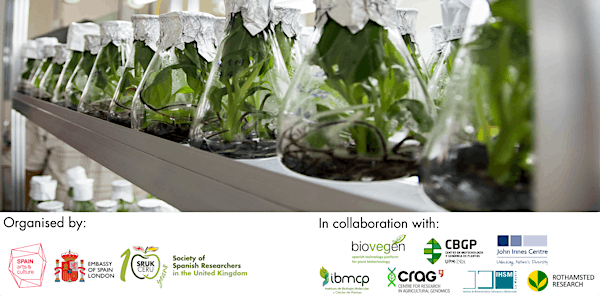 Spain-UK Plant Biotechnology Forum
Plant Biotechnology Forum to bring together Spanish and British researchers and companies working on this topic.
About this event
The Embassy of Spain Office for Cultural and Scientific Affairs, in collaboration with the Society of Spanish Researchers in the United Kingdom (SRUK/CERU), is organising an event on Plant Biotechnology on the 22nd and 23rd of February 2022 to bring together researchers and companies working on this topic.
The main objectives of this event are:
To raise awareness of the importance of plant biotechnology to face some of the challenges we will face in the following decades, such as food provision and the climate crisis.
To highlight the cutting-edge and world-leading research performed on this topic in Spain and the United Kingdom.
To enhance the collaboration between academics and Spanish and British companies working in the agricultural sector.
The event will take place online to facilitate the participation of researchers and companies from both countries and span over two days. The first day will start with a short presentation from each of the research institutes participating. Afterwards, there will be four sessions focused on the following topics:
Alternatives to chemical fertilisers.
Approaches to increasing crop yield.
Infection and resistance.
Food quality and new breeding techniques
Each of the sessions will include some talks from academics and representatives of agri-tech companies and a round table to discuss the future perspectives of the topic and identify those areas where there is room for collaboration.
On the second day, there will be a round table focused on the importance of plant biotechnology research. Academics, companies and policy-makers will take part in this discussion.
You can check the full program for the event here: https://spainculturescience.co.uk/event/spain-uk-plant-biotechnology-event/