About this Event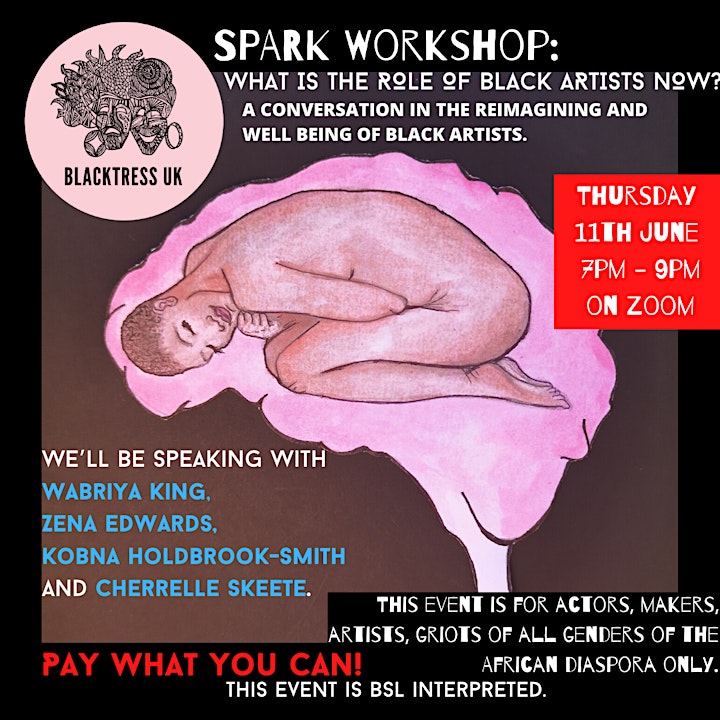 BlacktressUK invites Black artists to connect in a space so that we can heal and rebuild.
Many of us have held tightly onto the people we were before lock down, before corona had taken our family and friends of our community disproportionately and before we collectively mourn and purged our rage over the killings of black bodies.
We invite you to enter a space of re imagining, which will give us the opportunity to ask ourselves:
- What is the role of the black artist now?
- What can we do for ourselves moving forward?
- What does our utopia look like ?
We are in conversation with Wabriya King (drama therapist and actress), Zena Edwards (spoken word artist, Tarot reader, Creative Project Developer) Kobna Holdbrook-Smith (Actor, writer and maker)and Cherrelle Skeete (Co-Founder of BlacktressUK,actress and organiser)
WHAT TO BRING?
In true Blacktress Spark fashion bring a journal , pen an open heart and mind.
Ask for what you need and share what you can.
"This is precisely the time when artists go to work. There is no time for despair, no place for self-pity, no need for silence, no room for fear. We speak, we write, we do language. That is how civilisations heal."Toni Morrison
WHEN?
Thursday 11th June 2020
7pm- 9pm ish
WHERE?
ZOOM
You will receive the zoom link invitation on the day from Blacktress.uk@hotmail.co.uk (check your junk mail), please do not share it. We try as best as we can to manage a safe space over zoom to the best of our ability and it is our collective responsibility to uphold this.
We are a grassroots organisation we would appreciate your donation so we can continue to curate independently for the community.
PLEASE NOTE
This event will be BSL interpreted. This event is a space for ALL genders and Black and Mixed race identifying people of the African Diaspora.
We do not tolerate ableism, misogyny, misogynoir, transphobia, transmisogyny, transmisogynoir, homophobia, biphobia, classism, fatphobia, body shaming or colourism.Offensive comments related to gender, gender identity and expression, sexual orientation, disability, mental illness, neurotype, physical appearance, body, age, race, ethnicity, nationality, language or religion.