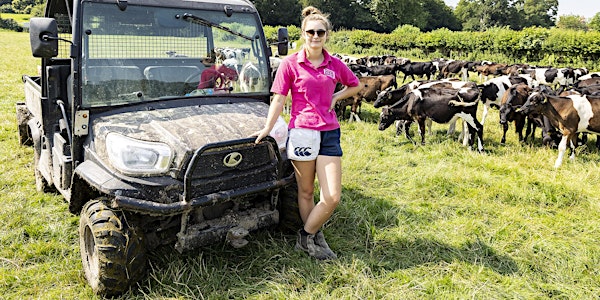 Sparsholt Open Day - Saturday 5 February 2022 - Apprenticeships
Sparsholt Open Day - Saturday 5 February 2022 - Apprenticeships
About this event
Find out more about Apprenticeships . We work with over 1,100 employers across 40 different industries. Apprenticeships are a great way to earn money and gain a nationally recognised qualification through a mix of training in College and in the workplace. Please book onto one of the available slots on the day.
You will also have an opportunity to meet our friendly students and find out about all the things you need to support you in your studies such as transport, funding, careers, learning support and accommodation as well as Industry Placements.
You only need to book one ticket per interested student and to keep you and our community safe we advise only one accompanying adult where this is possible. If you have accessibility requirements please email marketing@sparsholt.ac.uk
Please wear a face covering and if prior to the event you or the person you are visiting with are showing any symptoms of Covid please do not come onto campus. Please be aware the campus has a no dog policy (with the exception of assistance dogs).
Organiser of Sparsholt Open Day - Saturday 5 February 2022 - Apprenticeships
The Sparsholt College Group is the South's leading educational institution in the land, environment and animal sectors offering an extensive range of courses, apprenticeships, degrees and part-time courses for adults. The College and University Centre is close to Winchester and easy to reach by road, rail or air. Students learn from sector experts in industry-standard environments in subjects for which they have a passion. The wide range of subjects covered includes: Animal Management, Zoo Biology, Agriculture, Veterinary Nursing, Fish, Equine, Horticulture, Arboriculture, Forestry, Ecology, Game and Wildlife, Motor Vehicle Engineering, Sport, Outdoor Adventure and Public Services. 
The large and attractive 450 acre campus is set in the beautiful Hampshire countryside incorporating a working Farm, Equine Centre, zoo-licensed Animal Management Centre, home of the National Zoo Academy, tropical glasshouses, a Sports Centre, large outdoor rifle range, the Aquatic Research & Conservation Centre and Veterinary Nursing Training Centre. Sparsholt College has been rated Ofsted Good in its last three inspections, its Residential Accommodation achieving Ofsted Outstanding in 2018 and accredited by Matrix for Information, Advice and Guidance. University Centre Sparsholt holds a coveted Gold award on the Teaching Excellence Framework (TEF) and undergraduate and postgraduate alumni are sought out to work all over the world.
Find out more here