SPE Women In Energy Seminar: Press for Progress - Challenge Bias
Description
There are more women graduates than ever, but statistics show that very few females manage to progress through the ranks. In the oil and gas sector this is particularly poor, with only 4% female representation at executive board level. Join us on Friday 15th June 2018 for the 12th edition of the SPE Women in Energy Seminar, to explore what companies can do and what we, as individuals, can do to work in a more gender-balanced energy industry.

We will be joined by a host of fascinating and diverse speakers, as we discuss the challenges of the industry and how these can be overcome to succeed at all career levels. Workshops and breakout sessions throughout the day offer the opportunity to develop and build upon key career development skills, and network with industry peers.

When: Friday 15th June 2018, from 8:30 to 18:00

Where: London South Bank University

Tickets: £35 for general admission, £25 for students and unemployed (including lunch & networking drinks, eventbrite fees not included)


MORNING SESSION (9am to 1pm): KEYNOTE SPEAKERS & PANEL DISCUSSION
Speakers & Panellists include:
Sinead Lynch - Chair of Shell UK

Beverley Smith - Director, POWERful Women (formerly VP of Exploration & Growth, BG)

Dr Nic Hammarling - Head of Diversity, Pearn Kandola

Leigh-Ann Russell - VP of Global Wells Org, BP

Tania Gandamihardja - Diversity Manager, Schlumberger
Parminder Kohli, Global Head Marketing & Operations, Shell Fleet Solutions

Lesley Maxwell, HR Manager UK, Sasol Petroleum International

Tessa Collinson, Managing Director of SAFT

Gulrukh Khan, Film Maker
AFTERNOON SESSION (1pm to 5pm): WORKSHOPS & NETWORKING DRINKS
Performance through Inclusion (provided by Shell) : The key to becoming an inclusive leader is understanding and owning your biases, conscious and unconscious. During this workshop we will explore different types of unconscious bias and the part it plays in our decision-making processes, discuss when it is most likely to appear and explore strategies to manage and address the effects of bias.

Understanding & Tackling Unconscious Bias (provided by Pearn Kandola): In this session we will explore the most common forms of unconscious bias in the workplace; we'll also take a look at why we have them and the practical research-based actions we can take to minimise the impact of our own biases at work.

Presentation Skills (provided by KPMG): Presentation skills are critical to making an impact and creating a lasting impression. During the workshop we will explore some tools and techniques that can help to develop your skills and refine your approach. This will be an interactive session so that you can practice together, and share feedback.

Having An Impact: What does 'having an impact' really mean? And how can you do it authentically? (workshop led by BP): Despite being told that she 'lacked presence', Leigh-Ann found her way of having in impact in a genuine way, despite receiving some seriously strange advice. Join Leigh-Ann to discuss how you can have an impact at work. Share your stories with other attendees and listen to their experiences in this group discussion.

Career Transitions: How to navigate the changing environment and have a career you love through successful career transitions (workshop led by Energise Consultancy): The world is changing fast and the job you thought you wanted to do when you started out might not exist in the future…. Or how do you make the transition from technical to commercial or a leadership or some other transition you want to make. Join Charlotte as she shares her story of her journey from PhD chemist, via the wellsite to a management consultant and now the director of her own company. Bring your challenges and thoughts on how you want to transition and get inspiration and ideas on how you can make your own transition be it now or in the future.
**PLEASE NOTE THIS EVENT FOR BOTH MEN & WOMEN**
Men are as much a part of the solution as women are, and are delighted to invite men to be join our discussions.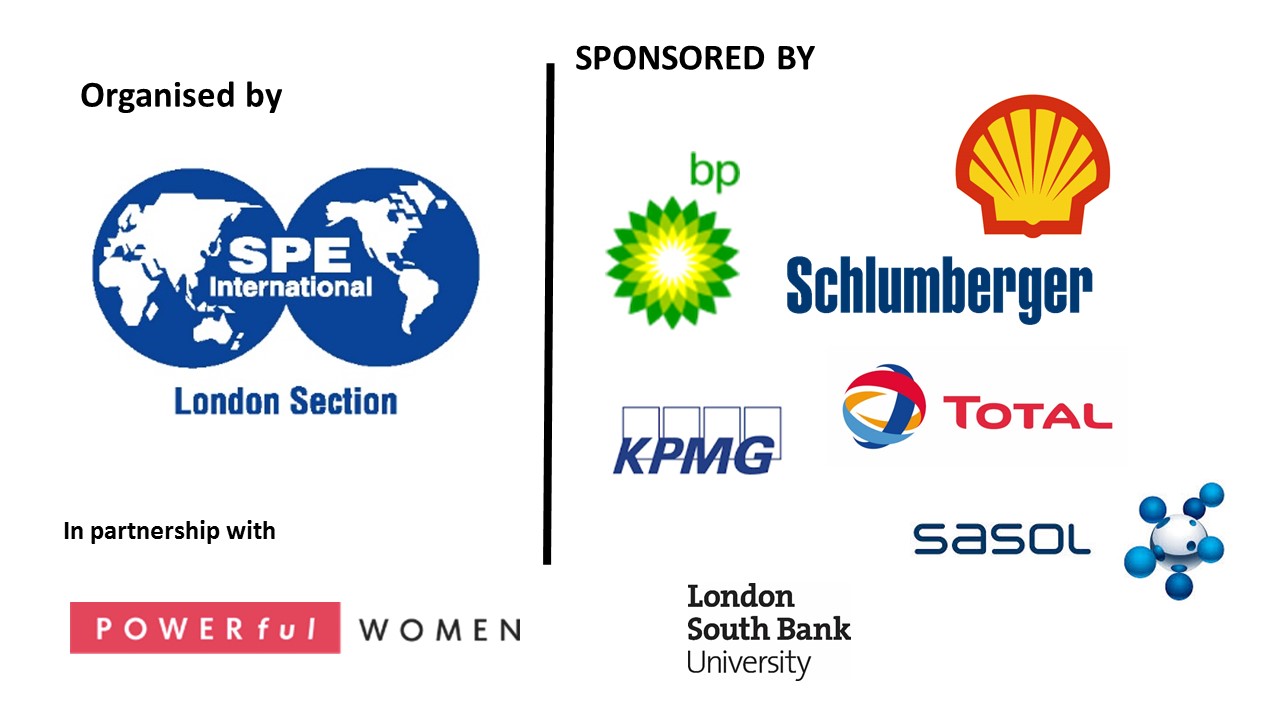 JOIN OUR LINKEDIN GROUP SPE WOMEN IN ENERGY; OR FOLLOW US ON TWITTER @WOMEN_IN_ENERGY
Please note we will be taking photos at this event. If you would not like to be included in photos, please let one of the committee members know.