"SPEAK LIKE A PRO ON CAMERA & BEFORE AN AUDIENCE!" with CELEBRITY EXPERTS!

Saturday, 2 July 2016 from 09:30 to 16:00 (BST)
Event Details
Living in a digital age whilst building our brands, businesses and careers...
Do you feel uncomfortable speaking before an audience or in front of a camera?
You don't have to!
Join The Red Carpet Academy's "SPEAK LIKE A PRO!" One Day Intensive training. We have over 125 years combined experience and currently seen on ITV, BBC, Sky HD & many more.
In one day you will:
Have practised speaking several times 

Deliver a 2 min presentation or personal story

Discover your USP (Unique Selling Point)

Build the perfect pitch 

Gain insight through practical exercises on how to present in front of a camera and before an audience

Speak with confidence and charisma 

Learn how to conquer your fears & nerves 

Discover how to effectively learn scripts and presentations

Gain personalised coaching throughout the day 

Over 7 hours of real, practical training providing excellent value for money!

Get the red carpet treatment in a fun & friendly environment

Discover unique tips to help you market your self or business as a first class presenter or speaker.

Increase your network 

Receive personal feedback 
Early bird tickets from £57 
(Value £297)

We are led by professional, multi award-winning TV Presenters and Public Speakers who have the ample experience required to dramatically transform your presentation skills! 

Here at The Red Carpet Academy we put YOU first by offering a tailor-made VIP experience. In our One Day Intensive "Speak like a Pro!" training, you will also recieve one-to-one feedback and opportinities for further training on the very same day! You will also be able to network with other like-minded people of all professions, which our trainees find extremely beneficial.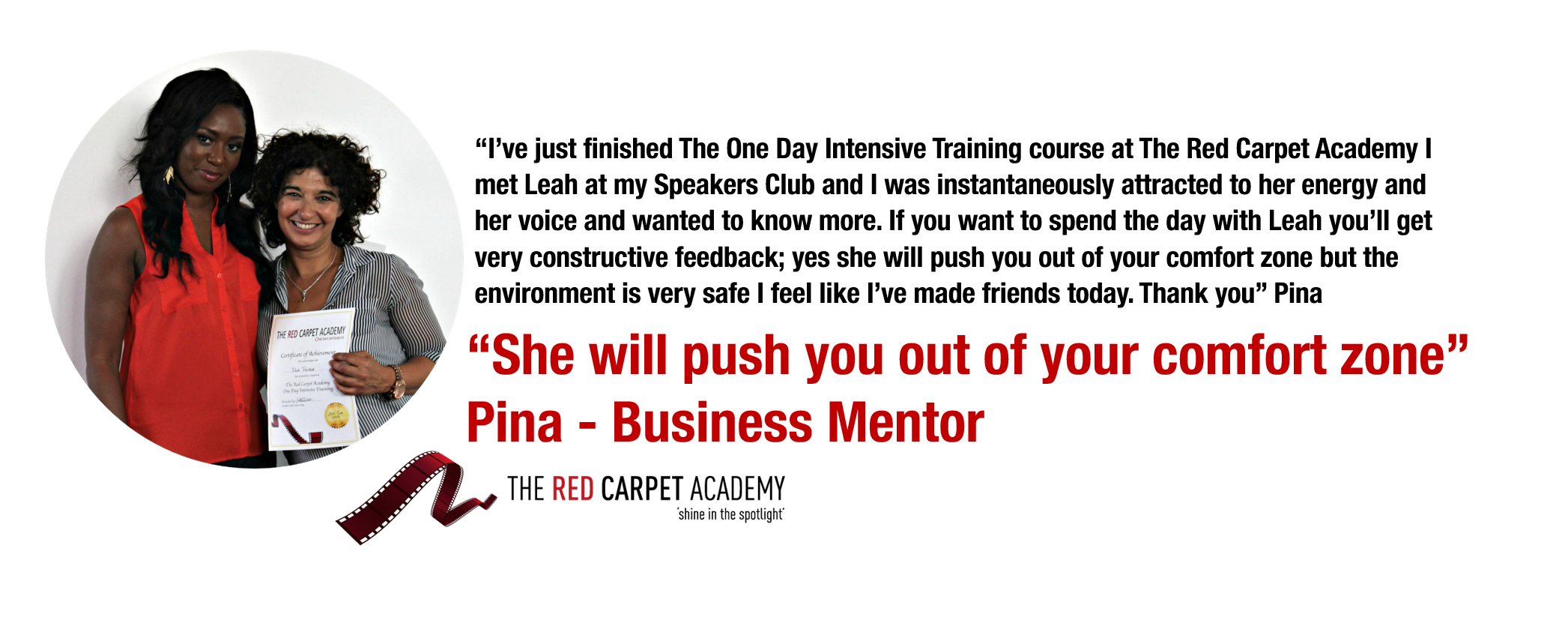 "It may sound daunting, but I urge you to push yourself through your comfort zone as you will never know the true awesomeness which awaits... You needn't be shy! Be rest assured, everyone is in the same boat and the groups often feel like one big family by the end of the day, cheering each other on! It's fun; you'll learn lots and the environment is inclusive to all."
- Leah Charles-King, Founder of The Red Carpet Academy
WHAT TO EXPECT:
PART ONE: PRACTICAL TRAINING 
Discover your USP (Unique Selling Point). What makes you different from the crowd?

Learn how to effectively introduce someone on stage

Learn how to deliver a 2 minute pitch on yourself or your business or share a personal story 
PART TWO: FURTHER PRACTICAL TRAINING 
Discover how to deliver on-screen persona and charisma for your online training or webinars 

Record to camera your 2 minute business pitch or personal story 
PART THREE: VIP SCREENING
Review your recordings and receive personal feedback 
PART FOUR: 
Q & A

Certificate ceremony

Further networking
ADDITONAL INFO:
Tea, coffee and water throughout the day 

Light refreshments

Glass of bubbly and popcorn box during "VIP Screening"

You will also receive a certificate 

Opportunity to take away your professional footage on the day providing you bring a USB stick
We've helped hundreds of people toward successful speaking careers.
We can help YOU too!
Our proven and popular courses are at their lowest ever price for a limited time only and like all VIP events we only have no more than 15 exclusive places on each workshop, so you get a personalised experience! 
Book now and improve your public speaking and presenting ability in just ONE DAY with The Red Carpet Academy!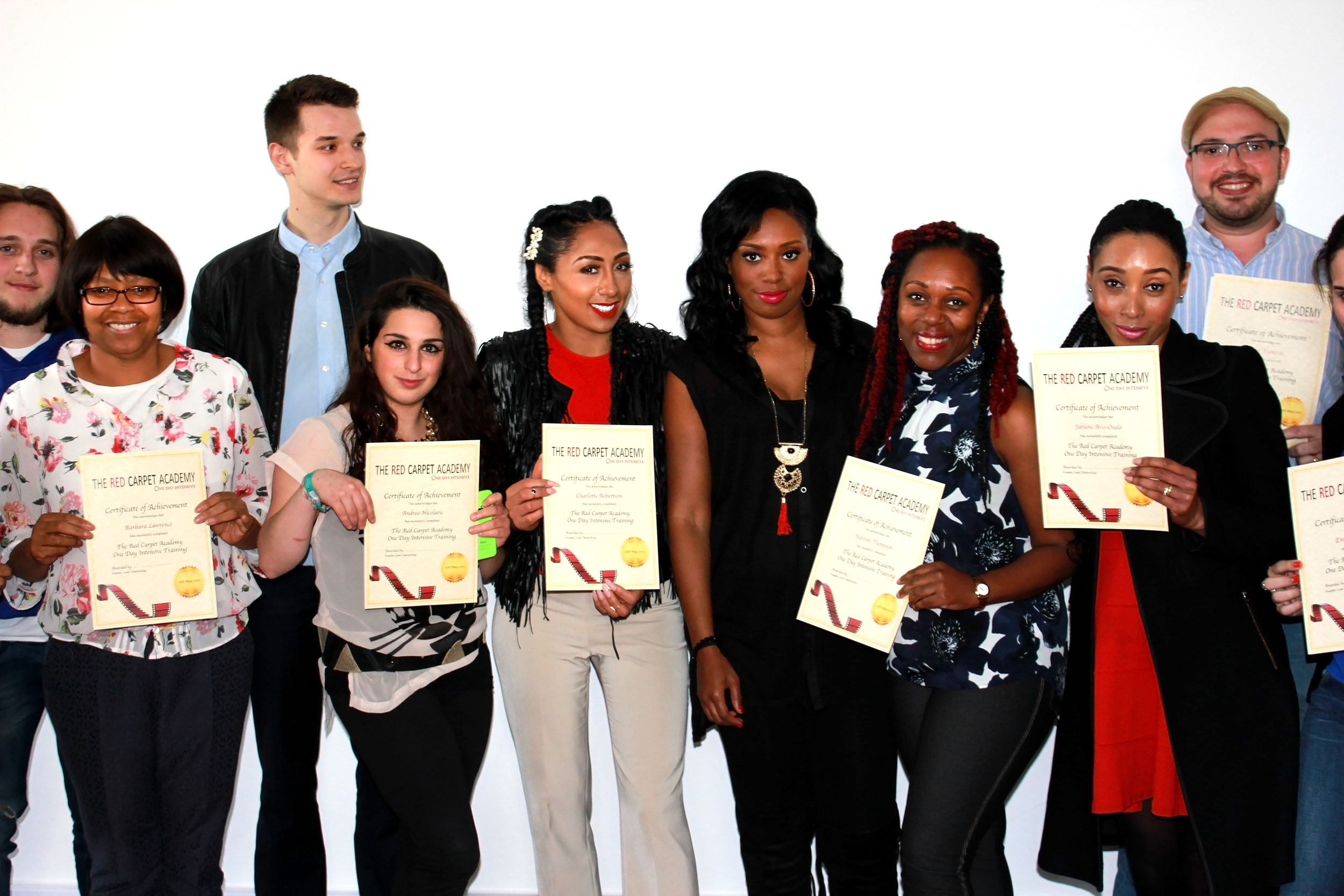 SOME OF THE BRANDS WE HAVE WORKED WITH:

TESTIMONIALS:
"I attended the Red Carpet Academy one day intensive training workshop and it was incredible value for all of the priceless information I learned in one day. I have signed up for the 2 Day Bootcamp and I am confident that this will be a life changing experience for me in my professional development as a public speaker and presenter."     - SHENUMA KASHTA - Motivational Speaker, Author & Entrepreneur
"If you ever want to get into public speaking or TV presenting, this is to place to come, it is run by industry professionals who are currently still doing it and have numerous years of experience amongst them."  - JONATHAN SINCLAIR-GEORGE - IT Specialist, Motivational Youth Coach & DJ
"Brilliant day facilitated by Leah (and her team) who go above and beyond to deliver value in every sense of the word. We were put through our paces from the word go, and came away with a different understanding of what it takes to stand up and present in front of an audience. Leah, really took the time to deliver a unique, tailor-made, personalised experience for each and every single participant. Delighted in every sense of the word! I immediately signed up to the 2 day Bootcamp and cannot wait!"              - ANTONIA ANDREEVA - High Vibe Coach for #Spiritpreneurs
"Working with The Red Carpet Academy has taught me so much! Leah's training is like no other. You get immediate feedback and then chances to implement the feedback. Totally invaluable. Since the training, I've been made an offer to appear on the BBC. The proof is in the pudding!"        - CJ SOHAL - Business Owner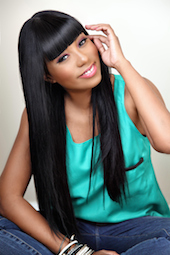 LEAH CHARLES-KING - BIO
What do major entertainment brands such as ITV, BBC, BET and The Disney Channel have in common? The answer: they have all called on the talents of multi award-winning TV & Radio Broadcaster, Leah Charles-King.
Leah Charles-King is passionate on using her skills to help others become more confident communicators. For the first time sharing hints and tips from the industry that many have not dared to share until now. Despite currently enjoying a milestone of over 15 years in the media industry alone, Leah continues to invest in expanding her skill set and encourages others to do the same!
Find out more about Leah and her extensive portfolio here:
www.leahcharlesking.com
When & Where

The Red Carpet Academy
Gaucho City
1 Bell Inn Yard
EC3V 0BL London
United Kingdom


Saturday, 2 July 2016 from 09:30 to 16:00 (BST)
Add to my calendar
Organiser
The Red Carpet Academy by multi award-winning TV and Radio Broadcaster, Leah Charles-King, will help you achieve your goals by developing and refining your on-camera presence.
Using Video Media for your business is the future, and we're here to ensure you're one step ahead.
No matter who you are, or what you're looking to achieve, the camera can take you there if you let it!  The Celebrity Experts at The Red Carpet Academy will give you the skills to master the art of presenting to camera.
Please scroll down to select your preferred time and date, all our training and events are located in Central London.
Contact us: hello@theredcarpetacademy.com