Full-Day Public-Speaking & Presentation Skills course - Delivered by THREE expert speaking coaches.
About this Event
Delivered by three expert speaking coaches - SPEAK & PRESENT is the ultimate crash-course in becoming a confident and capable speaker.
This is for you:
I'm a nervous speaker & want to feel calm under pressure.
I'm new to speaking & want to fast-track my communication skills.
I'm a professional & want to present with confidence & credibility.
Positive Outcomes:
Overcome anxiety & build genuine self-confidence.
Master your body-language and get comfortable in the lime-light.
Structure, rehearse and deliver your very own final speech.
Receive a filmed recording of your final speech with detailed personal feedback from each coach.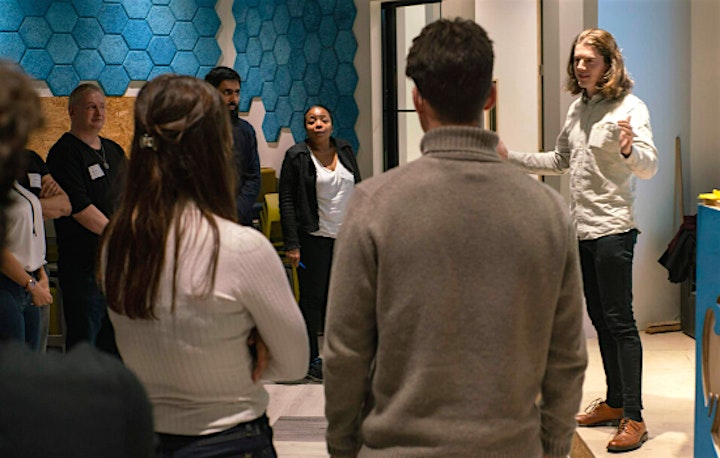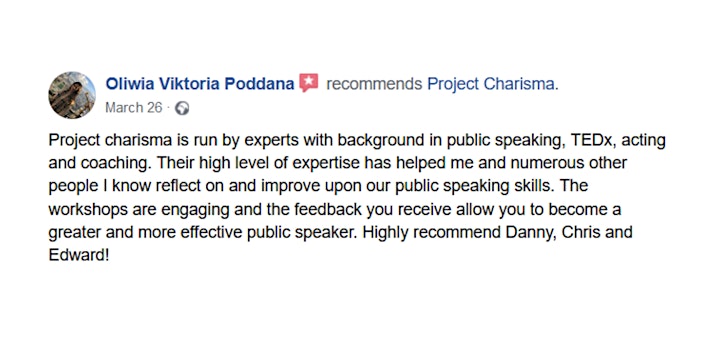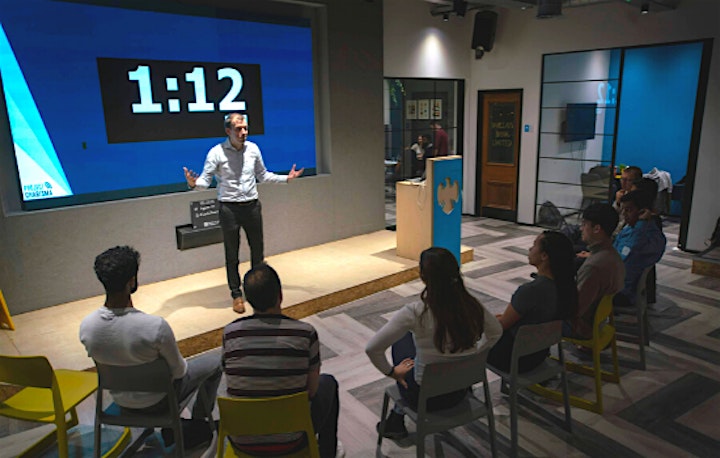 Your Expert Coaches:
Danny Riley is a Ted-X Coach and Learning and Development Professional. He has coached top speakers & countless leaders to be more effective communicators in their chosen fields.
Danny will show you how to structure your presentation, pitch, or speech, and bring it to life using using conflict, engaging hooks and storytelling tools designed to make your audience sit up and take note.
Chris Delaney is a Hypnotherapist, Confidence Coach and published author. Chris has developed his own version of phobia therapy called 'fast therapy', which has revolutionised the therapeutic landscape.
Chris will empower you to take control of negative thoughts, anxiety and phobias, giving you the confidence to deliver influential presentations and to communicate with confidence.
Ed Darling is a professional Actor & Public-Speaking Coach specializing in body-langauge, presence and stage-craft. He has performed in hundreds of theatres across the UK, Europe and NYC.
Ed's coaching combines top theatrical techniques and professional speaking skills to bring out your natural charisma, develop powerful stage-presence and engage your audience on an emotional level.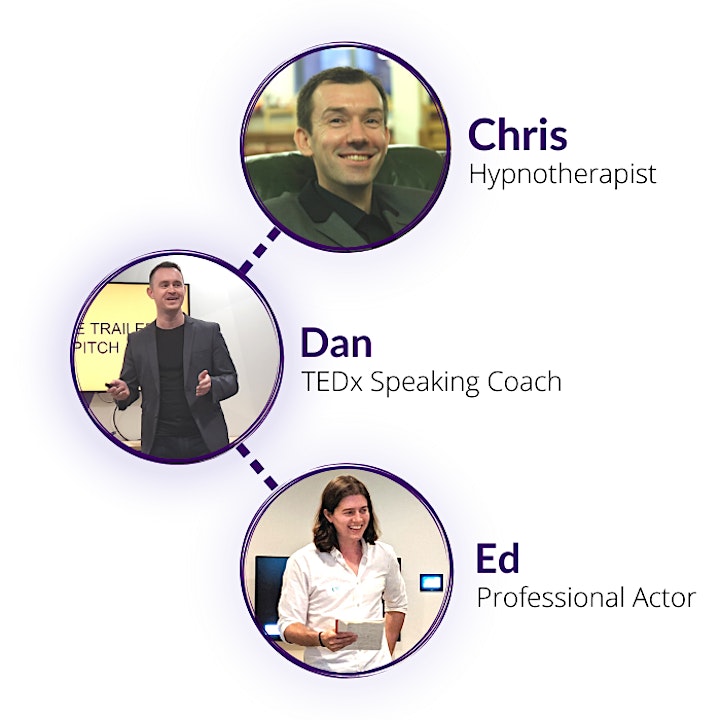 Q. How many people will be on the course?
Places are limited and you'll be learning within a small group of 6-12 people. Unlike other courses, you'll have three expert coaches on hand to offer personal advice & feedback. (We're also maintaining full social distance guidelines).
Q. How will the course work?
The course is a mixture of group learning, individual coaching, delivery time and feedback. We believe in gaining confidence through competence - so you'll have the opportunity to speak, practise and present throughout the day. (Full schedule below).
Q. What if I'm REALLY nervous?
Our coaches are experienced working with severely anxious and phobic speakers. You'll be learning in a welcoming, supportive and positive environment where it's safe to practise. (We promise it wont be as scary as you think!).
Q. What will I achieve?
You will come away with a complete understanding of the fundamentals of public speaking. Your confidence will have improved dramatically, and you'll be ready to deliver outstanding speeches & presentations.
You will also have delivered a speech to a live audience, received detailed personal feedback from our expert coaches, and developed new relationships with likeminded, ambitious learners.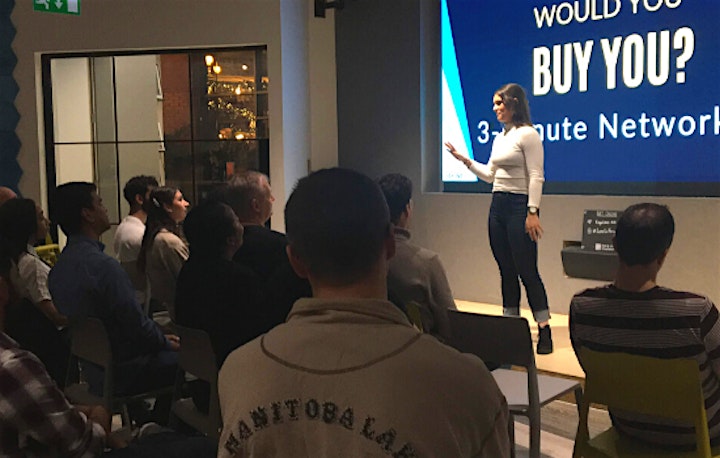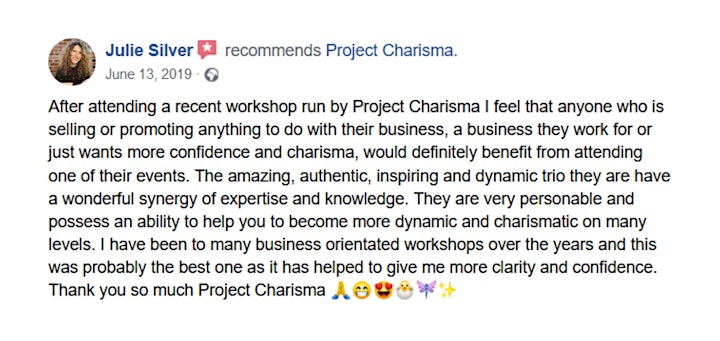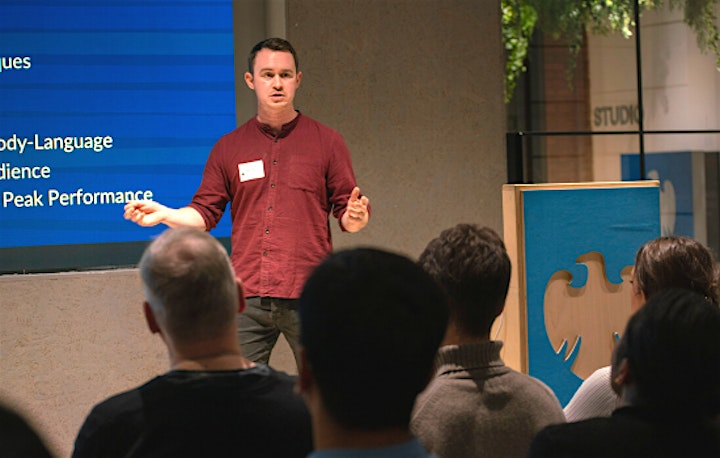 Agenda:
10.00am - Welcome & Introductions (and more importantly - coffee!)
10.15am - Session One: Building confidence, applying therapuetic techniques & developing powerful body-language.
11.15am - Session Two: Speaking fundamentals, understanding structures, writing individual speeches.
12.45pm - Lunch (45min)
1.30pm - Session Three: Anchoring confidence, practise & rehearsal time, peak-performance techniques.
2.30pm - Session Four: Speeches delivered, personal feedback & questions answered.
4.00pm - Finish for the day
Afterwards - Follow-up feedback: Receive your filmed speech along with detailed personal feedback and final thoughts from each coach.
Final Thoughts:
Helping people grow in confidence and become brilliant speakers is our passion and our speciality - if you have any questions before booking, please get in touch:
E. contact@projectcharisma.com
W. www.projectcharisma.com
To your success,
The team at Project Charisma.