Description
The old adage says, "You never have a second opportunity to create a first good impression".
If first impressions are so crucial, how do we prepare for them? How do we make sure we will create a WOW effect when we come into the room?
Or, if you are not for WOWs, at least, how to make sure you create the impression that is really aligned with who you are, your purpose, your message.
Let's get together and share what are the key elements for creating good first impressions.
I'll share with you my secret ones which, I'm positive will be a surprise at least to some of you.
And, above all, let's enjoy each other's company and have fun!
---
"Hi, I'm Tulia Lopes, the founder of Speak Up & Lead Talks.
I'm very excited to invite you to this platform where, in a relaxing and friendly environment, where there is no "right and wrong", but the willingness to learn, share and grow.
This is a platform to truly open up and share our achievements, failures, strengths, weaknesses, everything we feel we should and would like to share with others.
I am a true believer that Communication is the key to every successful venture in life. The ability to express our thoughts, emotions, desires, ideas, so on and so forth, assertively and effectively determines the quality of life we develop for us, and around us. Therefore, it is our duty to master those skills if we are serious about making an impact in this world.

It is time for you to TAKE ACTION to OVERCOME those OBSTACLES and CHALLENGES, to DEVELOP AN IMPACTFUL VOICE and BECOME AN OUTSTANDING INFLUENCER and the CHANGE-MAKER you can be!

Set yourself above the crowd! Take charge and own your stage!

Join me in these Sexy and Savvy Conversations where we share our experiences and join forces to challenge to change the status quo, where needed.
Are you with me (us)?
Welcome!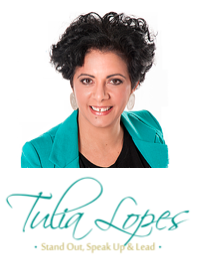 ---
We Celebrate Women Every Day.
Last March, we got together to talk about how we can "Think Global and Act Local".
Click the picture to access the video.
Enjoy it!