Actions and Detail Panel
Speakeasy - Moonshine Cocktail Bar Experience
Sat 6 May 2017, 19:00 – 21:30 BST
Description
Join the Shine London team for an experience with Moonshine! Come along to the Speakeasy Moonshine Cocktail Bar at the Grosvenor Arms, Wandsworth, 6th May 19:00 - 21:30 & have yourself some authentic, all American Moonshine. Use your secret password to get in & enjoy a welcome drink, table service & themed live music alongside the fabulous selection of Moonshine cocktails. Entry by ticket & password only...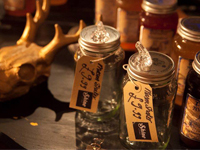 Learn about the drink you have seen in your favourite movies but never tried! Cocktails like Apple & Pecan Pie, The Shine Sour, Black Moon & Hot & Stormy alongside a special secret cocktail that will be revealed on the night! We want to take you through a Moonshine experience where you will get to taste & learn about the history, heritage & culture that surrounds this iconic drink.
Imported all the way from South Carolina's 1st legal distillery we present 4 variations; American Shine (52.5% ABV) / Peach Shine (22.5% ABV) / Blackberry Shine (22.5% ABV) / Apple Pie Shine (22.5% ABV) triple distilled, & the highest quality Moonshine available, this artisan drink is produced using the same techniques employed during the prohibition. The technique & recipe has been passed down through generations to shape today's production. Check out the website to fing out more on Moonshine, but even better if you come along to the event!

When you buy a ticket you will be issued with a password remember this & say it on your way in. You will recieve a special card offering you 20% off all cocktails, it will also let us know you are not a fed coming to stop our bootlegging operation…. A welcome drink on arrival will start things off. Then sit down & enjoy the discovery of a new drink & table service. Listen to live music taking you back to the days when good moonshine, bootleggers & gangsters used to hang out away from the prying eyes of the feds in just such places….
Always drink responsibly. This event is for 21 & over only. We are in no way agist so EVERYONE is required to bring ID with them just store it in your footlong beard.