Speaking A Shared Language: planning the future of skills training in busin...
Description
SPEAKING A SHARED LANGUAGE
planning the future of skills training in business
10am-1pm // Thursday 28th February
AMEX Community Stadium, Brighton
---
Providing enough skilled people to fill job vacancies is getting critically hard.
The training and technical skills providers in the South East often finds it a challenge to keep up with emerging technologies and changing needs of industry.
The Sussex Council of Training Providers is hosting an informal mini-conference this Spring, in partnership with the Association of Colleges and The Education & Training Foundation.
We want to celebrate innovation in technical training and explore new ways of approaching co-design, co-delivery and dual-professionalism between industry practitioners and training specialists.
Worried about the post-Brexit workforce? T Levels? Apprenticeships? Spending the Levy?
Hear some amazing examples of how the relationships between training providers and employers are transforming the workforce and the bottom line

Learn about the TeachToo framework - and how colleges and businesses are revolutionising training programmes around the UK

Get practical tools to help kick-start new ideas and get your experienced staff involved in mentoring and assessment

Listen to examples of innovation in Sussex that could help you think about your approach to designing training

Meet like-minded professionals who are rethinking approaches to designing work placements, training courses and staff development
---
SPECIAL GUEST SPEAKERS:
Wendy Martin - Head of Stansted Airport College - on site-based engineering and aeronautical training
James Maltby, Learning Technology Manager at Plumpton College - on virtual reality co-design with employers
Cerian Ayres, Head of Technical Education at ETF - on the national picture around employer/provider curriculum co-design
+ MORE TO BE ANNOUNCED
---
WHO IS THIS FOR?


From business
CEOs / COOs / MDs

HR managers

Learning & development officials

Line managers

Department heads

From education

Curriculum leads

Senior leadership team

Specialist tutors and assessors

Careers advisers
---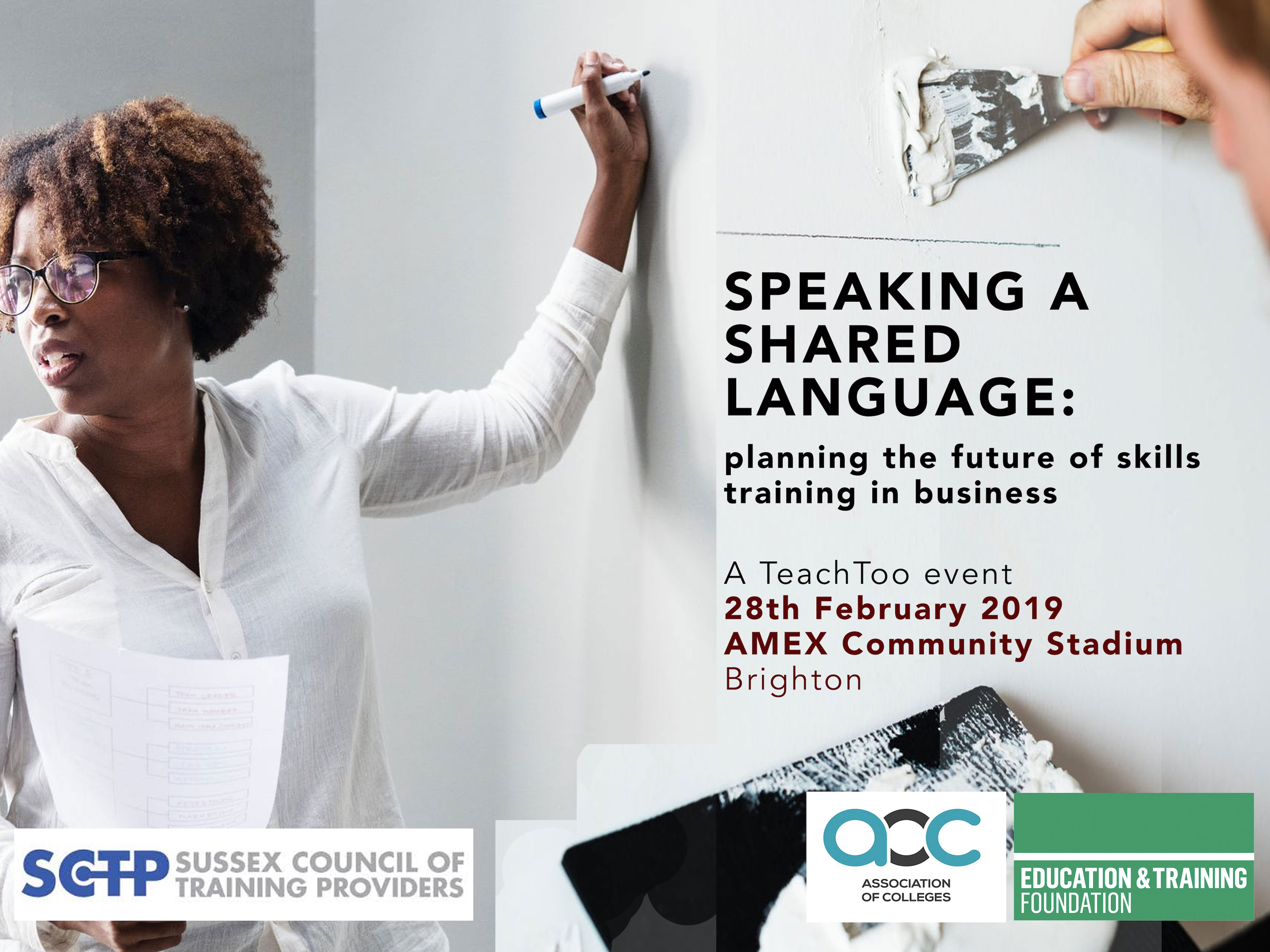 Organiser of Speaking A Shared Language: planning the future of skills training in business