Description
Struggle to speak up?
Confidence limiting you?
Struggle to find new clients?
Forget Everything You Have Been Led To Believe About Public Speaking. And Forget What Everyone Else Has Told You.
"From where I started to where I got to at the end of the day were just two different places! I didn't want the day to end" - Franco Sharp
If you have a strong desire to overcome stage fright, deliver high impact presentations that move your audience and convey your ideas more effectively and passionately, then watch this and keep reading...
This is your chance to join other smart individuals on the award winning, high impact 'Public Speaking Confidence & Presentation Skills' course. A practical course that takes the mystique out of public speaking.
Delivered by professional speakers who have been there, felt your pain, and will take you right through those barriers - fast.
(Best of all, you will not even need to speak up - if you choose not to!)
Presenting Without Fear
"Absolutely fantastic... it's a very safe environment, it's very supportive. I would definitely recommended the Masterclass and the Workshop to anybody." - Tahira Akhtar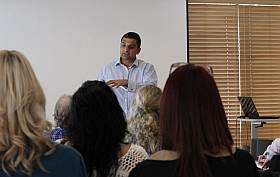 At the Public Speaking Confidence & Presentation Skills course we demonstrate and reveal the most effective approaches to THINK, FEEL and SPEAK with confidence.
You will learn:
How to find the courage to speak in public

How to manage those nerves

How to get audiences to engage with you and take action

To think on your feet and never forget your words

Immediate changing techniques to look professional, command respect and heighten your confidence

3 Professional Speaking Secrets that instantly transform your delivery

+ much, much more!
You will complete the Masterclass with a new found confidence in public speaking, less anxiety for your next presentation, and the tricks and tips on how to present professionally without forgetting what you are going to say.
What to expect when you attend:
"The most amazing public speaking course... very safe, and just a day! A huge shift. Amazing experience, highly recommended"
- HRH Princess Noor Asem
Check in at 9:45, sit down, relax. (remember, you won't be expected to speak)
10:00 - Welcome
10:10 - Psychology behind speaking fear, how to convert anxiety to positive power
10:30 - The PSA Speaking Challenge
10:45 - Break
10:55 - Fear to Presenter... in 15 Minutes
11:20 - 3 Professional Public Speaking Secrets
11:30 - Q&A / Afternoon Opportunity
11:45 - Open Networking & consulting with our trainers
Masterclass Attendee? Do keep the afternoon clear... You will get a chance to join our friendly focused small group workshop. Where delegates work practically towards a major shift in their public speaking skills:
"We've done a lot of workshops, but this was special. This was very unique, it allowed for such openness, and very fast." - Nour Sabbagh
Award Winning Intensive Public Speaking & Confidence Training 1-6pm
This is an intensive programme for those of you wanting to take things seriously, overcome fears and rapidly become a high quality presenter. In our unique high supportive workshop you will be pushed (gently) out of your comfort zone.
On this intensive you will learn how to:
Speak clearly and confidently

Engage your audience and speak without notes

Plan a great speech that will have impact & shine

Extend your vocal range and learn how to speak with power and passion.
Ultimately - you will learn how to be more confident and amaze yourself with what you have achieved.
THE INTENSIVE PROGRAMME
12:45 - Speaking Psychology & Ice Breaker
1:00 - Quick Start Presentations and Feedback
1:30 - Never Forget Your Words: demo, training and intensive exercise
2:00 - Dynamic Speech Structure: How to grip them from the start, stay engaged, and conclude with impact
2.30 - Tranform Your Delivery: Intensive Professional Eye Contact, Vocal Variety and Presence training.
3:10 - How To Gain Confidence Fast: Pro Secret and Group training
3.30 - One to One Coaching for Final Presentations
4.40 - Final Presentations
5.30 - Final Feedback, Next Steps, Certification
Our Team
The Public Speaking Academy are award winning professional speakers and coaches to Royalty, CEO's, Politicians, Leaders, Executives and Media personalities. Our unique approach delivers consistently and drives genuine breakthrough change in 99.8% of course attendees.
(our testimonials show it and our 100% money back guarantee proves it! )
And whilst we are a proud Northern team, our courses are acclaimed across the UK, and the world.
What Do Previous Attendees Think?
Here are just some of our course delegates, filmed immediately after attending (many who had never spoken in public before, let alone direct to camera!):
"It was just amazing!" - Daria Ni


"...took me from feeling like a nervous amateur speaker to appearing like a polished professional. It was a really empowering experience and one I'd happily recommend" - Amal Stapley
What Will I Achieve?
What if...
you could be seen as an authority in your field
you could deliver presentations that impact better than anyone else in your company
you could pitch your business with uniqueness and spark
...would that shift your career and your life?
For many of our delegates it already has... Dramatically.
And in today's competitive market place. Today's uncertain economy. The ability to step above 90% of the UK population who fear public speaking, will give you the upperhand. And the confidence, to become a new you.
So join us on Saturday at 9:45am
Hook up with like-minded people, and say goodbye to any anxiety. We guarantee to wake up the speaker inside of you.
"To say we enjoyed it is a massive understatement, the structure, the content, the support, the encouragement, the direction has been immense, the best money I have spent, EVER!" - Graham Cosier, Network Marketing Director and Leader
100% Unconditional Guarantee
With our proven unique approach to training, we stand firm that you will enjoy, see real change and value in our professional training. Or we will give you your money back - no questions, no quibble.
Where?
Holiday Inn Bloomsbury - is in central London. Easily accessible by Tube, with car parking facilities closeby and very close to the mainline train stations.
___
Tickets are limited. Please book early to avoid dissappointment
To secure your place simply scroll to the top, pick your ticket type and checkout.
"Just AMAZING! Brilliant Course. I will definitely come on the next one!" - Dr Ibrahim Hussein
FAQs
Q. Is the MASTERCLASS a complete course?
This course is about understanding and breaking through the fear of public speaking, but also moves through to full speaking exercises and pro speaking techniques, to ensure those at any speaking level will get value from the morning. Whilst we work intensively we can only take you so far within the morning. If you like what you see, you can continue with our intensive coaching session on a Saturday afternoon...
Q. When does the INTENSIVE begin?
At 12.45 - we want you to relax and enjoy every step. We run our programmes the same day. You make the greatest leap when out of comfort zones and set patterns which is why we encourage people to join the programme rather than risk losing their momentum, our wider programme can be pursued at your own pace.
Q. How many people are at the INTENSIVE course?
We limit our programme to a ratio of no more than 15 delegates to one coach as we want to build your skill level and tailor to your unique needs. Our Intensive class is typically run as a small group of between 8 and 15 people.
Q. What do you cover?
The INTENSIVE unpicks fear through exercises, small group work, presentations in pairs, games and culminate in a final presentation exercise. We introduce concepts like rapport building, powerful confidence tools that you apply in small groups whilst being coached. You learn rapidly by being immersed in practical habit changing exercises.
Q. How do you deliver the programme?
We will model the approach. You therefore don't just hear the theory but see it in practice. You then adopt the concept in a small group whilst being evaluated. Feedback is essential for growth and as coaches we are responsible in building your confidence throughout the programme. Most importantly it is FUN!
Q. Is it just a one off programme?
No. We run the INTENSIVE and the 'Professional Speaking Programme' across the UK. The INTENSIVE is module 1 of a wider programme that we will invite you on to progress your speaking.
Q. Does it really work?
We wouldn't be in business if it didn't or have repeat custom! However we understand the psychology of fear is to get very accustomed and attached to status quo. We use the most powerful tools to get you up fast, but also reassure you with a 100% money back guarantee.