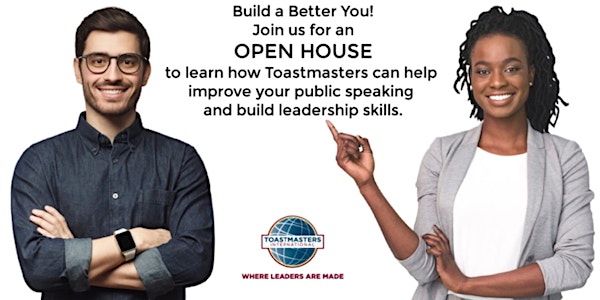 Speaking with Confidence - We'll show you how (online and in-person)
Come along to our Open House to find out what Stirling Speakers can do for you! Our virtual door is open... come on in!
About this event
Do you have a fear of public speaking?
Want to improve your communication and leadership skills?
Do you have a wedding speech or presentation to prepare for?
Or do you just want to feel more confident and competent in general?
If you answered yes to any of these questions, then we invite you to our Stirling Speakers Open House on Monday, 23rd May. It is being held online via Zoom as well as in-person at The Mayfield Centre, Stirling. Come alone or bring a friend and find out what our club is all about.
This event will be like our club meetings - friendly, welcoming and relaxed...and you won't have to speak, unless you want to!
We'll introduce you to what we do, why we do it and how we do it and will give you a taster of what happens when you become a member of Stirling Speakers. From the techniques and roles at club meetings to the Toastmasters Pathways Educational Programme, we'll explain and demonstrate how all this can help you improve your confidence, communication and leadership skills; which in turn will improve your personal, social and professional relationships.
What's more you'll find out that it's fun! Yes - public speaking is fun once you've banished the anxiety associated with it!
You'll get to meet our members, past and present, and hear their stories.....what motivated them to join and how they've benefitted from joining Toastmasters. Our members come from all walks of life and bring different life stories and experiences to the club, but we all have something in common - the desire to become a more confident and effective speaker and to help others achieve the same!
Includes an inspiring talk from Kyle Murtagh, Speaker, Author and Trainer; his journey took him from being a new Toastmaster in Glasgow to UK/Ireland Speaking Champion in just a few years!
You have to be aged 18 and over to join Toastmasters but if you have, or know of, children that may benefit from building their confidence and communication skills they are welcome to come along to the Open Day. Toastmasters run Youth Leadership Programmes (YLP) for under 18's, so if there are enough young people interested, Stirling Speakers will organise a YLP event.
Date: Monday 23rd May, 2021
Time: 7.00 - 9.00 pm (link open at 6.30pm)
Join us on Zoom with this link: https://us02web.zoom.us/j/84818435405
If you'd prefer to come along in person please click on this link, which will take you the Event & Registration Page for the live venue - https://www.eventbrite.com/315354332297
Although you are welcome to just turn up on the night, it would be helpful to us if you registered first. This helps us to plan effectively so you get the best experience.
Free Entry