Blue Moons occur rarely 'once in a blue moon'. They are Magical. The Energy of this powerful Moon creates Mystery & Transformation, join us
About this event
Blue Moon is the Time of Magic and Transformation
Tune into this magic from wherever you are in the world!
This is considered a Seasonal Blue Moon, it's the third full Moon in a series of four this season. and is one of two kinds of Blue Moon. This is a powerful and rare occurence, hence the familiar expression 'once in a blue moon', meaning rarely. Blue Moons are magical. The energy of this powerful moon creates mystery and transformation. It draws in the creative feminine power. The solar calendar has no thirteenth month. So in acknowledging Blue moon we immediately resonate with all that is good in the feminine and the magic and beauty of the Lunar Goddess. This is her month. Thirteen is a magic number for Goddesses. Containing such power that it has been misunderstood and feared in the western world throughout time. Today we will:
In these challenging times we need to - Connect with the Lunar Goddess within- Honour the Sacred Divine Energy- Tap into the Creative Force that brings all thing into being - Practice Meditation and Manifestion   (fine for all levels) 
Meditation and Manifestation:
What would transform your life and bring you the fulfilment, peace and happiness you dream of? Blue Moon is a time to do something special, we will create Sacred Space and Elevate Energy together. This is a time for Connection, gathering from all parts of the globe for Meditation and Manifestation. This is the time to embrace powerful shifts in your life. We will connect with that which really heals your soul and makes your heart sing. At least once in a Blue Moon you can step into a place of unity and fullness. Join a wonderful group of like-minded Souls and express the Goddess Energy within. Know that it is your respons-ability to tap into and fulfil your Divine Destiny.                                           
                          A powerful time of Wisdom, Light and Love 
Affirmation: I resonate and fully open to all that is Divine, Magical and Creative within me.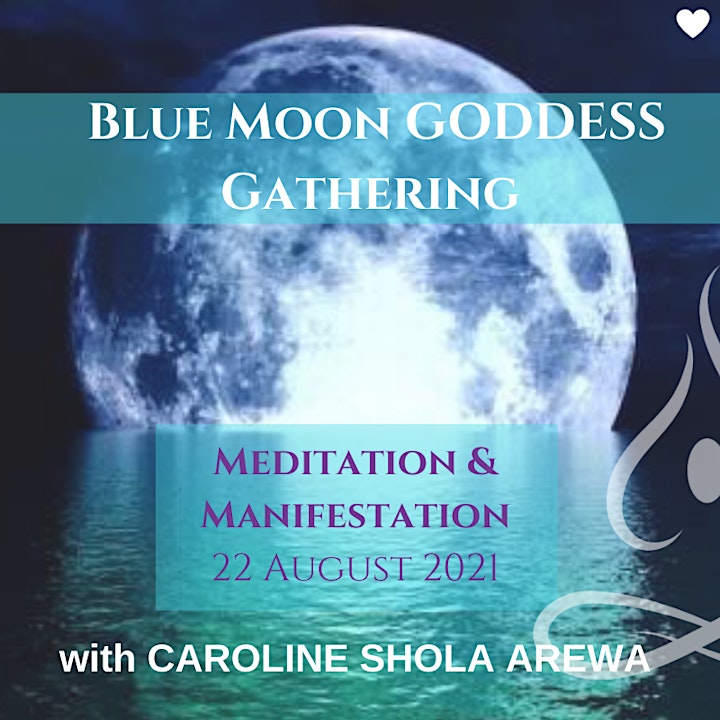 Date and time
Location
Refund policy
Organiser of Special 2021 Blue Moon Gathering
Known as the Energy Doctor, Caroline Shola Arewa has transformed lives worldwide for 30 years with her pioneering and awarding winning work. The recipient of outstanding contribution award to complementary and alternative medicine and two best course awards.
Shola has five published books, including the classic Opening to Spirit, now in its 20th year.
She has shared a stage with luminaries such as Deepak Chopra and worked with a diverse array of clients. Shola Trains people to become Wellness Coaches, through the accredited programme she created called Energy 4 Life. energy4lifecoach.com