Description
An open group walk organised by Walk Awhile Walking Holidays- in conjunction with the North Downs Way 40th Anniversary Celebrations
Join us for the first leg of walks over the bank holiday weekend, with Saturday's group led by Walk Awhile as we follow the North Downs Way from Lenham to Wye.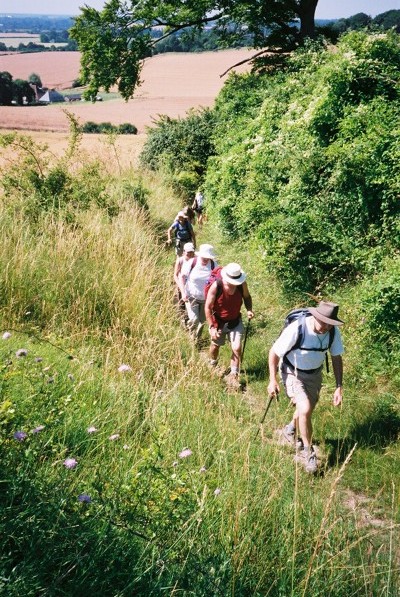 Meet at the public car park in Lenham square at 9.45am. Parking is also available at the back of the Dog & Bear Inn in the centre of Lenham. The walk start point is a half mile walk from Lenham train station for those arriving by public transport.
At the beginning of the walk, the group will visit the Lenham Tithe Barn which was built in 1350. Heading up onto the top of the North Downs, we will be exploring some of Kent's most picturesque countryside via the ancient trackway of the Pilgrims' Way. On arrival at Eastwell Manor country park early afternoon, we will visit the ruins of St Mary's Church, where the illegitimate son of Richard III is believed to be buried.
After a short rest and a packed lunch besides the ruins of St Mary's Church, the group will pass through Boughton Lees, with the optional refreshment possible at a local Inn. We will then head down towards the village of Wye, visiting the Pilgrims' Porch at Boughton Aluph Church along the way- a meeting place for medieval Pilgrims who reputedly gathered in numbers at the porch before braving the depths of Kings Wood.
Arriving in Wye about 4pm for a well-earned rest or refreshment at one of the village pubs or cafes.
Hourly trains run from Wye train station to Lenham for those needing to collect cars from starting point. Wye train station has direct links to Canterbury, Ashford international and London for those departing on public transport.
Saturday's walk is led by Walk Awhile tracker Jack Bright.
Walk Length: 12 miles
Equipment checklist:
Packed lunch
Bottle of water
Walking shoes or boots
Weather appropriate clothing- be prepared with hats and sun cream for a warm weekend or waterproof jackets and trousers if we have rain.
Further details:
Walkers who would like to walk with their dog should contact us in advance to discuss options.
Don't hesitate to contact us at walk@walkawhile.co.uk if you have any questions concerning this walk.
Tickets £10 per person* (*includes donation to the North Downs Way National Trail)
* Free and/or reduced tickets for the unemployed and those on in/out of work benefits- contact Walk awhile directly to reserve places.