Special Screening Event: 'Dis/Locations', featuring 'Under The Cranes'

Wednesday, 15 July 2015 from 18:00 to 21:00 (BST)
Event Details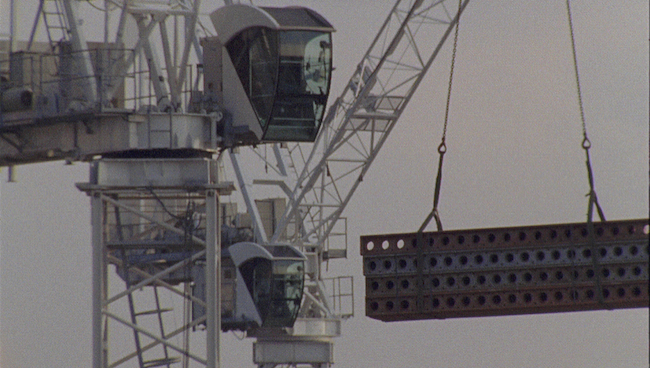 Livingmaps Network, Passengerfilms and A-Team Arts are collaborating for a unique event of film and discussion, reflecting on the changing cultural landscapes and lived experiences that are 'East London'. The evening reflects on poetry, song and music as the preservers of place-memory; and focuses on economic change, the architecture of the urban landscape, regeneration and belonging and the multi-sensory nature of place-experience through a mix of creative and documentary footage, archive and spoken word.

The 'Dis/Locations' programme hs been organised in partnership with Sarbjit Natt (Youth Arts Officer, 'A Team Arts'), with features introduced by Katherine Stansfeld (Passenger Films), Owen Davey (psycho-geographer, curator and film-maker, video-strolls.com), John Wallett (Livingmaps), Emma-Louise Williams (film-maker, radio-producer and director of 'Under The Cranes') and Michael Rosen (poet, broadcaster and author). Presenters will be joined by other guests for a short concluding panel discussion.

Please note that this is a very full programme so we encorage you to arrive a little before six to have time to say hello, get a drink and find seats for a prompt start at 6pm. There will be a small pay bar open from 5:45 before the screening and during the interval break. (Unfortunately the  excellent Brady cafe will not be open this evening so we are sorry there will be no food available.)


6:00 Introductions

6:15 'Hackney Lullabies' (2011) Dir: Kyoko Miyake. Duration: 11 mins
Every night under Hackney skies, mothers from faraway lands create a familiar space for their children by singing them lullabies, the same ones they heard as children. The film explores the mother's dilemma in sharing her sense of home with a child who is rooted in another culture. Do the lullabies bring them closer together, or accentuate the difference between them?

6:35 'Robey' (2014) Dirs: Craig Bilham & Owen Davey. Duration: 6:36 mins
The stories in this film are told by the poet Tim Wells, a local to Hackney who agreed to be recorded by Craig Bilham and Owen Davey in June 2014. Over the month that followed, they took a number of journeys in around the west end of Seven Sisters Road and the now derelict Sir George Robey pub, attempting to trace the settings of Wells' stories, collecting video footage and audio recordings that they felt had a connection to the words. "Our main inspiration was dub music; highly manipulated, built upon and reshaped versions of original reggae tracks - the type of which Wells was raised on - their results often lilting, fading, echoing, full of interference like a memory of the original parts, momentarily lucid and confused. Wells' stories themselves are a truthful account… a youth misspent in the pubs and parks of Seven Sisters Road during the 1980s, told with the poignancy of sentiment, despite it all." Owen Davey curates video-strolls.com, an archive of films about place and journeys.

6:50 'Robin Hood Gardens: Requiem for a Dream' (2014) Dir: James English Duration: 9:17 mins
"After decades of controversy, Alison and Peter Smithson's monumental housing estate in Poplar, East London, is finally being emptied of tenants in preparation for its demolition. The blocks will eventually be replaced by a quiver of anodyne towers designed by AEDAS. The AR's History Editor Tom Wilkinson takes a final look at this landmark of Brutalism, tracing the context of its creation, the vagaries of its reputation, and exploring the unloved, but not unlovely spaces around it, concluding that Robin Hood Gardens is a reminder of architecture's potential in an age of austerity."


7:05 Interval


7:15 'Under The Cranes' (2011) Dir: Emma-Louise Williams. Duration: 56 mins (Cert 12A)
"Based on a poetic play for voices by Michael Rosen and mixing rarely seen archive footage with new cinematography, 'Under the Cranes' offers a lyrical, painterly evocation of Hackney, over several hundred years. This is a film which poses questions about the nature of regeneration in Hackney in the recent period. It also explores the theme of migration, showing some of the struggles that people go through to secure a place for themselves, (fighting racists if necessary), but also how migration brings diversity and the seeds of renewal. "...a joyous wonder, an instant addition to the modern canon of filmic London." Sukhdev Sandhu (BFI/Sight and Sound)


8:30 Concluding Panel Discussion
9:00 Finish


There will be an opportunity for refreshments before the programme and during the interval

The Brady Centre Theatre has raked seating for 100+
Theatre and Centre are wheelchair-accessible (see pdf for details)
How to get to the Brady Arts & Community Centre:
Buses: 25, 254, 106, D3
Tube: Whitechapel, Liverpool Street, Aldgate East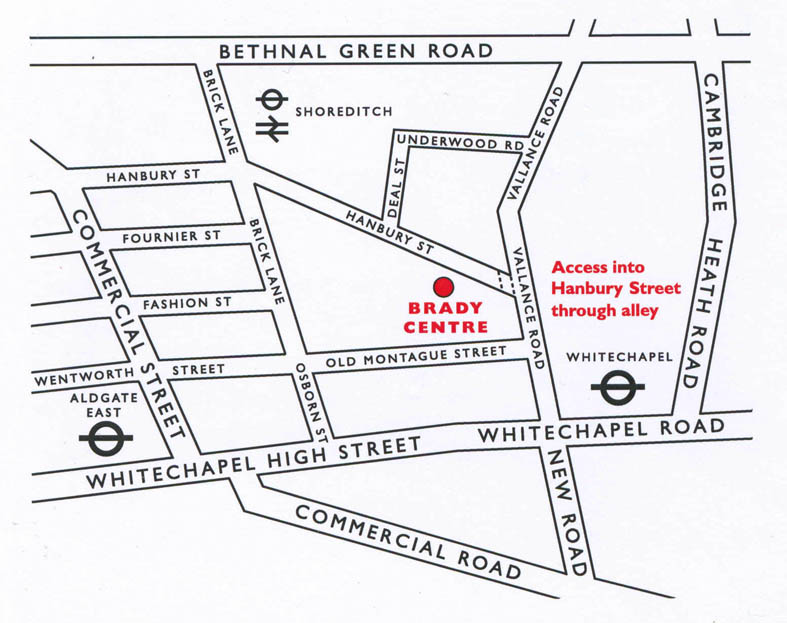 When & Where

Brady Arts & Community Centre
192-196 Hanbury Street
E1 5HU London
United Kingdom


Wednesday, 15 July 2015 from 18:00 to 21:00 (BST)
Add to my calendar
Organiser
Livingmaps Network
LIVINGMAPS is a network of researchers, educationalists, environmentalists, community activists and artists committed to developing new ways of creating, reading and using maps. 
General information/programming: Barbara Brayshay barbara.brayshay@livingmaps.review

LIVINGMAPS NETWORK is a not-for-profit Company Ltd. by Guarantee (reg no. 09519782) Registered Office: 3F Peabody Square, London N1. 
Special Screening Event: 'Dis/Locations', featuring 'Under The Cranes'