Description
We are honoured to have the presence of Tiokasin Ghosthorse, member of the Native American - Lakota Nation ~ come to London & speak for One Earth !
Listen to Tiokasin speak below at the International Women's Summit in Paris last year: https://vimeo.com/151877159
TIOKASIN GHOSTHORSE will lead us into a beautiful spiritual discussion. The continuum of consciousness, the cultural continuity with Mother Earth is a mainstay with the Lakota but is beginning to elude Native peoples.
Tiokasin on the Sacredness of Water...
"Water is a First Consciousness bestowed upon Mother Earth. First Consciousness means the awareness of the movement that sustains life in a continuum. Lakota people have Mni in their creation story as blue blood (water); thus, Water provides a shining mirror to the universe, its transparency offers a model and a path to creation. It produces synergy and becomes "Water as a Being."
Water is the time and space understood by Mother Earth as she holds the womb of all creation within her: oceans, rivers, lakes, ponds, creeks, streams, rains, floods, waves, humidity, wetness, dampness, hurricanes, tornadoes, rainbows, and the teardrops of babies.
"Water as a Being" creates with the sun, moon, stars, winds, earth, fire, and the life of all living beings sentient or that which is thought of as non-sentient. The Lakota have always known the connection of Mni and have encoded the living meanings of things seen and unseen by the delicate and fragile human eye.
I like to say, "Water is a cup of the stars. When you put that cup of Water to your mouth and drink, you are drinking a cup of the stars. You see the glimmering lights and reflections of the sun on the waters of the earth."
Tiokasin will share the Lakota Ways, their Cosmology, Stories and much more...
~~~~~
​We have a series of events involving Tiokasin, including:
INTERCESSING WITH MOTHER EARTH
FRIDAY 28TH JULY: TALK & FLUTE
7pm - 9pm: Join us for an evening with Tiokasin, sharing wonderful wisdom about the beautiful planet that we live upon ~ Mother Earth. Intercessing with Mother Earth explores our relationship with this sacred consciousness.
CASH TICKETS ON DOOR (PREPAY ENDED)
SATURDAY 29TH JULY: DEEPER DISCUSSION
1pm - 4pm: A Deeper dive into discussion with Tiokasin learning more of his knowledge and opening up to ask questions related to his talk of the previous night, and in many other areas
Cash accepted on the door for both events. Please note Friday 28th July is £15 on the door and Saturday 29th July event is £25 on the door (prepay through eventbrite is £22 on the door)
All profits from Tiokasin's events will be donated to his charity, Simply Smiles - working on his reservation in South Dakota
~~~~~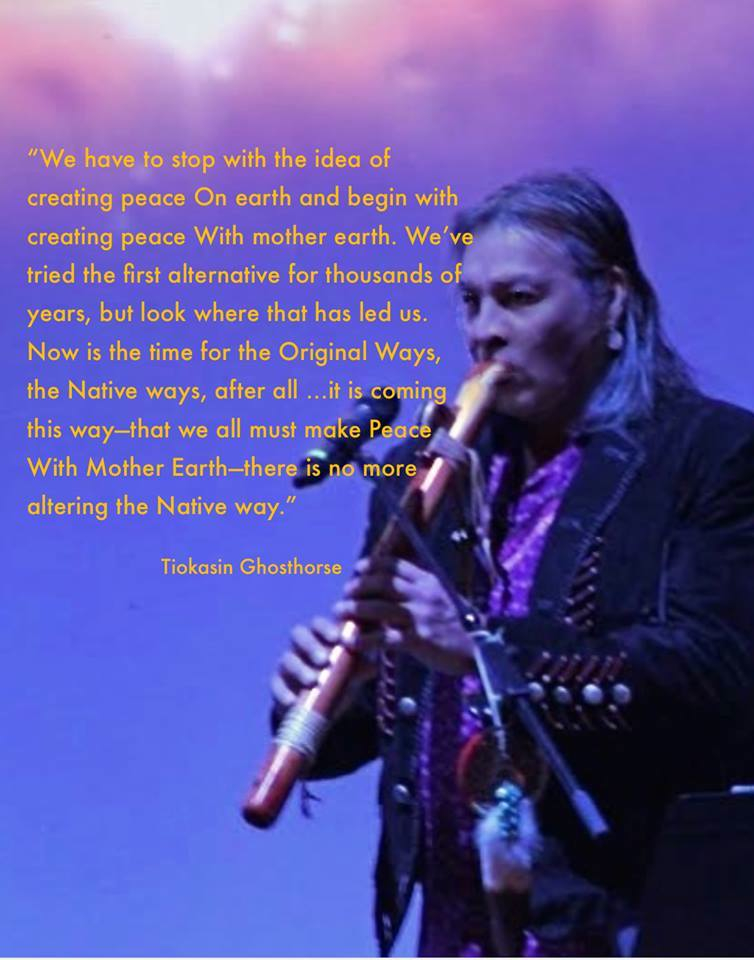 Tiokasin Ghosthorse is a member of the Cheyenne River Lakota Nation of South Dakota. He is an international speaker on Peace, Indigenous and Mother Earth perspective.
A survivor of the "Reign of Terror" from 1972 to 1976 on the Pine Ridge, Cheyenne River and Rosebud Lakota Reservations in South Dakota and the US Bureau of Indian Affairs Boarding and Church Missionary School systems designed to "kill the Indian and save the man," Tiokasin has a long history of Indigenous activism and advocacy.
He is a guest faculty member at Yale University's School of Divinity, Ecology and Forestry focusing on the cosmology, diversity and perspectives on the relational/egalitarian vs. rational/hierarchal thinking processes of Western society.
~~~~~~
ONE EARTH is committed to persevere what is Sacred. To honour Mother Earth as a Sacred Being: protect and preserve her nature. To honour & protect Indigenous Rights. To assist in spreading Spiritual wisdom.
One Earth is a sister organisation to the London College of Spirituality. More information, click here: One Earth Meetup