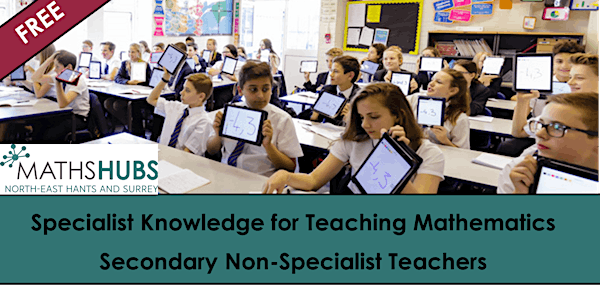 Specialist Knowledge for Teaching Maths - Secondary Non Specialist Teachers
FREE Specialist Knowledge for Teaching Mathematics programme for Secondary Non-Specialist Teachers
About this event
This FREE programme is designed to support non-specialist secondary school teachers in developing specialist knowledge for teaching mathematics. This is ideal for any non-specialist teachers who are looking to teach Maths as a new/additional subject in the 22/23 academic year or who are currently teaching Maths but did not specialise at ITT and wish to develop their knowledge.
The programme has been designed with 4 full days taking place after the exam period in Summer term, to cover the core pedagogical themes in advance of the new academic year. This is followed by online twilights during Autumn term and finally, bespoke support from your Work Group lead provided in Spring 2023.
Aligned to the NCETM's teaching for mastery programme, the key themes covered by the programme are:
Structure of the number system
Operating on number
Multiplicative reasoning
Sequences and graphs
Statistics and probability
Geometry
Participants will explore these themes, supported by an experienced secondary practitioner.
Summer term 2022
4 full day sessions (9am - 3pm) at St John the Baptist School Training Suite, Elmbridge Lane, Woking GU22 9AL on
Thurs 23 June, Thurs 30 June, Tues 12 July and Monday 18 July.
Autumn Term 2022
6 x twilight sessions online - dates to be confirmed.
Spring Term 2023
Bespoke support to be provided from your experienced Secondary practitioner.
Please ensure that you can join all sessions detailed before registering, that you are from a state-funded school and meet one of the following criteria:
1) A non-specialist teacher of maths (i.e. did not specialise in Maths at initial teaching training) who is currently teaching some maths
2) A non-specialist teacher (QTS) who is interested in teaching maths and have an active commitment from your school to teach maths next academic year (22/23)
3) A non-specialist teacher (non QTS) either teaching some maths now or with an active commitment from your school to teach maths next academic year (22/23)
4) An overseas-trained maths teacher with QTS status obtained through the mutual recognition route, UK resident status, eligible to work in the UK and with an approved teaching post in Secondary school /College with commitment from their school to complete the programme.
All registrants will be required to join an NCETM Basecamp online community for this Work Group in order to access resources and information. Please ensure you tick the box to confirm this when you register.