Virtual Speed Networking. People join us from accross the UK and beyond to do networking via Zoom. Privately chat with potential customers.
About this event
Expand your network, learn, collaborate and upscale your business
Effective professional networking for men and women through monthly online events
Ever heard of speed-networking? Neither had we, until we discovered it in 2007 – and now we're hooked!
Dip your toes into networking with a fun, fast and furious speed networking session. You've got one hour to network with as many people as possible in 1-2-1 breakout rooms, for 4 minutes at a time.
Every 6 weeks, a group of ambitious professionals get together online to meet like-minded individuals. Talk fast, listen well and grow your business – at lightning speed!
You don't need to be a member, there's no professional lockout and no need to make any public pitches, and you can come as often as you like.
Take a minute to watch our speed networking video.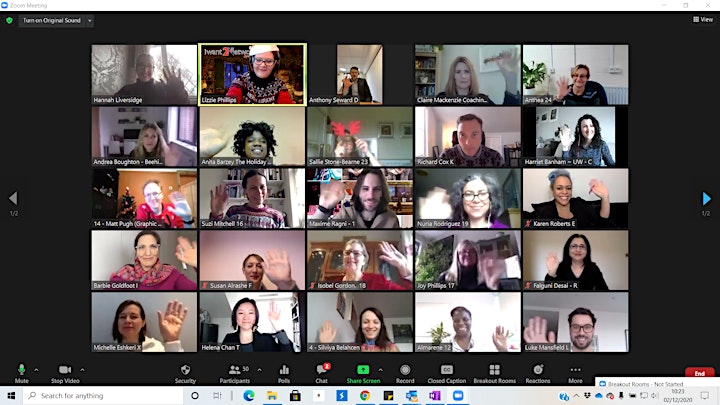 What can you expect at a meeting?
We host our meetings online to maximise your time, and our events have the same focused structure so you can have the best collaborative networking experience.
Our meetings are facilitated online speed networking groups for UK-based businesses looking to grow through networking.
Meetings last for one hour, take place every six weeks + you're welcome to come as often as you like.
You don't need to be a member of IW2N, there's no professional lockout + you won't need to make any public pitches.
What to expect at our IWant2Network Speed 60 events:
After a quick welcome you'll be placed in a succession of online breakout rooms, so you can network 1:1 with as many people as possible in the hour. You'll have up to 4 6-minutes in each room. The great benefit of our speed networking being online is that you can have a focused 121 without the noise of a face to face speed networking event.
Wondering how you can speak to everyone in just 60 minutes? Don't worry - you will receive a delegate sheet so any attendees you don't get a speed 121 with, you'll be able to arrange one with after the meeting.
The meeting will be formally closed when everyone is back in the main room again.
How to prepare for our IWant2Network Speed 60 events:
Practise your pitch so it sums up who you are, what you do + your target market. Remember it's also really important to listen to the people who are speaking to you + think about who you can introduce them to + how you can help them.
Does this sound like a fantastic option for your networking? Then book your place to join us, and we look forward to welcoming you!
WHY BOOK ON?
We know that time is precious so we arrange high quality networking events. In fact we have been doing it since 2007!
You generally expect up to 25 as we are all about quality rather than quantity.
Here is what some of our happy people say about Speed60
"I joined Iwant2Network event for the first time in June through a recommendation of a friend, and found it to be great. The speed 1-2-1 sessions allowed for me to get to know people in a deeper level for a few minutes, so we could exchange details and take the conversion forward a little more than normal large group networking settings. It allowed for multiple 1-2-1s so it was also very efficient and effective. Would recommend you try it out!"
"I thoroughly enjoy the speed networking events that Lizzie hosts and have found them a great way to expand my professional network. The format works well and I have been able to meet a lot of people in a short time and then follow up for more in depth discussions after. I have been particularly impressed with how the running has been adapted during lockdown. I would happily recommend IW2N to friends and colleagues. I am looking forward to participating in Lizzie's new event format in July."
"The IW2N Speed Networking event is well organised and attracts a diverse number of professions. What I particularly like is that during the event I will meet up to 20 people and be able to assess in my own time who I wish to follow up with to have a more in-depth conversation. This is in comparison to your typical events where you mingle and in the same time only meet up to four people and so IW2N events are a valuable use of business development time. I never hesitate to recommend IW2N events and a true credit to the event organisers is how it has seamlessly transitioned to an online format and so continues to facilitate business during this difficult time for everyone."
"I absolutely enjoy the Speed Networking events, and have been attending them in person, but also virtually since Lockdown. They are vibrant, fun and extremely well organised. They are also brilliant for my business as I have made some great contacts every time I have attended."