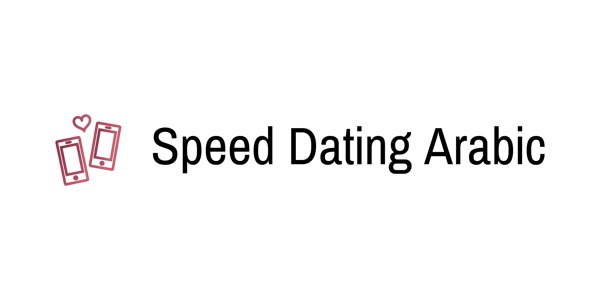 Speed Dating Arabic #4 - Singles between 25 to 35 years old
SpeedDatingArabic.com is organizing a new speed dating event for singles in the age group 25 to 35 years old.
About this event
This is a new SpeedDatingArabic.com event dedicated to singles in the age group 25 to 35 years old. If you fit the criteria, request your ticket today to be able to attend the event.
Where does the event take place?
This is an online event. We will be hosting the event over Zoom. so please make sure to download the Zoom app ahead of the event time.
Who can attend?
Any single men and women that speak Arabic. Your age has to be between 25 and 35 years old.
What happens after I request a ticket?
After you request a ticket, it will get automatically approved. We will then review your ticket to make sure that you booked the right ticket, and to confirm that your age matches the target age group for this event.
24 hours ahead of the event's start time, we will send you another email with more details about how to attend the event.
Do you want to cancel your ticket?
If you won't be able to attend the event. Please cancel your ticket at least 24 hours ahead of the event. If you don't do that, and then don't show up, we will have to ban you from attending future events.
Please only keep your ticket if you can attend the event, and help us deliver a great event experience to you and to everyone else.
How does the event work?
If you get a ticket to attend the event, we expect you to show up on time.
Because we care a great deal about our participants' privacy and data, before the event, we will send you an Attendee ID. Please use that ID as your display name during the event. It is how other attendees will identify you, and use it to inform us if they want to meet you again.
When the event starts, we will give a 5 minutes introduction to the event. We will then start matching you to a person from the opposite sex that you can chat with for 7 minutes. When the 7 minutes end, we will match you to another person. This process will repeat until you have met all the opposite sex attendees. Usually, we invite 10 men and 10 women.
After you have met everyone, we will give you instructions on how to share with us the list of IDs that were used by the people whom you are interested in meeting again.
We will collect the preferences from all attendees, and then we will send you a list of people whom you have successfully matched with.
A match happens only if you and the other person choose each other. If that happens, our email to you will include the email address of that other person. We will send your email address to that other person too if both of you are a match.
How can I stay up to date on your future speed dating event?
Please sign up on our website. We only ask you for your email address. We will then send you an email whenever we organize new events.
What should I do now?
1. Book your ticket if you want to attend the event and if you match the criteria.
2. Follow us on Twitter at https://twitter.com/SpeedDatingAr
3. Signup to our newsletter to stay up to date on future events. https://speeddatingarabic.com