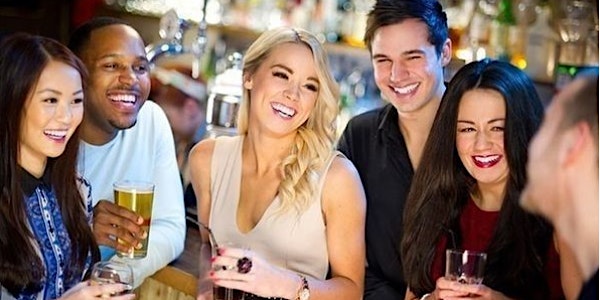 Speed Friending: Meet like-minded ladies & gents! (25-45/Happy Hours)SYDNEY
Location
Shark Hotel
127 Liverpool Street
Sydney, NSW 2000
Australia
Speed Friending: Meet like-minded ladies & gents! (25-45/Happy Hours/Hosted)
About this event
Join us for our Speed Friending evening to make new friendships with both ladies and gentlemen between the ages of 25 to 45! All members will enjoy happy hour! ($5 House Spirits, Wine & Beer until 10pm)
ERICA, your lovely host will welcome you warmly into the group and will also help you with introductions!
**Kindly note that you can pay via Paypal, Credit Card or Debit Card. To purchase via debit/credit card please click on 'Place Order' and you will be shown payment options.
EVENT COST:-
Early Bird - A$ 10 per person
Regular Tickets - A$ 20 per person
Cash at Meetup - If you do not purchase tickets in advance then you can pay A$ 30 cash to ERICA when you meet her on the event day.
Don't miss this fun opportunity to make new friends!
-------
Here's how it will be set-up:
Half of the group (mixed gender) will be in a fixed place and the other half of the group (mixed gender) will rotate. During these intervals, each pair of people will get the opportunity to talk to each other.
ERICA will be hosting the evening and she will organize the speed friending. He will indicate when you should move to the next person.
We will meet from 7.00 pm onwards. You should get yourself a drink and also any food before 7.45 pm.
The Speed friending part will start exactly at 7.45 pm onwards and continue till about 8.45 pm followed by a break and finish at 9.40 pm, so please try and be there on time. If you are late then you can join the speed networking midway.
All members will enjoy happy hours ($5 House Spirits, Wine & Beer until 10pm)!
Please be aware that over 85% of attendees are attending for the first time and over 95% of attendees come alone. You will not be alone. ERICA will welcome you and help you get comfortable.
We have 8 meetup groups in Sydney with over 23,300 members and we will be inviting members from all those groups to attend. Members of other groups who RSVP are included as guests of the organiser in order to give you an idea of expected numbers.
The age group 25/45 is an indicative guideline. You are welcome to attend if you are a few years either side of the guideline.
Dress code - Smart casual
Click below to book your ticket online today and save money! -
Speed Friending in Sydney!
We are not a dating group. Our events are not organised to manage your dating life. Our group is created to help ladies and gents meet other like minded ladies and gents and to make new friends. Please do not attend our event if a perfect gender balance is important for your enjoyment of our meet-up. Keep an open mind and join us to make new friends.
-------
You can contact ERICA through her meetup profile or Dan on whatsapp on +447715705005 with any questions.
-------