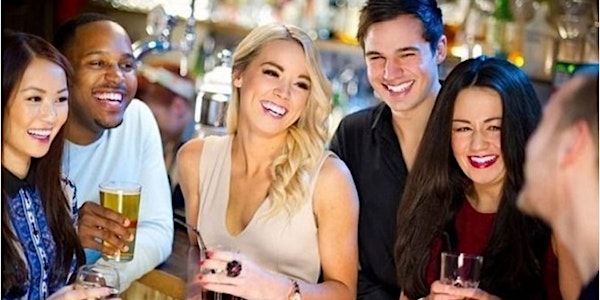 Speed Friending: Meet like-minded ladies & gents! (25-50/Hosted) BERLIN
Location
Hopfenreich
Sorauer Straße 31
10997 Berlin
Germany
Join us for our Speed Friending evening to make new friendships with both ladies and gentlemen between the ages of 25 to 50!
About this event
Join us for our Speed Friending evening to make new friendships with both ladies and gentlemen between the ages of 25 to 50!
ANICA, your lovely host will welcome you warmly into the group and will also help you with introductions!
**Kindly note that you can pay via Paypal, Credit Card or Debit Card. To purchase via debit/credit card please click on 'Place Order' and you will be shown payment options.
EVENT COST:
Early bird ticket - € 5 each
Regular ticket - € 10 each
Cash at the meetup - If you have not purchased your ticket in advance then you can pay € 15 per person in cash on the day of the meetup to ANICA.
Don't miss this fun opportunity to make new friends!
Have a look at photos from our recent meetups and see what you have been missing! http://bit.ly/MeetupPictures
-------
(We are using Google translate for speed and so excuse any errors please)
Nehmen Sie an unserem Speed ​​Friending-Abend teil, um neue Freundschaften mit Damen und Herren im Alter von 25 bis 50 Jahren zu schließen!
ANICA, Ihre nette Gastgeberin, heißt Sie herzlich in der Gruppe willkommen und hilft Ihnen auch bei der Vorstellung!
**Bitte beachten Sie, dass Sie per Paypal, Kreditkarte oder Debitkarte bezahlen können. Um per Debit-/Kreditkarte zu kaufen, klicken Sie bitte auf "Bestellung aufgeben" und Ihnen werden die Zahlungsoptionen angezeigt.
EVENTKOSTEN:
Frühbucherticket - 5 € pro Stück
Reguläres Ticket - je 10 €
Bargeld beim Treffen - Wenn Sie Ihr Ticket nicht im Voraus gekauft haben, können Sie am Tag des Treffens 15 € pro Person in bar bei ANICA bezahlen.
Verpassen Sie nicht diese unterhaltsame Gelegenheit, neue Freunde zu finden!
Schauen Sie sich Fotos von unseren letzten Treffen an und sehen Sie, was Sie verpasst haben! http://bit.ly/MeetupPictures
Here's how it will be set-up:
Half of the group (mixed gender) will be in a fixed place and the other half of the group (mixed gender) will rotate. During these intervals, each pair of people will get the opportunity to talk to each other.
ANICA will be hosting the evening and she will organize the speed friending. He will indicate when you should move to the next person.
We will meet from 7.00 pm onwards. You should get yourself a drink and also any food before 7.45 pm.
The Speed friending part will start exactly at 7.45 pm onwards and continue till about 8.45 pm followed by a break and finish at 9.40 pm, so please try and be there on time. If you are late then you can join the speed networking midway.
Please be aware that over 85% of attendees are attending for the first time and over 95% of attendees come alone. You will not be alone. ANICA will welcome you and help you get comfortable.
We have 3 meetup groups in Berlin with over 19,525 members and we will be inviting members from all those groups to attend. Members of other groups who RSVP are included as guests of the organiser in order to give you an idea of expected numbers.
The age group 25/50 is an indicative guideline. You are welcome to attend if you are a few years either side of the guideline.
Please be aware of government guidelines regarding the COVID pandemic and any necessary precautionary safeguards. Please do not attend if you show any potential symptoms or are generally feeling unwell.
Please note: If our event gets cancelled due to covid restrictions then ticket buyers can attend events when they are scheduled please. If not they can also ask for a refund.
We are not a dating group. Our events are not organised to manage your dating life. Our group is created to help ladies and gents meet other like minded ladies and gents and to make new friends. Please do not attend our event if a perfect gender balance is important for your enjoyment of our meet-up. Keep an open mind and join us to make new friends.
-------
You can contact ANICA through her meetup profile or Dan on whatsapp on +447715705005 with any questions.
-------
OUR GIFT TO YOU-
6 key reasons why you should attend our meetups - http://bit.ly/attendourmeetups
See how to make people like you instantly - http://bit.ly/makepeoplelikeyouinstantly