Description
Join Finance and Business Professionals for the THIRD edition of Speed Networking for Finance and Business Professionals. Tickets are limited and are on a first-come-first-serve basis.

Getting in touch with the right people can be difficult and time is precious when we are working long hours in the industry.
That is why Business Networking Club is hosting a brand new Speed Networking event for Finance and Business Professionals.
This high energy, fun and fast paced speed networking event will give everyone the opportunity to speak to as many different people in the room as possible!
Make new connections, build relationships and learn something more about other sectors within finance and business.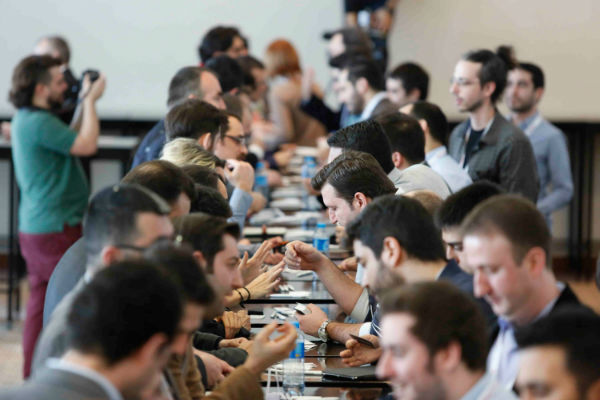 Remember to bring your business cards!
PLEASE NOTE: This is a Finance and Business Professionals-only event. Please register with your business e-mail for verification. We reserve the right to invalidate ticket to non-Finance and Business Professionals.
Dress code: Business/business casual
Agenda:
1830 to 1915 - Registration/ Informal Networking Drinks
1915 to 1930 – Speed Networking Brief
1930 to 2030 – Networking Rotations
2030 to 2145 – Drinks

Due to the format of this event places are restricted and all attendees are encouraged to RSVP in advance online.
Walk-in tickets will be charged at €8 on arrival. (online €5)
If you have any queries regarding this event please contact us at BusinessNetworkingClub@gmail.com
"95% of people said that face-to-face meetings are a key factor in successfully building & maintaining long-term relationships." -Harvard Business Review.
===================================
FAQ
I've not done Speed Networking before, how does it work?
We will be handing out cheatsheets and tips to all attendees and there will be a briefing from 1915 to 1930.
Why Speed Networking?
Speed networking is a great way to meet other business professionals in a short period of time.
What should I do after I've met these people?
The key to making speed networking work, is to take those contacts and develop them over time into "credible" relationships that lead to "profitable" referral partners.
How do I RSVP ?
RSVP by joining our group and click attending on the top right of this page if you are attending and this gives us chance to connect before the event.
Bringing Guests?
Please feel free to invite your friends, colleagues and business partners to the event and tell those who you think might be interested by simply forwarding this information to them. Do not forget to purchase a ticket on time!
===================================
Venue
Andaz Hotel Amsterdam
Surrounded by the city's iconic canals, Andaz Amsterdam Prinsengracht sits in the historic center of Amsterdam. Explore the eclectic shops of Nine Streets, grab a bite in a famed café, and admire the modern collections at the Stedelijk Museum. Experience everything Amsterdam has to offer, then return to our award-winning boutique hotel.

Where:
Andaz Hotel
Prinsengracht 587, 1016 HT
Amsterdam
===================================
Event Feedback
"I met with some very interesting individuals, many of which I am sure will turn into ongoing relationships. This is an event which welcomes small-medium sized companies through to those starting their own companies, clearly some talented and motivated individuals with vision of where they are looking to develop and grow." — Matthew, Ablestoke
"It was like networking drinks with new colleagues in the finance industry. Overall a really useful and productive evening. Most importantly, it was unstuffy, relaxed and fun." — Ross, RBS
"What a fabulous event! Thank you for putting together such a wonderful evening with such lively connections." — Kristina, Goldman Sachs
"The organisers are also very approachable and do their best to ensure people feel welcome and to help them to make the right contacts both during the evening and afterwards." Roberta, JPM
"Someone at work asked me, what do you enjoy doing? My answer is: having conversations with intellegent people, which is why i am here". - Patrick, Hedge Fund
===================================
Business Networking Club
Do you have questions about Speed Networking for Finance Professionals?
Contact us at BusinessNetworkingClub@gmail.com