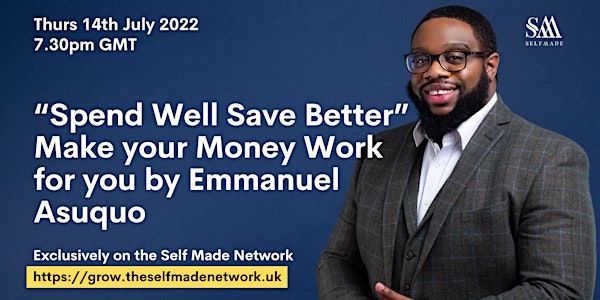 "Spend Well Save Better" Make your Money work for you by Emmanuel Asuquo
Register your interest today! "Spend Well Save Better" Make your Money work for you by Emmanuel Asuquo | Thursday 14th July 2022 @ 7.30pm
About this event
"Spend Well Save Better" Make your Money work for you by Emmanuel Asuquo | Thursday 14th July 2022 @ 7.30pm.
Did you know that 39% of adults in the UK (20.3 million) don't feel confident managing their money, with 11.5 million having less than £100 in savings.
At times it can be difficult managing your finances, and knowing how to make your money work for you, especially with different streams of income coming in!
Common questions we hear include:
How much should I be saving?
Where can I cut costs?
What should I be spending money on?
And so we bring to you a Self Made Network Masterclass Special, with Emmanuel Asuquo who is a qualified Financial Adviser and has worked in Financial Services for over 15 years! He has given financial education talks all over the UK and has spoken to over 30,000 people in the last three years.
Emmanuel has been featured in The Times, Telegraph, The Sun and Daily Mail newspapers and invited to speak as an expert guest on BBC Radio on multiple occasions. In November 2019, Emmanuel was one of four experts on the popular Channel 4 finance show "Save Well, Spend Better". Emmanuel was also an expert for the BBC One show "Your Money And Your Life", helping a family save just under £10,000 on their annual household bills!
Emmanuel has a passion for helping people, and his vision is to become the financial adviser to the nation. Let's learn how to Spend Well and Save Better!
Not to be missed!
Emmanuel's masterclass will feature live on The Self Made Network!
Join other aspiring and seasoned entrepreneurs, business owners and open-minded individuals who are a member of The Self Made Network which includes:
1) MONTHLY LIVE MASTERCLASSES - These will be LIVE 60 minute sessions during the middle of each month from industry expert guest speakers (see a list of our upcoming masterclasses below)! Additionally you will also have Q&A sessions with Byron and Bianca to answer all of your business related questions.
2) MONTHLY NETWORKING EVENT - These will be LIVE online sessions held once a month, giving you access to our whole network where you can personally meet, and cross promote your own business to give you bigger exposure.
3) NETWORKING COMMUNITY - You will get instant access to our private Facebook community where you can connect with our network immediately and meet a wider audience more quickly.
If you are ready to step up your network and start to connect with people who can really help you take your business to the next level, register your interest today!
We want to tell you right now that the fastest path to your success is to grow your network and learn from other experts who have a wealth of experience and who can truly help you fix any challenge you have right now in your business.
All of our Masterclasses are uploaded to the members area, of The Self Made Network website, meaning you can always refer back to classes for extra learning and can even watch the previous masterclasses we have had!
Register your interest today!