Location
Granta Centre
Granta Park
Great Abington
CB21 6AL
United Kingdom
SPH and Industry: overview of the state-of-the art of the method and its application to industrial problems
About this event
The Smoothed Particle Hydrodynamics (SPH) method, a meshless method, has several attractive features that allow it to address problems that are difficult to simulate with mesh based codes, for example CFD or FEA.
This event aims to provide:
an overview of the current state of the art of the SPH method
highlight the wide range of industrial applications for SPH
an opportunity to discuss potential applications of SPH with experts from academia and industry
Programme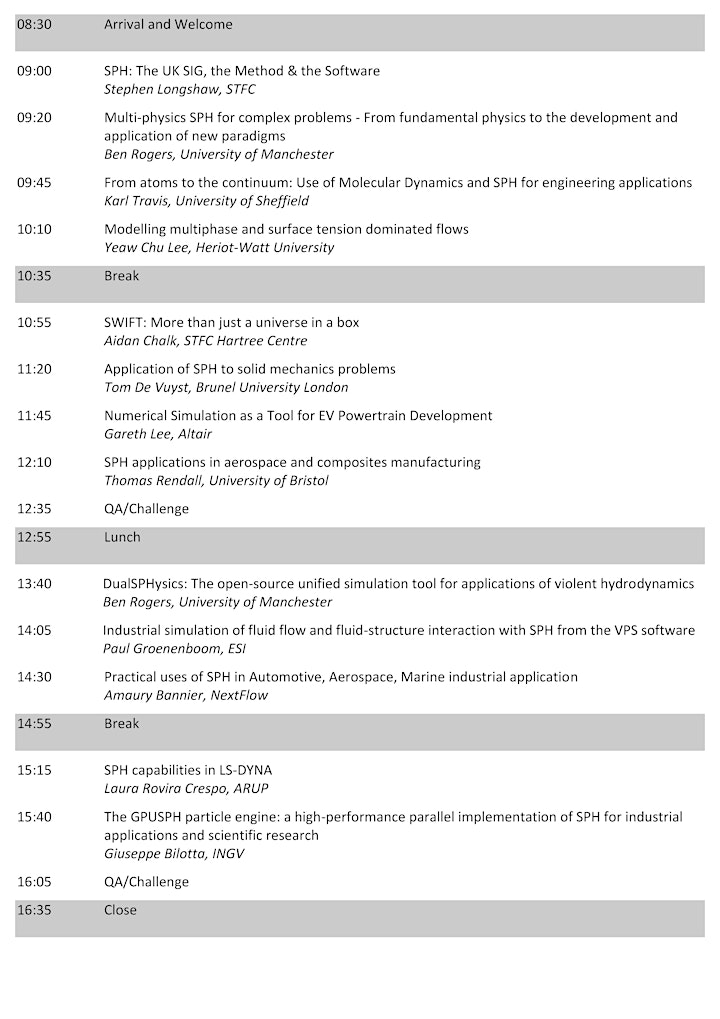 Directions
By train
From Cambridge Railway Station: Taxi's are available from the Railway station and cost approximately £20-£25 each way. Please ask the taxi driver to take you to the TWI main reception area on Granta Park Cambridge.
By road
Go to Granta Park (see location above on the right of the page). Once you have arrived at Granta Park, go into the left hand lane to drive past Security, let them know that you are here for the Conference and you will then be asked to proceed through the barrier. There is no need to send your Car Registration Details beforehand. Go right at the roundabout and follow the circular route until you reach another miniroundabout at The Aviary (gym and swimming pool) turn left and you will see the TWI and Granta Park buildings directly in front of you. Please park in the visitors car parking bays by the aeroplane or alternatively you can use the multi-storey car park if the bays are all full. You will see the Visitors Reception next to the aeroplane (see Figure below) – please proceed through the double doors to the Reception Desk where you will be given your badge and supporting information for the conference.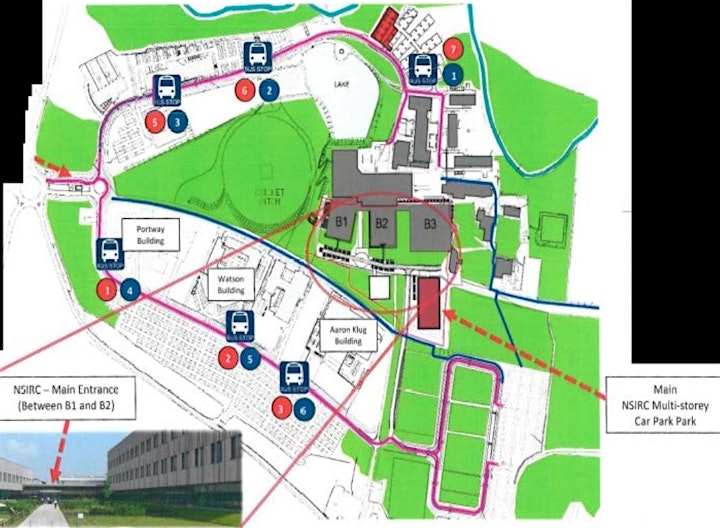 Please note that if you wish to purchase any additional drinks or food other than that provided at the Conference, you will not be able to pay by card, so please bring cash with you.
Accommodation
If you would like to stay on-site either before or after the Conference, TWI has very basic accommodation available. It will cost £80 per person per night in a double bedded room with shower, dinner and breakfast. Dinner is taken in the TWI staff restaurant in Building 1 where the Conference will take place. No choices are available unless you are a vegetarian/vegan and this must be booked in advance. To make a booking please contact hospitality@twi.co.uk
Alternative accommodation can be found a short drive away and does offer better options for meals. The hotels below have been used by staff and visitors
The Red Lion Whittlesford – located directly next to Whittlesford Train Station – 3 miles from Granta Park: website Red Lion
Holiday Inn Express at Duxford – located next to the Red Lion hotel – 3 miles from Granta Park: website Holiday Inn
Sheene Mill- Melbourne Cambridgeshire 11 miles from Granta Park: website Sheene Mill
There are many accommodation options in and around Cambridge. If you are thinking of staying in Cambridge, please bear in mind that traffic can be very heavy in the mornings and although Granta Park is only 12 miles away, it can take longer than expected to travel here, especially if the hotel is located to the north of the city centre.