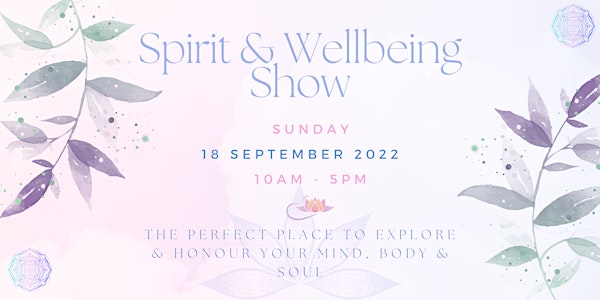 Location
Goosedale
Goosedale Lane
Papplewick
Nottingham
NG6 8UN
United Kingdom
The Perfect Place to Explore & Honour your Mind, Body and Soul
About this event
A day where your Wellbeing comes first. A retreat for the day where your Spirit can be Enlightened, your Body Rejuvenated and your Mind Awakened.
Giving you the perfect space to explore and re-connect with your inner self, within a sanctuary of Positivity, Love and Light. There will be something to do for everyone whether it be re-balancing with a sound bath, re-energising with a meditation, relaxing with yoga or re-harmonise with healing.
With over 40 exhibitors and stands - including clairvoyants, healers, crystal stands, artisan stalls and so much more. There will also be great vegan food options and music to soothe the soul.
There will be free meditations and other activities available on the hour throughout the day.
We are also very proud to announce the launch of the Nottingham New Earth Society (NNES) which is a collaborative where like minded individuals come together to make a positive difference to society as a whole. Further information will be available on the day to anyone interested in being a part of NNES with Gurpal Hayer giving a talk at 1pm on how you can get involved in a Society whose moral foundation is based on love, fairness, compassion, equality, truth and bettering the lives of people.
The venue Goosedale is set in over 130 acres of idyllic countryside and provides the perfect getaway for the day. There is plenty of free onsite parking and this is a family friendly event.
This is a not-for-profit event and we encourage you to register for free entry as soon as possible to avoid missing out.
Upon registering for the event, if you would like to attend one of the free following sessions, please contact as follows:
• James Tyrell-Nestor, Premier League Injury Specialist and Physology Founder – www.physology.co.uk - will be offering free consultations throughout the day. James specialises in pain free results for Fibromyalgia. If you would like to book a session, please message James through Facebook – www.facebook.com/Physology
• 11am – A Meditation on Nature: Managing Stress, Anxiety and Depression by Sharon Brennan and Sarah Malyon – www.changebeginstodaycbt.co.uk - if you would like to book a space, please email admin@changebeginstodaycbt.co.uk
• 12pm – A Talk about Hypnotherapy and a guided therapy session by Clem and Margaret Turner – www.clemturner.co.uk - if you would like to book a space, please email Margaret on mags@clemturner.co.uk
• 1pm – A Talk about the Nottingham New Earth Society (NNES) by Gurpal Hayer. If you would like to book a space, please email Gurpal on gh@goosedalelodges.com
• 2pm – A Healing and Sound Bath by Gaurika Hayer. If you would like to book a space, please email Gaurika on gaurika.h@icloud.com
• 3pm – Yoga with Arti Ghattaora of Samsara Wellness – www.samsara-wellness.com - if you would like to book a space, please email Arti on info@samsara-wellness.com
• 4pm – A Taster Hypnosis Session with Yvette Sheppard of Ankh Healing – www.ankhhealing.com – upon which you will meet your Spirit Guides or Guardian Angels. If you would like to book a space, please email Yvette on ankhhealing1@gmail.com