Travel Towards the Healer Himself | Let the Divine Light Enter your Wounds
About this event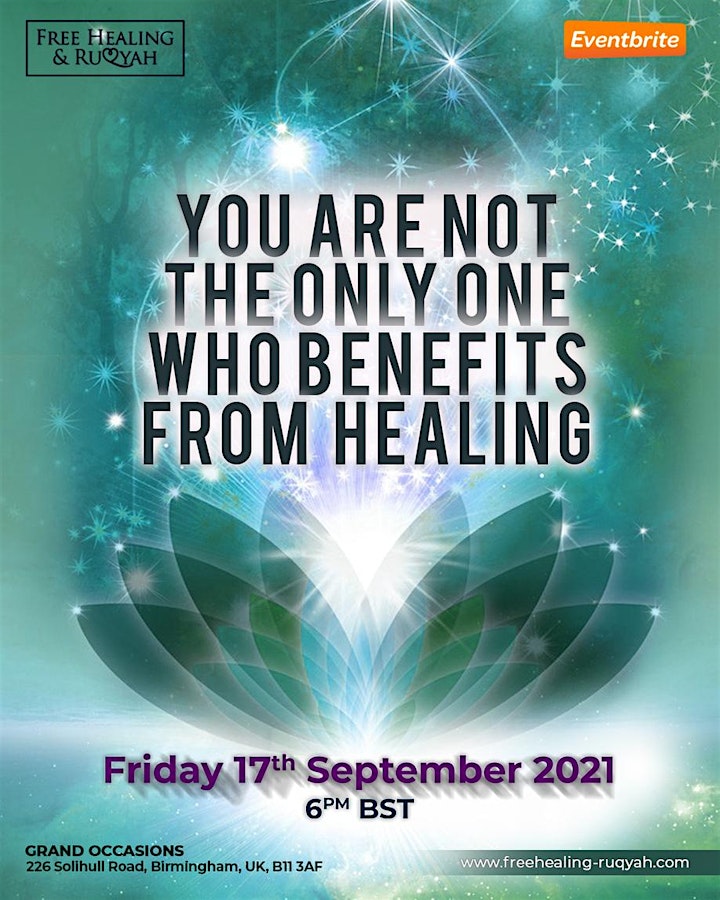 Free Healing & Ruqyah Session
The Qur'ān is the actual word of Allāh, which has been revealed to the Prophet ﷺ not only as Guidance for all Mankind but Allāh has also made it a Spiritual Cure and Healing for all types of ailments; such as to Expel Demons, Black Magic and Evil Eye.
We must understand that the Qur'ān benefits us in every aspect; Socially, Economically, Spiritually and Physically. Our Qualified Practitioners will help you through a guided session on How you can Connect to the Qur'ān and Allāh Himself.
Event:
During this Healing Session you will Learn:
How to Connect to The Lord of The Universe
Understanding The Only One True Healer is | Al-Shāfi (The Healer)
Travelling Towards the Healer Himself, Relying on Him ( Practical
Understanding the Power of Allah compared to your illness and troubles.
Presentations | Meditative Divine Remembrance | One-to-One Private Consultation
Venue:
Physical Attendance | Grand Occasions, 226 Solihul Road, Birmingham,
England, United Kingdom, B11 3 AF
Please arrive 15 minutes prioir to the start time, so our administration team can onboard everyone and allocate everyone to the seating area.
Virtual Attendee | Broadcasting Live on Zoom (details will be shared prior to the event)
Practitioners:
Under the Supervision of the Principal of UK Academy of Islamic Sciences: Ahmad Dabbāgh
Dr ShahAlam | Sajid Hussain | Abdur Raheem Dabb`āgh | Gulfam Hussain
Muhammad Shafiq | Ajaz Ahmad | Siraj-Ul-Islam | Ghulam Ali Auliya
The Healing Sessing will be delivered in English, but for 1-2-1 Assessments and Consultation our Practitioners can facilitate support in English, Urdu, Punjabi, Bangla and Danish
Stay Connected:
Website: www.FreeHealing-Ruqyah.com
Email: Healing@zawiyah.org
Brothers | +44 7956 840 838 - Sisters | +44 7708 771022
DISCLAIMER : THIS IS A FREE SERVICE OF PRAYER AND HEALING. WE STRONGLY ADVISE YOU TO CONTINUE TO SEEK MEDICAL ADVICE AND TREATMENT ACCORDINGLY.