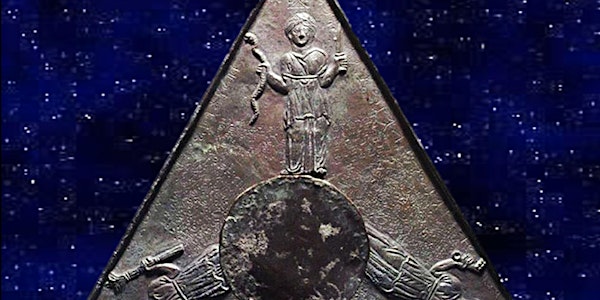 Spiritualism Symposium: Linen Veils and Lightning Mask - Leonard George
Refund policy
Refunds up to 1 day before event
Spiritualism Symposium by Shannon Taggart : Linen Veils and Lightning Masks: Theurgical Mediumship of Late Antiquity, Leonard George
About this event
The Spiritualism Symposium, curated by Shannon Taggart
About this series
Spiritualism, the American-born religion based on the belief in communication with spirits of the dead, was once a popular movement that influenced Western culture. Yet Spiritualism's legacy has often been censored or neglected by academia and the media. The Spiritualism Symposium examines the surprising path from the séance room to the history of science, medicine, technology, politics, and art. It also explores topics related to mediumship and the study of the supernatural. This series presentations are drawn from past symposium's hosted annually by Shannon Taggart in Lily Dale, New York, USA—home to the world's largest Spiritualist community.
Each lecture will be sold separately, see below for details of the other lectures in the series (if missed, these will be available on demand)
Linen Veils and Lightning Masks: Theurgical Mediumship of Late Antiquity, with Leonard George, Ph.D.
About this event
Combining the metaphysics of Plato with ecstatic rites of paganism, Theurgy emerged from Syria in the second century and became one of the most important spiritual practices of late antiquity. In contrast with Theology ("talking about the sacred"), Theurgy ("sacred action") involved direct mediumistic access to wisdom conveyed by a range of spiritual entities, from departed souls to deities. Aspects of Theurgy were preserved in the Byzantine Empire and transmitted to Renaissance Italy, and fed the roots of modern Spiritualism.
Leonard George, Ph.D. is a Canadian psychologist, writer, educator and broadcaster. He is a life-long student of esotericism and lover of cats. After high school, he headed to England to study witchcraft and magic. Leonard spent two years as a Research Fellow at the Institute for Parapsychology in Durham, North Carolina. After earning his doctorate at the University of Western Ontario, he worked for 19 years in a variety of clinical settings, specializing in the treatment of psychotic disorders, seizure disorders, pain management, and traumas such as severe burns and animal maulings. He then worked in academia for 15 years as a member of the Department of Psychology and the Department of Music Therapy and served as the Chair of the School of Social Sciences at Capilano University in North Vancouver. Author of two books (Crimes of Perception: An Encyclopedia of Heresies and Heretics and Alternative Realities: The Paranormal, the Mystic and the Transcendent in Human Experience) and dozens of chapters and articles on a range of topics, he is co-editing (with his wife, Dr. Marjorie Roth) the forthcoming text Explorations in Music and Esotericism. Leonard has given lectures and seminars around the world.
Shannon Taggart is an artist and author exploring the intersection between Spiritualism, photography, and the representation of belief. Her work has been exhibited and featured internationally, including within the publications TIME, New York Times Magazine, Discover, and Newsweek. Taggart's monograph, SÉANCE (Fulgur Press, 2019), was named one of TIME's 'Best Photobooks of 2019.' https://www.shannontaggart.com/
Image Title:
Oracle Triangle of Hekate, Pergamon, 3rd. Century CE, Berlin Museum.