Multiple Dates
Spiritualist Mediumship Demonstrations - Sunday's Virtual Open Platform
Open Platform for Mediumship Demonstrations for Mediums in training
About this Event
Sunday's Open Mic Platform Mediumship, Spirit Art and Philosophy
ABOUT OPEN MIC PLATFORMS
Last Sunday of each Month!
If you are a Medium in training, whether a strong beginner or advanced working medium, or perhaps focused on speaking, poems or philosophy, or even Spirit Portrait drawing, you are welcome to volunteer your ability to a live audience.
We offer you the safe platform within our virtual environment of friendly people to support your live demonstrations. Every mediumship volunteer gets up to 9 mins to demonstrate and between 2-5 mins for a talk, or read a verse. If you would like to just attend as a supportive guest you are most welcome!
We offer you this safe haven every, Last Sunday of each month. We invite you to add the dates/time to your diary and make it your regular commitment.
Anne-Marie is a DSNUt Spiritualist Medium in Demonstrating who will be your host.
We all need a trusting environment to practice without negative judgement.
Our Open Platforms are presented in love and we offer a supportive place.
The Portrait of Spirit's Open platform is for Live Zoom Platform Mediumship, Speaking, Reading, Spirit Art and more. All volunteers have a wide variety of abilities. Support guests most welcome!
OPEN CIRCLES
Open circles are greatly needed and a weekly place for people to practice with the same attendees from complete beginners to advanced mediums (and the in-between) who provide psychic mediumship or spiritual mediumship due to their skill ability.
OPEN PLATFORMS
Our Open Platforms are specifically for Spiritual Mediumship 90% evidence of the communicator and not of the recipients life. We have a variety of beginners who like to volunteer to deliver Speaking talks i.e: A Spiritual verse, poem, to our volunteer intermediate/advanced mediums for Mediumship and those to showcase their Spirit Art.
AS A SUPPORTIVE GUEST
We have guests around the world who support our workers. However, if attending as a guest, may we politely ask for you to stay the full duration to not leave just before the closing prayer. We ask this for the honor of the workers, the other guests and those in Spirit who stay until the end. Camera on or off up to you. Much love 🙏
FREE COURSE OFFERING
Free online course prize for one lucky person - open to the first 25 names that enter once our doors open. Raffle called at end of service.
Volunteers raise their hand when asked and based on a first come, first served basis.
Due to the number of people that offer to work. There is NO guarantees you will work, as we are staying to the format, first 8 hands raised will work that night.
THE AIM
Our events are open for those interested in Spiritualism, with a belief in life eternal and finding our true connection to God. Our journey of our eternal life is to re-establish our relationship with God and promote our knowledge to awaken the minds of those unknowing to the fact that when we die, life is not the end.
Our journey in life should be of service to others and through compassion, kindness, assistance we can promote an environment that is loving, stress free and live life to the full knowing this one we have, isn't a rehearsal. Through the mixed abilities of our volunteers we help them as guests to showcase their offerings to us.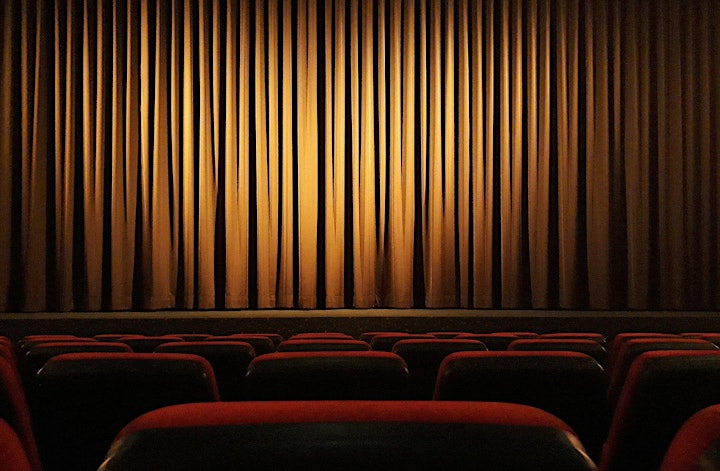 EVENT DETAILS
STARTS: @ 7.30pm:
Doors open at 7 pm (UK - GMT)
2 pm (EST)
11 am (PDT)
10 am (MDT)
9 pm (CEST)
(please check your own time zones against GMT/BST)
EVENT FEE
The event is free for guests or volunteers, but as Anne-Marie single handily runs these events any donation you wish to offer at registration are most gracefully accepted.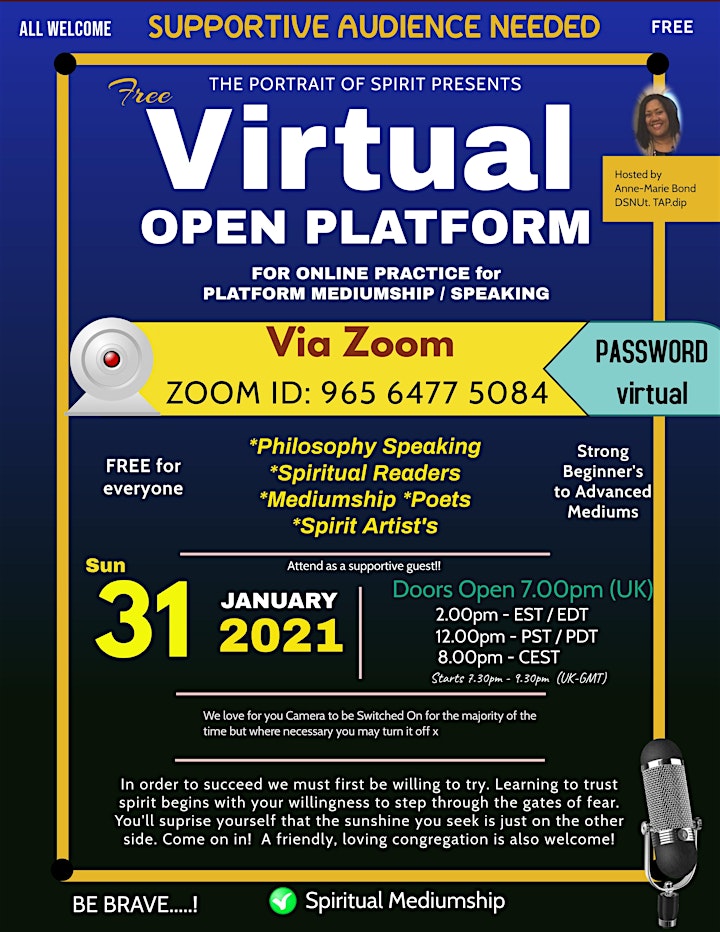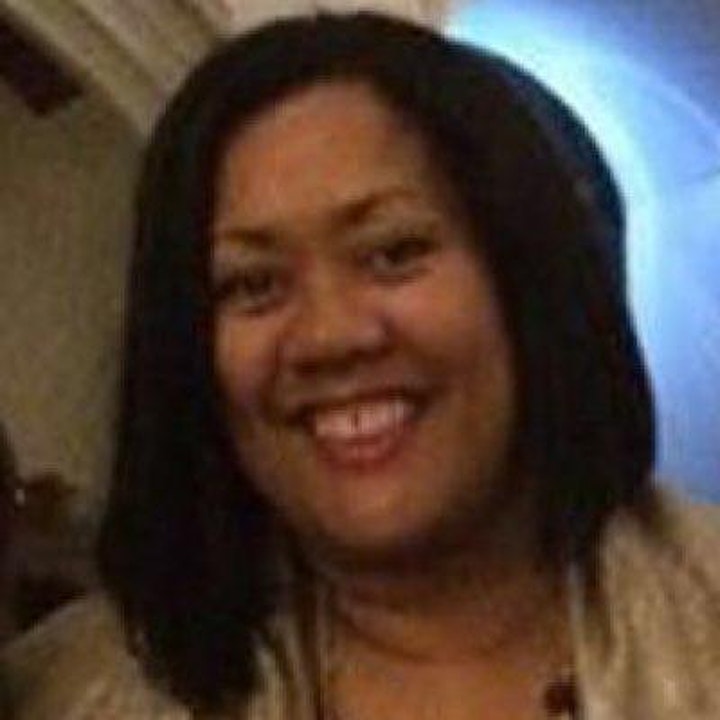 YOUR EVENT HOST
Anne-Marie is a Spiritualist who believes in a higher power, God. A self-taught Artist and a Design and Delivery Lead Specialist (Digital) for a large organisation. Anne-Marie holds a DSNU, Diploma of the Spiritualist's National Union in Mediumship Demonstration and Teaching. She also holds a TAP.Dip Training Accreditation Programme Diploma, Training and Delivery, Effective Presentations, Facilitation, Coaching and more.
Her love for teaching Art, Speaking and Mediumship knows no bounds as her fondness is to show those that believe they cannot draw... to teach you that you can!
She is well known for her unique style of teaching, putting student's at ease, being highly approachable and offers 'all her information' giving her students 150% value for money.You will be in good hands just read the feedback student's leave about her after many workshops they have attended. Her students range from all over the globe. She has taught online for 5 years... way, way... before the ascension of people learning Zoom this year. x