Actions and Detail Panel
Spoon Academy
Sat 6 May 2017, 09:30 – 17:00 BST
Description
Ever fancied learning how to make a lovely wooden spoon or spatula? This is your chance to spend a great day with Jill Swan of 'Treedomwoods Spooncarving' and learn all the techniques of cutting, carving and finishing off the transformation of green wood into a fine spoon. Knowledge of some basic whittling techniques would help as the day is more of an 'intermediate' than beginners course. (Call or email us and we can help with this).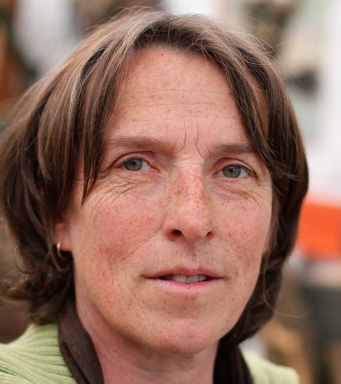 A review by Imogen, who attended our Beginners' Spoon Carving last summer:
"I have had a fascinating, peaceful, meditative day in the woods, and I guess my yoghurt-weaving-while-doing-the-tree-asana hippie credentials are confirmed beyond any further doubt.

In the end I didn't whittle a spoon; I've made a prong-y thing (officially a butter knife but I never use them), a mallet, and a spatula. The last is unfinished, but as I now have a whittling knife, I can tidy it up in my own time.
I also have yet another interesting new bruise, from a bow saw this time. And I smell powerfully of woodsmoke.

What a day... The morning was warm and sunny, and as we walked through Vert Woods to the crafting site I could hear what seemed like hundreds of birds singing; chaffinches, nuthatches, blackbirds, warblers, chiff-chaffs, dunnocks, wrens... a myriad voices sweet and sharp, all tangling together in the sunlight and the foliage.
There was nothing to be seen in any direction but green leaves and dark tree trunks, spring understorey growth, and sky. Nothing to be heard but the birds, the wind, the crackle of the campfire and our own voices. We spoke rarely, once each task was explained. We worked away, quietly and steadily and with great satisfaction; each focussing on his or her own projects, but all working together.

Later in the afternoon the sky grew steely grey and we had thunder. It crept slowly nearer, as though Mighty Thor was playing Granny's Footsteps up above. Finally, the rain came; a casual pattering at first and then a steady downpour for a good hour. The rain stopped just as the day's course wound to an end, and we picked our way along sodden muddy tracks, out of the wildwood and all its unmediated natural beauty and messiness and damp and birdsong, back to parked cars, ordinary roads, and trains home."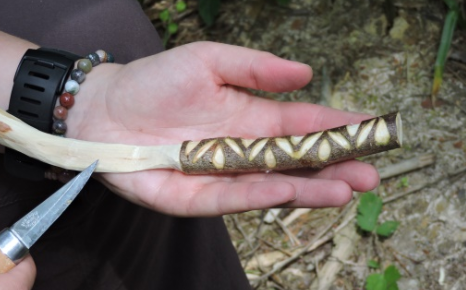 Price - £55. Tea-coffee provided – bring food to share for lunch. 9.30am-5pm. Tutors Jill Swann and Chad Roberts