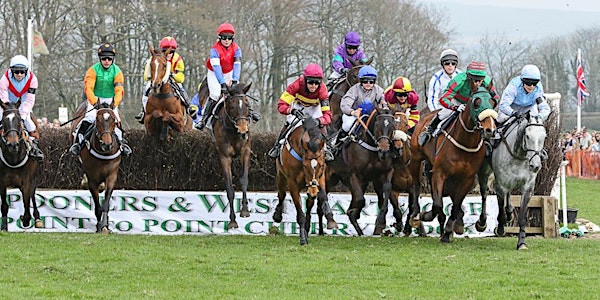 Spooners & West Dartmoor Point-To-Point Livestream - Cherrybrook
Spooners and West Dartmoor Point-To-Point Live Stream.
About this event
Join us from Cherrybrook, near Tavistock in England where we bring you a seven race card from the first 2021 Devon & Cornwall fixture of the resumed Point-To-Point season. See if you can see any future Equine or Human horse racing stars. The action starts at 13:30 with the maiden race, with the other races scheduled at 35 minute intervals. The programme will be presented by Cornelius Lysaght, formerly the BBC's voice of racing together with Grade 1 winning jockey Liz Kelly, and they are joined by Donna Harris and Simon Nott.
With Covid-19 restrictions still in place the Spooners and West Dartmoor Point-To-Point is going ahead, but is required to run behind closed doors. However the fixture will be providing a Live Stream of the meeting's racing.
A PDF racecard which is ideal for use on a second device or print out is available for download at: https://pointingdc.co.uk/live/
We are planning to live stream all 11 remaining Devon & Cornwall area fixtures this season, but in a time where the pandemic has impacted incomes this incurs a considerable ongoing cost. If you are able to, you can help us continue to live stream our Point-To-Points by purchasing the Pay To View tickets for our Point-To-Points.
A ticket for the live stream costs £10 and the live stream will be exclusively available through Eventbrite.
Note: If you have not used Eventbrite before, you will need to set up an account for the website/app as part of the ticket registration and purchase process.
To view the live stream, you will need to log into your Eventbrite account to access the live stream which will be available between 13:00 am on April 3rd 2021 and the close of racing at approximately 17:30pm on the 3rd April.
We are required by the Point-To-Point Authority to remove the broadcast for replays by midday on Tuesday, after which the stream will no longer be available to view.