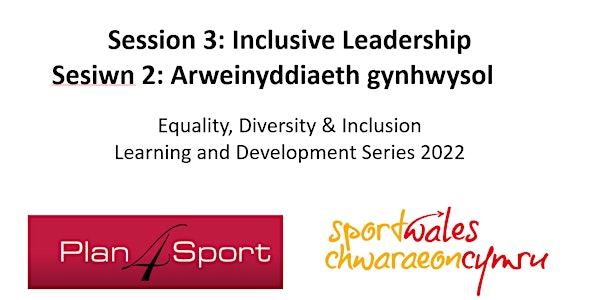 Sport Wales EDI Learning & Development Session 3: Inclusive Leadership
The third session of Sport Wales's monthly learning and development series for our partners on topics related to EDI.
About this event
Sport Wales, in collaboration with Plan4Sport, are launching a new series of monthly Learning and Development for our partners on topics related to Equality, Diversity, and Inclusion. The L&D series will run from May – October 2022 (6 sessions) to ensure our partners are supported whilst the new Equality Framework is being developed and finalised.
The L&D series will enable our partners to explore important areas of EDI through these engaging workshops and understand the approach to EDI that the new framework will encourage. The first L&D session will take place on Thursday 14th of July 2022 from 10:00-12:00 and will explore the topic of Inclusive Leadership.
Learning outcomes for this session will include:
• Defining inclusive leadership in the context of equality, diversity and inclusion
• Leading from the top or leading from within?
• Understanding and exploring cultural and behavioural change
• Considering the commercial, legal and moral benefits of developing an inclusive organisation
• Sharing best practice with other NGB's
We encourage participants to attend all 6 sessions to get the most out of the L&D series and develop CPD for the individual, and the organisation.
___________________________________________________
Mae Chwaraeon Cymru, mewn cydweithrediad â Plan4Sport, yn lansio cyfres newydd o Ddysgu a Datblygu misol ar gyfer ein partneriaid ar bynciau'n ymwneud â Chydraddoldeb, Amrywiaeth a Chynhwysiant. Bydd y gyfres Dysgu a Datblygu yn cael ei chynnal rhwng misoedd Mai a Hydref 2022 (6 sesiwn) i sicrhau bod ein partneriaid yn cael eu cefnogi tra mae'r Fframwaith Cydraddoldeb newydd yn cael ei ddatblygu a'i gwblhau.
Bydd y gyfres Dysgu a Datblygu yn galluogi ein partneriaid i archwilio meysydd pwysig yn ymwneud â Chydraddoldeb, Amrywiaeth a Chynhwysiant drwy'r gweithdai diddorol hyn a deall y dull o ymdrin â Chydraddoldeb, Amrywiaeth a Chynhwysiant y bydd y fframwaith newydd yn ei annog. Cynhelir y sesiwn Dysgu a Datblygu cyntaf ddydd 14 Gorffennaf 2022 10am - Hanner dydd , a bydd yn edrych ar Arweinyddiaeth gynhwysol.
Bydd canlyniadau dysgu'r sesiwn yma'n cynnwys:
• Diffinio arweinyddiaeth gynhwysol yng nghyd-destun cydraddoldeb, amrywiaeth a chynhwysiant
• Arwain o'r brig neu arwain o'r tu mewn?
• Deall ac edrych ar newid diwylliannol ac ymddygiadol
• Ystyried manteision masnachol, cyfreithiol a moesol datblygu sefydliad cynhwysol
• Rhannu arfer gorau gyda CRhC eraill
Rydym yn annog y cyfranogwyr i fynychu pob un o'r 6 sesiwn i gael y gorau o'r gyfres Dysgu a Datblygu a datblygu DPP ar gyfer yr unigolyn, a'r sefydliad.