Book a slot to see 'Sports Casual' at PALFREY on Wednesday 23rd June between 3-8pm
About this event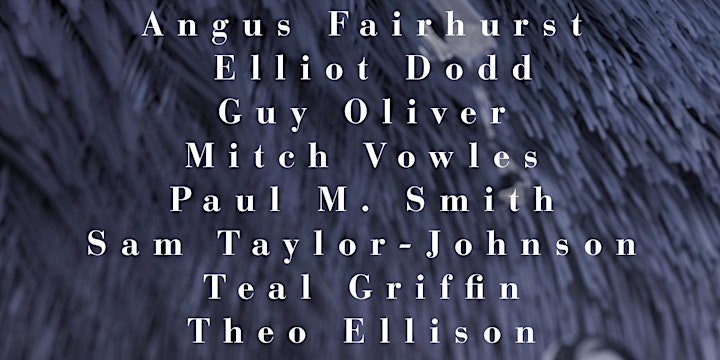 PALFREY is pleased to present Sports Casual, a show exploring the relationship between humour and pathos within the more absurdist elements of machismo.
In their reconstruction of those elements, British sitcoms of the early noughties continue to permeate our tragicomic landscape. Shows such as The Office, I'm Alan Partridge, Nathan Barley and Peep Show draw their pathos-inflected laughs from the limitless material the often-fragile male ego offers; the libido-driven peacock-like displays, the confusion between aggression and alpha maleness, the pressure to conceal emotions, the laddish banter wavering between sincerity and irony. This exhibition looks to tap into those fluctuations which describe a self-aware machismo that both indulges in and dismisses the tropes that it embodies.
The artworks in this show approach these absurdities and ambiguities in differing ways. Interactions emerge through the common threads running across the works: anthropomorphic creatures; camouflage and skin; glossiness and surface; logos and branding; stoicism and coolness; narcissism; metrosexual ideals; and the cult of the artist.
Bringing together emerging artists with more established names, and ranging across video, sculpture and photography, Sports Casual features works by Angus Fairhurst, Elliot Dodd, Guy Oliver, Mitch Vowles, Paul M. Smith, Sam Taylor-Johnson, Teal Griffin and Theo Ellison.
Curated by Theo Ellison
Angus Fairhurst (1966-2008) graduated from Goldsmith's College (1989) where he participated in the seminal exhibition Freeze (1988), which launched the Young British Artists. Fairhurst's practice spans photography, video, animation, drawing, painting, sculpture, installation, and music and is held together by its irreverent humour and recurring motifs.
Solo exhibitions include those at Spritmuseum, Stockholm (2019), Goss-Michael Foundation, Dallas (2015). From 2009 to 2011, a retrospective of his work travelled between Arnolfini, Bristol; Waddesdon Manor, Buckinghamshire; M Museum, Leuven; and Westfälischer Kunstverein, Muenster.
Elliot Dodd (b Jersey, Channel Islands, lives in London) works with the surfaces and techniques of the global-techno-macho-man. Sculptural objects, drawings, and moving images work to hijack languages of desire, confidence and authority into a new fluid, composite structure.
Recent exhibitions include States of Excitation, Chalton Gallery, London, 2020; Extreme Mix Guangzhou Airport Biennale, 2019; Panax Grab, Madein Gallery, Shanghai, 2018; The Manbody, Zabludowicz Collection, London, 2017 and Virtually Real, Royal Academy of Arts, London, 2017.
Guy OIiver (b London, lives in Margate) graduated from the Royal College of Art (MA Painting 2015). His work explores notions of masculinity, identity, comedy and tragedy using a highly personal but irreverent methodology.
Recent solo presentations include The Year Everyone Died, New World Symphony, Daata/The Bass Museum, Miami, USA (2021), Hindsight: J/FVU Awards 2020, Jerwood Space, London (2020) and And You Thought I Was Bad?, Zabludowicz Collection, London (2018).
Mitch Vowles' (b London, lives in Essex) work centres around the cultural context of objects. In questioning the status of these objects and exploring their implied associations and settings, his work develops a dialogue that reflects upon nostalgia, British identity, masculinity and classism.
Recent awards include Space Studio Award 2021, The Royal Society of Sculptors Gilbert Bayes Award 2020 and Acme's Jonathan Harvey Prize 2018/19.
Paul M. Smith (b Bradford, lives in Coventry) is a photographer and educator. An early adopter of Photoshop in the mid-1990s, Smith's work examines the meaning and construction of masculinity, concentrating on the cultural and visual creation of various alpha male identities.
Previous shows include From Highfield Road to Wembley Way, Herbert Art Gallery & Museum, Coventry, 2012; Mr Smith', Cokkie Snoei, Rotterdam, 2006; Orcale of Truth, Aeroplastics, Brussels, 2005; Neurotic Realism, Saatchi Gallery, London, 1999; D of E Show, The Photographers Gallery, London, 1994
Sam Taylor-Johnson's (b London) work finely examines tensions between mediation, refection, and portraiture. Often describing the manner in which human expression and language can be manipulated, her work seeks to explore how a constructed image can have a direct effect on contemporary visual literacy.
Recent exhibitions include On everyone's lips From Pieter Bruegel to Cindy Sherman, Kunstmusuem Wolfsberg, 2021. Her work is included in major museum collections around the world including the Tate (UK), National Portrait Gallery (UK), Guggenheim (USA), and Kunstmusuem Wolfsberg (Germany).
Teal Griffin's (b London, lives in London) practice takes shape through a multidisciplinary process of bricolage. Working with sculpture, painting, video, text and spoken word, he makes installations that hover in the quiet pockets of listening and waiting, where the small and still become political tools.
Recent shows include Forum: Bread and Games, OpenSpace Contemporary, London, 2020; Waiting Patient, Changing Room, London, 2017; A Handful of Certainty and Joy, Chalton gallery, London, 2017.
Theo Ellison (b London, lives in London) works with video, photography and text to tap into the relationship between artifice and image-making. Within this context his work explores the boundaries between humour and pathos, observation and voyeurism, and nature and artifice.
Recent shows include Known Unknowns, Saatchi Gallery, London, 2018; Lounge Arrival, Arebyte Gallery, 2018; Five Years On, Birmingham Museum & Art Gallery, 2018; Evolved Display, Florence Trust, London, 2019; Erotomania; Preserving Machine, FORMAT Festival, Derby, 2021