Event Information
Refund policy
Contact the organiser to request a refund.
Eventbrite's fee is nonrefundable.
Social Pedagogy Professional Association Annual Conference
About this event
Social Distance and Togetherness: The Role of Social Pedagogy in Navigating Difficult Journeys
2020 has seen us all affected by social distance: physical, emotional, social and spiritual distance alike. This distance has been challenging, but has also birthed new ways for togetherness, and unearthed old senses of community. There have been collective and individual journeys, both trying and transformative, and the role of social pedagogy has never been more pertinent when geographical, demographic, socio-economic and political landscapes have become so evident in their force behind shaping these journeys.
SPPA has gathered speakers from various disciplines to investigate social pedagogy's role in the global and local navigation of this challenge, and from there, to think about its role in all journeys, from the everyday to the life-long.
This conference offers an exclusive opportunity to take stock, to reflect on our shared and individual journeys, and to look at how we have come together through social pedagogy and what its role is in the future.
We welcome you in shaping this conference with us!
We're looking forward to seeing you there!
Read more about the conference here.
P.S . use code SPPA20 to get 20% OFF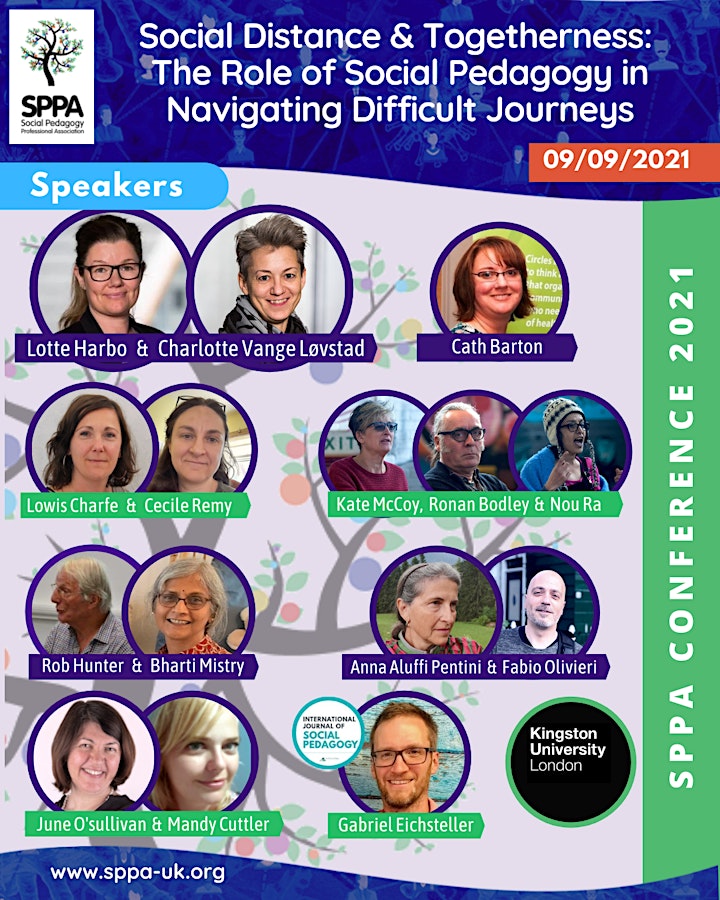 KEYNOTE SPEAKERS
VIA University College (Denmark)
Lotte works as an assistant professor in continuing education and research, with a specific focus on social pedagogy at VIA University College in Aarhus. Lotte has a long relationship with the UK & Ireland having practiced and taught here periodically over a number of years. She focuses her research and lecturing on different aspects of social pedagogy and social work, including how the children, young people and adults that social pedagogy and social work is supposed to help, encounter and perceive that help. In that sense, and in a perspective inspired by the German sociologist Niklas Luhmann, she explores help and the borders of help.
VIA University College (Denmark)
Charlotte has worked extensively with young people/adults in vulnerable/exposed positions. Listening to people who do not normally speak and supporting their opportunities to be heard and at the same time taking a critical look at the structures and institutional understandings that dominate the social field runs like a common thread through her social work, teacher and research practices. She is particularly strong in researching and working with citizen perspectives and innovative and experimental methods in both, social work and research contexts. She embraces complexity and chaos and has a good eye for both, individual and organizational challenges.
WORKSHOPS
Social Pedagogy and psychological safety with virtual teams
Cath Barton, Community Circles (UK)
The aim of this workshop is to share learning and practical tools and examples that can support meaningful belonging and flourishing connections when face to face connections aren't possible. The Covid 19 pandemic has rapidly shifted the way we live and work together, creating a liminal space of uncertainty and challenge but also of opportunity and possibilities to explore new ways of working and connecting. In times of crisis, the liminal space that is created can support the emergence of ideas and creativity and new opportunities for different ways of working.
________________________________________
Social borders and pedagogy of togetherness for early childhood and their families during and after Covid
Anna Aluffi Pentini & Fabio Olivieri, University of Roma Tre (Italy)
The new BA in Early Childhood Education of University of Roma Tre is reflecting on the competencies of professionals starting their job in the COVID era. The theoretical framework of placement during the training should be a starting point to analyse commonalities and specificity at regional level.
During this workshop the facilitators will invite participants to briefly present ideas or good practices (in training or involving other participants using different media (speech, pictures, short film etc.) to explore distance and togetherness in early childhood spaces and institutions and to achieve a new understanding of professional competencies in "be there" for the children and for their families.
________________________________________
Coming to Save The Day: The Hero Complex in Professional Relationships
Lowis Charfe & Cecile Remy, UCLAN / Coram (UK)
The legal and statutory frameworks within which we work shape the relationships we have in very particular ways. The power dynamics contained within these, have a danger of systematically putting us in the 'victim-saviour' position that are hard to escape.
Covid has shaken our usual ways of working and using relational practice and much thought has been devoted to understanding this. The aim of this workshop is to assist participants to go beyond describing those challenges and changes, to critically analyse the structural and social aspects of relationships between social worker and child/young person/adult, teacher and student, provider and commissioner. We hope to challenge participants to think of different and new ways that they can escape and resist these powerful structures.
________________________________________
Terminal Uniqueness – colours and carrots. Bringing people together digitally (and occasionally live) to create in a pandemic
Kate McCoy, Nou Ra & Ronan Bodley, Small performance adventures
Small performance adventures creates workshops, performances and events with people who have been affected by life, currently working with people in recovery. Their inclusive approach embraces the use of social pedagogical principles.
This workshop will chart Small perfomance adventures journey of creating a Facebook community of over 800 people who all completed simple video and photograph-based tasks in 2020 to build a connected community. The workshop will be experiential and will also take a glance at the project's development of artistic commissions for people in recovery in response to the group.
________________________________________
Can Zooming build togetherness?
Rob Hunter & Bharti Mistry, Leicester Ageing Together (UK)
This session will explore how 'togetherness by Zoom' has created valued stimulus and connection in the older adults UK Asian community in Leicester during the city's lockdown.
When the first lockdown came, Bharti was faced with the implications for two particular community groups she had catalysed: a 70-strong wellbeing group and a smaller Happiness and Wellbeing workshop. She hardly knew Zoom and didn't consider herself technologically-minded but managed to get both of these groups on board for weekly virtual meetings. Much had to be done to build people's confidence – simply to log on, then for a few to help others to log on, and then to work out what worked in 'building learning communities' online in which the most marginal and newcomers felt welcome, connected and active participants.
In this workshop, Bharti will describe her efforts to build this togetherness on a scale which, across four weeks in February 2021, saw 4400 attendances at 120 hours of interactive health and wellbeing activities in 17 weekly groups or one-off events! ________________________________________
Navigating Complexity with Human Learning Systems
Gabriel Eichsteller & Lowis Charfe, Thempra / ULCAN
With its focus on rehumanising public service and meaningful responses to the complexities of human life, Human Learning Systems offers a radical alternative to New Public Management. In this workshop we will explore how HLS can benefit social pedagogical practice and support professionals in creating the systems conditions that create meaningful outcomes. The new e-book 'Human Learning Systems: Public Service for the Real World' details how a focus on relationships and being human, on emergent learning, and on creating healthier systems is transforming public services both at local and national level.
We will provide a brief overview of the HLS paradigm and examples from social care organisations that show how HLS can support us in navigating difficult journeys. To ensure that the workshop is interactive, we will also involve participants in sharing practice situations that reveal similar understandings as well as examine some of the systemic challenges they face in their day-to-day practice. How can HLS help break these down? Join us to explore!
LIGHTNING TALKS & VLOGS
Social Pedagogy in ECE: The LEYF approach
June O'Sullivan & Mandy Cuttler, London Early Years Foundation
In this lightning talk June and Mandy will talk about the London Early Years Foundation (LEYF) social pedagogy approach as a suitable option for the delivery of high quality ECEC for settings from poor and disadvantaged families and communities. Currently, social pedagogy in the UK mostly relates to ways of working with foster children and in social work and hasn't been fully explored as a suitable option for ECEC in the UK. The adoption of social pedagogy affords recognition that early childhood education is a combination of social, pedagogical and political practices and the boundaries between these disciplines must be crossed to provide useful services to children and adults (Stephen, Ellis and Martlew 2009).
________________________________________
Share your journey with the International Journal of Social Pedagogy
Gabriel Eichsteller, Thempra, IJSP
The International Journal of Social Pedagogy offers an important forum to support the social pedagogy community and highlighting the role that social pedagogy can play in navigating difficult journeys. Through theoretical papers, research contributions and practice articles, open-access publications in IJSP benefit the ongoing development of social pedagogy in the UK and beyond.
In this Vlog, Gabriel aims to briefly outline the journal's aim and objectives and how they support authors from a variety of backgrounds to contribute to the journal. Gabriel will also invite SPPA delegates to consider submitting their own manuscripts. There will be time for Q&A during this session.
________________________________________
Students' perspectives on social pedagogy
Yvalia Febrer, Marte Bergan, Kelly Gittens & Kingston students, Kingston University
In this vlog, a group of students who have just completed the BA (Hons) Working with Children & Young People: Social Pedagogy programme at Kingston University engage in a reflective conversation with one of the senior lecturers on the programme. The discussion explores what social pedagogy means to the participants, highlighting some of the approaches that resonated with them as well as exploring the transformative impact social pedagogy has had in their professional and personal lives. Inevitably it is almost impossible to escape any reflective discussion without taking into account the current pandemic. So with this in mind there is a brief segment of the Vlog that explores the role of social pedagogy as we transition into the new normal.
After the video Yvalia and Kelly will open up a Q&A session.
Date and time
Location
Refund policy
Contact the organiser to request a refund.
Eventbrite's fee is nonrefundable.
Organiser of SPPA Conference 2021 - Social Distance & Togetherness