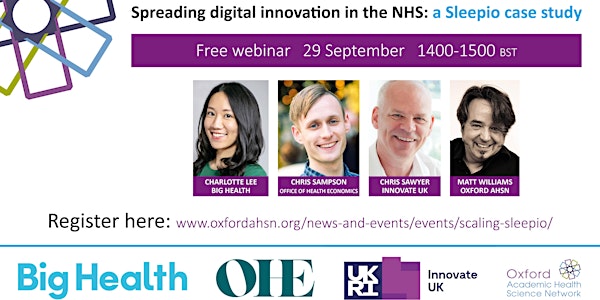 Spreading digital innovation in the NHS – a Sleepio case study
How to spread digital innovation in the NHS – scaling Sleepio to 15,000 people in 18 months
About this event
The unprecedented events of 2020 have added momentum to the NHS's commitment to offer digitally enabled care wherever possible.
But how should digital innovations be chosen? How should they be implemented? And how can these innovations spread across the NHS?
Since October 2018, Innovate UK, the Oxford Academic Health Science Network and Big Health have worked in partnership to spread Sleepio - an online sleep improvement programme based on cognitive behavioural therapy – throughout the Thames Valley region. Within 18 months, more than 15,000 people accessed the programme.
This webinar takes you through the project's journey - from initial adoption to population rollout. In the one hour session you will:
learn the tools needed to evaluate digital solutions
be equipped with the framework to spread innovation, at scale, through your population
receive handy hints - and pitfalls to avoid - from the project leads
hear from the Office of Health Economics which carried out independent analysis on the impact of introducing Sleepio into primary care
have the opportunity to ask questions of our expert panel.
This webinar is for you if you work in health services, are interested in gaining the tools and knowledge to evaluate digital innovations or want to discover the practical implications of developing or introducing a digital therapeutic in a population.
Register for your free place now.
Speakers:
Matt Williams, Oxford Academic Health Science Network
Charlotte Lee, Big Health
Chris Sawyer, Innovate UK
Dr Katie Simpson, GP Mental Health Lead, East Berkshire CCG
Chris Sampson, Office of Health Economics