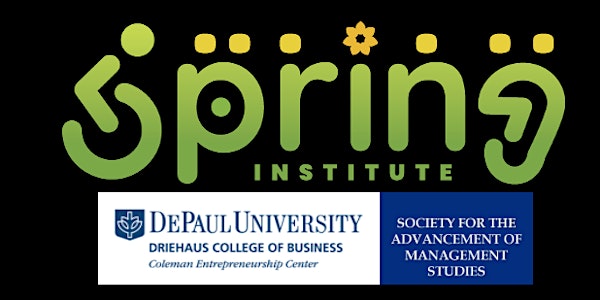 Spring Institute: Conversations on Disability, Intersectionality & Agency
Join us for a hybrid event on disability, entrepreneurship, and intersectionality. Learn from experts in the field.
About this event
The Spring Institute and DePaul University – Coleman Entrepreneurship Center host this half-day hybrid event. In the ticket options , you can choose if you wish to participate virtually (all tickets starting with "online") or in person in Chicago (all tickets starting with Chicago).
You can further choose to attend one of the three amazing sessions or multiple . If you wish to join multiple, please make sure to choose a ticket per session.
What will happen? (all times in Central Time)
1:00 – 2:00 PM Panel Supporting entrepreneurs with disabilities
We will be joined by experts to discuss how to best support entrepreneurs with disabilities. We are excited to welcome Andrew Fogaty, SBDC, Kelly Tzoumis, DePaul University and Kate Caldwell, UIC.
2:00 – 3:00 PM Chat with Jim Kales, CEO of Aspire
In this second session of the half-day event, we will learn more about disability entrepreneurship and working in and with intersectional groups from Jim Kales, CEO of Aspire
Jim Kales is a pioneer on cutting edge between non-profit and for-profit business. He is CEO of Aspire, one of the Midwest's most innovative human service non-profits.
Aspire, a $17 million non-profit, provides bold and pioneering services to people with intellectual disabilities in Chicagoland and southeastern Wisconsin. Under Jim's lead, the organization is growing its mission rapidly and has received numerous accolades. These include awards for Aspire's work creating new employment pathways for adults with autism, Down syndrome and other disabilities (Chicago Innovation Awards, 2018 and Finalist in Fast Company Magazine's "World Changing Ideas" Award competition).
Jim is an evangelist on building a winning culture among Aspire's team of 300 employees. For six years in a row, Aspire has been named one of the 101 Best and Brightest Places to Work in the United States.
He previously served as CEO of Big Brothers Big Sisters of Lake County, and as the director of communications for the United Way of Metropolitan Chicago.
A native of Hershey, Pennsylvania, Jim graduated summa cum laude with honors from Bucknell University, and received his Master's in Public Policy from the Harvard Kennedy School.
3:00 – 3:30 PM Coffee break
3:30 – 5:00 PM Refugees with Disabilities
This final session of the day is all about bridging research and practice: Rooshey Hasnain will talk about her work in supporting refugees with disabilities. Rooshey will be joined by three refugee participants from the PRIDE project.
Dr. Rooshey Hasnain, Ed.D., M.A., is a clinical assistant professor and community-engaged researcher with the Department of Disability and Human Development and the Undergraduate Rehabilitation Sciences Program at the University of Illinois at Chicago (UIC). Her primary professional interest is in collaborating with people with disabilities and mental health conditions through a cross-cultural lens, especially people from underserved refugee, immigrant, and limited English proficiency backgrounds. She has a long history of initiating community–university partnerships that focus on disability inclusion and quality-of-life action-oriented agendas. In addition to her work at UIC, she has been part of the Association of University Centers on Disabilities (UCEDD) international network since the mid-1990s. She is the principal investigator of the federally funded Partners of Refugees in Illinois Disability Employment (PRIDE) initiative and the Immigrant and Refugee Led Capacity Building Network, and a co-investigator for the Nexus Work Coalition. In all these roles, she has initiated disability- focused research, training, and, service delivery models with multi-sector partners and groups. She serves on numerous boards, committees, and panels, and has published on multicultural disability issues, both locally and globally.
Mr. Tedros Markos Tekle is an Eritrean refugee and self-advocate who, after five years of taxing life in exile, arrived Chicago in December 2019. Virtually 20 years into journalism. He has written and edited numerous articles and translated English exclusives to and from English with senior government officials, as well as hundreds of documents from international agencies, including the United Nations. He has interviewed dozens of refugees who have survived traumatizing experiences. He is an associate with Partners of Refugees in Illinois Employment Disability (PRIDE) at UIC and an educational associate with Agents of Hope. He completed a disability leadership fellowship at UIC during the 2019–2020 academic year and is currently pursuing a masters in rehabilitation counseling at NEIU.
Ms. Marija Aleksic is an asylee and self-advocate from SFR Yugoslavia. She is the eldest of two children. Raised in a traditional manner that nourishes family values, she completed her education in her hometown of Novi Sad with a master's in geography. She is the mother of two children. After a life-changing car accident at age of 26, she was denied support from her society and her government. She was a sales representative for 15 years for two esteemed Italian companies and a major supplier of the Serbian oil industry. In 2015 she decided to come to the US, following after her first visit, and applied for asylum. Since October 2018 she has been waiting for the initial interview. She is a PRIDE associate, has worked in the beauty and nail salon trade and is now looking to start her own salon or restaurant.
Mr. Emmy Rutimirwa is a refugee and self-advocate from the Democratic Republic of Congo who came to Illinois in 2013. He completed hospitality training at a refugee-serving agency in Chicago, then worked in hotel hospitality, and more recently has joined Amazon. He is interested in starting his own business selling hats and t-shirts. His other interests include music and podcasting. He is a PRIDE associate.
For those attending in person, please join us here.
Coleman Entrepreneurship Center, DePaul University, 1 East Jackson Blvd., Chicago IL 60604
We follow local Covid-19 regulations.