Spring Melody by Sino-British Young Musicans: A Spring Night with Classical...
Location
St Gabriel's, Pimlico
Warwick Square
London
SW1V 2AD
United Kingdom
Description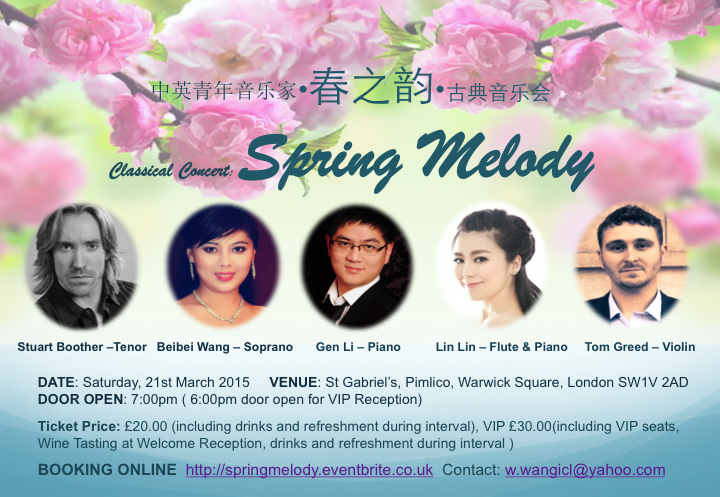 Classical Concert Networking Cultural Exchange

This spring, CBSN brings you Spring Melody along with a group of talented young musicians from China and the UK. Join us for a night in springing melody with fabulous experience of classical concert, networking and cultural exchange.
To Get a sense of the concert, please click Per concert Video here
Schedule:
6:20pm: Door opens

6:30pm – 7:30pm: Reception (Wine tasting, drinks and canapé)

7:30pm – 8:1

0

pm: Concert

8:1

0

pm – 8:30pm:

Interval( Cold beverage and refreshment available for all)


8:30pm – 9:10pm: Concert

9:10pm – 9:30pm: Networking

9:30pm: Event close
Programme :
Li Gen (Piano), Lin Lin (Flute), and Tom Greed (Violin): Rene de Boideffre 'Serenade'

Beibei Wang (Soprano): Rusalka Aria by Dvorak

Lin Lin (Flute):Doppler Franz ' Fantaisie Pastorale Hongroise, Op.26'.

Stuart Boother (Tenor): Pinkerton's Aria Addio, Fiorito Asil from ' Madam Butterfly ' by Puccini

Tom Greed (Violin): Benjamin Britten ' Waltz ' (from the group song)

Beibei Wang (Soprano)

、

Stuart Boother (Tenor): Lippen Schweigen from ' The Merry Widow by Franz Lehar

'

Gen Li (Piano): Listz ' Mephisto Waltz No.1'
Interval
Li Gen (Piano) ' Chen Peixun 'Autumn Moon over the Calm Lake'

Beibei Wang (Soprano): A Night on the Lake Beneath the Maple Bridge by Li Yinghai (Lyrics) and Zhang Ji (Compose, Tang Dynasty)

Lin Lin (Flute)

:

He Luting ' The Shepherd Boy's Piccolo '
Li Gen

(

Piano), Lin Lin ( Piano): Mozart ' Piano Sonata for four hands K381, first movement'

Tom Greed (Violin): Mao Ruan 'Joy of Spring'

Beibei Wang (Soprano)

、

Stuart Boother (Tenor):

'

Vogliatemi bene' (Love duet, Act 1) from ' Madam Butterfly ' by Puccini
Look forward to seeing you all on the 21st March at the Reception and Concert.
Best wishes!
Grace, Alex, Owen and many others.
PS: All tickets include cold beverage and refreshment during interval.
Performers' Biography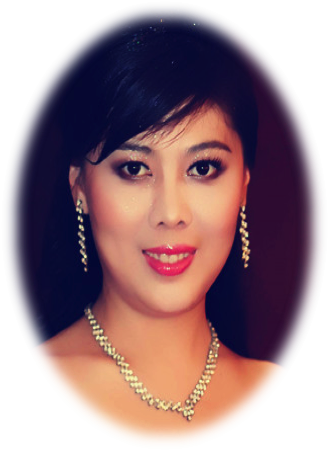 Beibei Wang - Soprano
Beibei Wang, acclaimed operatic Soprano, trained in Italy and the UK, has successfully sung the challenging lead Angelica from Puccini's Suor Angelica and Cio-Cio-San from Madam Butterfly in London. She has been singing nationally and internationally in China, Europe and the UK since 2006. Beibei has rare beautiful Puccinina voice'praised by Italian opera Master. Her impressive repertoire includes works by Mozart, Handel, Bellini, Dvorak, Puccini and Verdi.
王蓓蓓,青年华裔歌剧女高音,拥有着温暖抒情的嗓音和美丽如天鹅绒般的音色,她的表演质朴纯真、深邃大气,饱满的中低音区和辉煌的高音区极具表现力和穿透力,被誉为是难得一遇的普契尼式女高音。成功的在普契尼的经典歌剧《修女安洁丽卡》中饰演安洁丽卡和《蝴蝶夫人》中的第一女主角乔巧桑。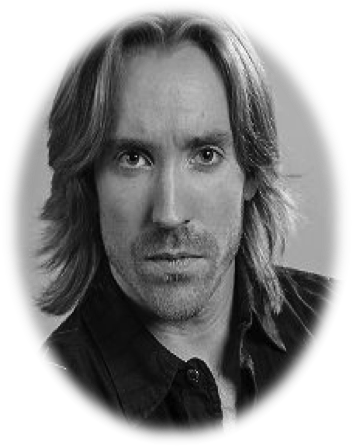 Stuart Booth - Tenor
Stuart Boother, began his career in the West End, singing lead roles in various shows before moving into film and performing alongside screen legends such as Jenny Agutter, Tony Todd and Johnny Depp. Opera credits include Alfredo in La Traviata, parts of Florestan in Fidelio, Cassio in Verde's Otello, Pinkerton in Puccini's Madama Butterfly and Camille in The Merry Widow, to name a few. Stuart spent time living and training with the Shaolin Kung fu Monks at the Kunyu Mountains Temple in China.
斯图尔特, 男高音歌唱家及影视歌三栖演员,在进入电影界和电视届与珍妮·艾格特,托尼·托德和约翰尼·德普共同拍戏之前, 曾在伦敦西区各种演出中担任主角,包括阿尔弗雷多的《茶花女》、普契尼的《蝴蝶夫人》和卡米尔的《风流寡妇》等。 曾在中国昆山少林寺学习少林功夫。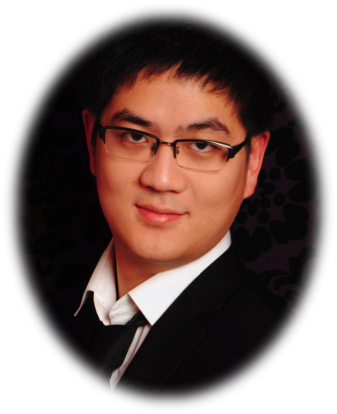 Gen Li – Piano
Gen Li,pianist and winner of various Soloists' competition nationally and internationally in China, UK and Europe. Gen has performed piano concertos by Beethoven, Mozart, Rachmaninoff, Liszt, Tchaikovsky, Saint-Saens and Prokofiev with a number of leading orchestras including London Young Musicians Symphony Orchestra, Trinity Laban Symphony Orchestra. Gen recently won the 26th Eastbourne Symphony Orchestra Soloist Competition and the 2014 Trinity Laban Soloists' Competition.
李根, 青年钢琴家,多次在钢琴国际大赛中获得第一名,被英国新视界音乐杂志评论为"天才钢琴家,拥有上千种音色变化的手指,充满思想的艺术家。" 2014年巴斯国际音乐节的特邀嘉宾,并在开幕式上举行了独奏音乐会。 2015在伊斯尔本国际音乐家大赛夺冠,成为该比赛历史上第一位华人冠军。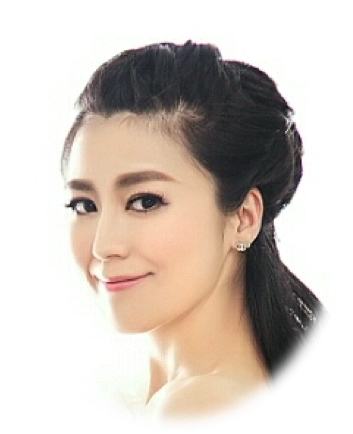 Lin Lin – Flute & Piano
Lin Lin, pianist and the principle flautist of the RCM's Sinfoniettas and Orchestras. Lin has played solo and chamber recitals throughout UK and Asia since 2010 and has been described as a "truly gifted young musician who mastered two instruments, always bringing magical music to the audience..." by a UK magazine.
林琳,首位且目前唯一获得英国皇家音乐学院钢琴、长笛双乐器学士学位的中国人。自2010年起以独奏音乐家及室内乐音乐家的身份,在英国各地及亚洲各国举办专场音乐会,被英国杂志评价为"具有极佳音乐天赋的青年演奏家,自如掌控两种不同乐器,总能给观众带来生动且梦幻般的听觉盛宴"。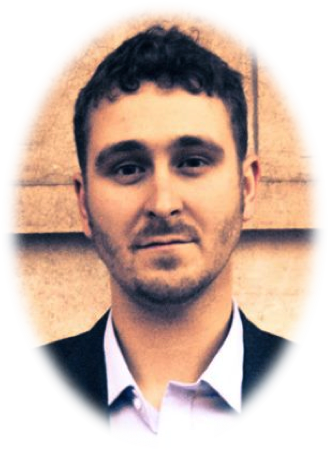 Tom Greed – Violin
Tom Greed, hailing from a highly musical family, Tom has performed violin in some of Europe's most prestigious venues including the Royal Albert Hall, Cadogan Hall, Teatro La Fenice in Venice, St John's Smith Square and Queen Elizabeth Hall. He featured in Edinburgh Festival and has received a high commendation for his performance of the Sibelius Violin Concerto.
汤姆.格里德,英国知名小提琴演奏家, 在独奏,室内乐演奏,交响乐团演奏和教育上均有非常高的造诣。曾是英国利兹青年交响乐团的首席,并在欧洲各大知名的音乐厅均举办过音乐会,其中包括伦敦卡多根音乐大厅,皇家阿尔伯特音乐厅,维也纳音乐大厅以及伊丽莎白皇后大厅等等。
The event is organized and supported by :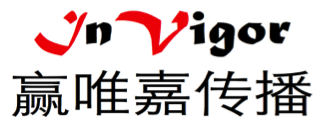 CBSN is an non for profit organization that aims to build a unique business community to enhance connectivity. At CBSN, we encourage the formation of strategic partnership and hope this will help professionals and businesses networking locally and internationally while exploring new relationship and business opportunities. www.cbsn.org.uk, www.meetup.com/cbsnuk

InVigor Communications is a cross-cultural communications firm which helps clients to beyond business, language and cultural barries in the fast changing world. It is main services including: Languages ( translation, interpreting, proofreading, voice over)and Consulting ( Strategy, marketing & sales, performance improvement, operational effectiveness, corporate finance, venture capital). www.invigorcommunications.com