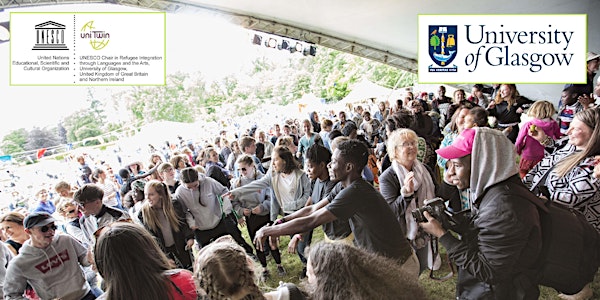 SPRING SCHOOL 2018 - The Arts of Integrating
Sales Have Ended
Registrations are closed
Sorry - but registration for this event has now closed. If you do wish to attend, please email unesco-rila@glasgow.ac.uk and we will see if there is a space available for you.
Event Information
Location
Kinning Park Complex & Pearce Institute
Glasgow
United Kingdom
Sales Have Ended
Registrations are closed
Sorry - but registration for this event has now closed. If you do wish to attend, please email unesco-rila@glasgow.ac.uk and we will see if there is a space available for you.
Description
Spring School
The Arts of Integrating: Stories of Refugee Hospitality and Agency
Wednesday 9 – Friday 11 May 2018
Kinning Park Complex - Wed 9 and Fri 11
Pearce Institute - Thu 10
Key Dates
16 March – registration opens
4 May – registration closes
Important Note
You must register for a ticket for EACH DAY of the Spring School you wish to attend - this will allow us to maximise the number of participants. If you have any questions on the process or experience any problems with booking, please contact us unesco-rila@glasgow.ac.uk
---
The Artists and Academics working with the UNESCO Chair at the University of Glasgow will host their first Spring School in May 2018.
In recent years, there has been a renewed focus on the place of the arts and arts based methods, or languages and multilingual methods, in the work towards intercultural integration with refugees. This has opened up new forms of academic and artistic endeavour, as well as new methods. For this first Spring School we invited arts-based interventions and workshops as well as academic papers which sought to blend, in experimental form, both artistic and academic forms of presentation.
The UNESCO team are interested in multiscalar understandings of integration as a practice rooted in hospitality, at all levels of society, from the individual and home, to local communities, institutions, cities and towns, to the national and international. The concept of integration has attracted critique in academic and public discourse when used as unidirectional, suggesting a one way process and burden of effort resting solely with the refugee.
The Spring School will showcase the ways in which individuals, communities, societies and institutions have accommodated and hosted each other and reflect on the ways in which the arts and academic research offer insights into the processes of welcome and integration. Interpreted in the broadest sense, these themes range from how we engage with our neighbours to topics such as slavery and imperialism and their connection to the present. In particular, the Spring School will focus on artistic, multilingual and educational dimensions.
The main themes addressed during the Spring School will include:
1) Arts and the Integrating person
a. The affective dimensions of intercultural learning where refugee experiences are part of the context
b. Arts and Language in supporting resilience, mental health and wellbeing.
2) Integrating practices in Community, Educational and Cultural Institutions
a. Museums / migratory collections
b. Choirs / theatre groups – grassroots groups
c. Festivals
d. Visual arts
3) Technologies and Techniques of Integrating and Resisting Disintegration
a. Technology & remote learning (MOOC / Gaza / Technology for inclusion – utilising arts and creative practice and/or multilingualism)
b. The aesthetic dimensions of integration work in institutions of learning and cultural heritage
The full programme is available at the UNESCO Chair website
Programme summary:
Wednesday 9 May
Keynotes:
Jane Bentley
Practising musical hospitality - an exploration
Charles Forsdick
Sites of suffering, sites of memory: integrating the stories of slavery
Performance:
Anyiso
Women Integration Stories

Workshops:
Giovanna Fassetta & Esa Aldegheri
Learn Arabic with a Palestinian flavour
Glasgow Museums
Museums and migration: sharing stories through collections
Presentations:
Isabella Corvino
RestART – integrating refugees through art, cultivating resilience and wellbeing
Dobrochna Futro
Presentation with an experiential code: Translanguaging art. Recreating Kristevan thetic space as a space of learning.
Thursday 10 May
Keynote:
Zandra Yaman
'White Washing' history: Why is it difficult for white people to integrate?
Nazmi Al-Masri
Higher Education under Occupation and Siege: Challenges and Opportunities for Young Palestinian refugees
Workshops:
acta Bristol
REACT – (Refugee Engagement And integration through Community Theatre)
Catrin Evans
Share My Table: Learning by Doing
Ken Gordon and Chris Purnell
Gibberish as a valid language for communication
Multaka Project Berlin with Salma Jreige and Rose Filippi
Museum as Meeting Point
Adel Salmanzadeh
Project Pensive
Sarah Stewart, Lucy Cathcart Frödén and Helen Kingstone
Weaving a theoretical warp and a creative weft: a music and poetry workshop
Presentations:
Helene Grøn
Compromised Belongings: Hospitality and Storytelling in Refugee Youth Theatre
Mona Al Najjar and Dr Nazmi Al-Masri
Using Mantle of the Expert (MOE)
Gareth Mulvey, Karyotis and Skleparis
Comparative Perspectives on Refugee Resettlement: The cases of England and Scotland
Oudai Tozan
The Syrian Network in Glasgow
Friday 11 May
Keynotes:
Alison Phipps
The arts of integrating
Rasoul Nejadmehr
How is the universal right of hospitality possible?
Performance:
Scottish Detainee Visitors' Life After Detention group with Ice and Fire's Actors for Human Rights
Detention Dialogues
Nyasha Kanyimo
Music

Workshops:
Evelyn Arizpe, Julie McAdam, Lavinia Hirsu and Susanne Abou Ghaida
Looking Closely at Picturebooks: Creating safe and hospitable spaces through word and image
Inverclyde Community Development Trust
Comics to assist with welcome and integration
Presentation:
Catrin Evans
Creative Spaces, Self-Authorship and Solidarity
Interfaith Glasgow
The Weekend Club
Amadu Khan
The role of the arts in forced migrants' citizenship forming: towards a research agenda
Full programme at the UNESCO Chair website
Spring School organisers
Alison Phipps
Gameli Tordzro
Tawona Sithole
Giovanna Fassetta
Lauren Roberts
Bella Hoogeveen
Catrin Evans
Organised by the UNESCO Chair In Refugee Integration Through Languages and the Arts
Date and time
Location
Kinning Park Complex & Pearce Institute
Glasgow
United Kingdom